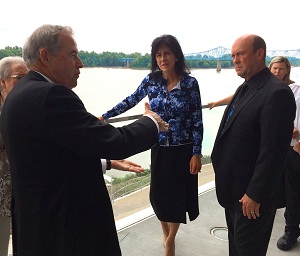 Ron Payne, mayor of Owensboro, Ky., speaks with KLA President Carey Fieldhouse and her husband Eddie Fieldhouse of R & R LimousineOwensboro, Ky.—The June meeting of the Kentucky Limousine Association (KLA) was held at the Owensboro Convention Center. The meeting was hosted by Limos by Knight, which is owned and operated by Tom, Pat, and BJ Burton.
Mayor Ron Payne of the City of Owensboro, Ky., kicked things off with a speech regarding his growing city, the new convention center's capacity, and upcoming events that will hosted at the convention center. Payne also spoke on plans for the expansion of the Owensboro waterfront areas, including the additions of a wet-slip marina and waterslide amphitheater.
It was noted that KLA president Carey Fieldhouse of R&R Limousine made an appearance on Good Morning America (ABC News). She was interviewed regarding the steps that can be taken by a potential customer in contacting a legal, licensed, and a fully insured chauffeured ground transportation company.
There are reports by KLA members traveling through the Indianapolis International Airport (IND) that airport officials are forcing Uber and Lyft cars to leave the premises. KLA membership hopes that this is a trend that will continue statewide, and will expand as authorities enforce ground transportation authority on the individual properties.
There will be a trek by KLA members to the Kentucky state capital (Frankfort) in July or August to contact and/or lobby general assembly members involved in the upcoming legislative session reviewing two bills up for passage regarding the process by which motor carriers obtain legal operating authority in the State of Kentucky.
The Kentucky State Fair will be a big event for the KLA this year. There are plans to exhibit a 14.5' stretch Hummer, have daily giveaways, and also have limousine services/rides as grand prizes. KLA has will also be increasing its exhibit space at the fair and will be adding members to man the booth at all times. The main focus of these increased efforts will be public awareness of illegal limousine operators in the state and to give consumers resources for contacting licensed, insured, and legal carriers for ground transportation services.
Visit kylimo.org for more information.
6/14