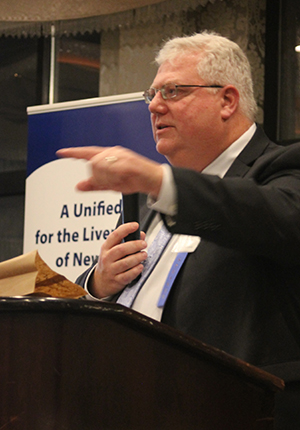 Newly installed TLPA President Mike Fogarty of Tristar Worldwide spoke at the recent NELA meeting. Dorchester, Mass. — A nasty nor'easter may have caused delays and disruptions throughout the day, but the New England Livery Association's (NELA) quarterly meeting and holiday party went on without a hitch December 9. The half-business/half-pleasure shindig brought industry discussions, lively entertainment, and holiday cheer to Venezia Waterfront, which lies just outside Boston.

The event, which did see a delayed beginning to accommodate members' increased travel time, began with an educational seminar about subrogation and loss recovery with representatives from Lancer Insurance, who offered advice on how to handle the aftermath of a fleet vehicle's accident. NELA Treasurer Teale Smith of Maine Limousine Service also spoke before the session's Q&A period with association members.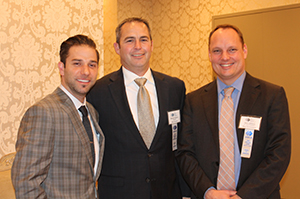 L to R: Jeff Brodsly of Chosen Payments, NELA President Michael Callahan of Able Limousine, and NELA 2nd Vice President David Lathbury of Black Tie LimousineDrinks, dinner, conversation, and entertainment then followed. Chauffeur Driven sponsored the event's entertainment, which included mentalist/magician Dave Hall, who delighted association members by going from table to table during the evening's cocktail hour and again with his dinnertime performance. There were also a number of prizes and gift baskets donated to the association for its members to win: Chauffeur Driven's editor Madeleine Maccar raffled off a pass to CD's 2015 Show in Miami Beach, which was won by Tina Benson of L.A. Limousine Service.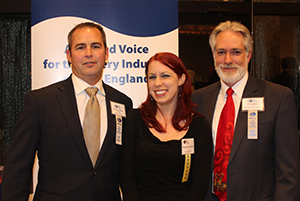 NELA President Michael Callahan of Able Limousine (left), Chauffeur Driven Editor Madeleine Maccar, and NELA CEO Rick SzilagyiThe association also hosted a few guest speakers before the evening was over. Mike Fogarty of Tristar Worldwide and the new Taxicab, Limousine & Paratransit Association (TLPA) president spoke about how the TLPA is working with the livery industry in its ongoing battle against Uber, emphasizing that "this is the fight of our lives" and that everyone in the regulated ground transportation industry "are in this fight together." NELA CEO Rick Szilagyi then discussed association developments, such as how the board decided to focus on offering more educational opportunities in the upcoming year through webinars and podcasts.

NELA's next quarterly meeting will be March 10.

Visit nelivery.org for more information.

[CD1214]