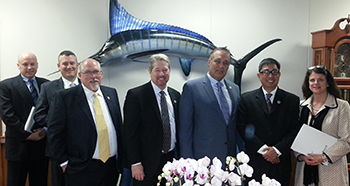 Members of the GCLA inside the governor's office Sacramento, Calif. — Nearly 30 members of the Greater California Livery Association (GCLA) took to the state capitol on January 15 to speak to roughly two-dozen California assembly members, senators, and consultants for its second annual Day on the Hill. The association addressed several industry concerns, specifically two bills proposed for 2015—SB 109, which mandates that there be more egress points on vehicles stretched to accommodate up to 10 people, and AB 612, which requires TNC operators to be insured at $1 million per vehicle—as well as the now-final state audit on the Public Utilities Commission (PUC).

While the GCLA adamantly supports safety measures, which SB 109 addresses in the wake of last year's limousine fire that killed five people, the bill was pushed through without allowing vehicles to be either grandfathered in or adequately modified before the bill's July 1 effective date. Nearly 80 percent of the state's operators have vehicles that require retrofitting—costing them an estimated $30,000 per vehicle—leading the association to ask for either a delay in implementation or a grandfather clause.

Carrie Cornwell—the Chief of Staff for Assemblymember Anthony Rendon, Chair of the Assembly Utilities and Commerce Committee—agreed that a delay in implementation may be the best option, noting that "legislation in the wake of a tragic event is not always the best for the long term."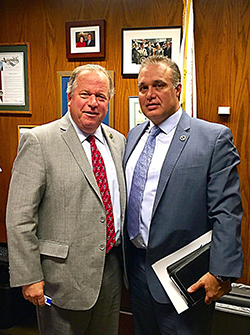 GCLA President Kevin Illingworth (right) with Assemblyman Bill Dodd GCLA has partnered with the California Highway Patrol to help clarify SB 109's confusing terms, and is waiting for confirmation from legislators who are willing to author this bill. Government Consulting, GCLA lobbyists, are working diligently on this effort.

Last year, California approved AB 612; however, the transportation committee allowed TNC vehicles' insurance to be "off" when a driver does not have the app active on his phone. The GCLA is not entirely satisfied with this solution, but instead focused its efforts on passenger safety. The achieve this, the association is supporting Assemblymen Adrin Nazarian in his efforts to pursue greater driver accountability by way of requiring Department of Justice (DOJ) background checks, pre-employment and random drug and alcohol screenings, and participation in the DMV pull-notice program. The state does not currently require any type of background checks on livery operations, but GCLA made it clear that safety is key and would be wholly behind these requirements if they're passed.

All GCLA members in attendance met with Nazarian to discuss the fight ahead. His proposed bill, AB 24, will offer a three-pronged strategy: consistency; seeking law enforcement's rather than businesses' endorsement of the bill to help validate safety as a goal; and the GCLA's crucial assistance in working closely with the transportation committee. Because GCLA is willing to take on DOJ background checks, Nazarian believes that his argument's strength will be consistency across all modes of transportation. He asked that GCLA members return to Capitol Hill when AB 24 is introduced.

Auditors stated enforcement failures regarding the state's audit on the PUC. With California operators spending nearly $9 million dollars on Public Utilities Commission Transportation Reimbursement Account (PUCTRA) funds, GCLA asked legislators and transportation committees alike to pressure the PUC to use these funds for greater enforcement, particularly against illegal TNCs.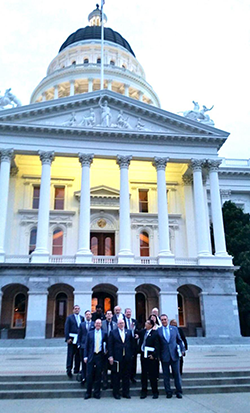 GCLA members on the steps of the state Capitol building On a positive note for California operators, Chief Consultant for the Assembly Utilities and Commerce Committee Sue Kately considers the PUC's role in regulation of ground transportation "antiquated" and said she is unconvinced that consumer protection is being addressed by the PUC at all.

"It is critical to get into the PUC early, and problem-solve with them as a significant stakeholder," Kately said, adding that heavy lobbying by any group can limit regulation on niche businesses; in this case, TNC legislation allows TNCs to "exploit employees and independent contractors."

The PUC refused to meet with the GCLA. Even when GCLA has offered and been accepted as a resource to improve enforcement, the PUC has not asked for the association's assistance. It will continue to reach out to PUC legislative staff and the California Utilities and Commerce Committee that oversees PUC authority. 

A late afternoon meeting with new Chairman of the Assembly Transportation Committee Jim Frazier yielded quick results. Frazier and his staff are scheduling meetings with two of the PUC commissioners to encourage action on the PUC audit recommendations.

Senate Transportation Committee members also met with GCLA members. As chief consultant to the Senate Transportation and Housing Committing, Randy Chinn drove home how important data is on TNC dangers to help with PUC enforcement. Backed by Alicia Priego, Capitol Director for Senator Jim Beall, Chair of the Senate Transportation and Housing Committee, Chinn asked the GCLA to compile articles and information that would help the association's cause and educate legislators.

The next GCLA meeting will be February 10 in Los Angeles.

Visit gcla.org for more information.

[CD0115]