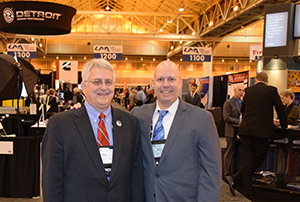 UMA VP of Industry Relations and COO Ken Presley (left) and Chauffeur Driven Publisher Chris WeissNew Orleans — The 31st annual United Motorcoach Association (UMA) Expo headed to New Orleans, La., from January 18-22, where it delivered its combination of trade show and educational opportunities to some of the motorcoach industry's biggest names.

The event brought together more than 1,700 representatives from the motorcoach industry, including Chauffeur Driven and its partner company Premier Products, both of which had booths on the show floor and were represented by CD Publisher Chris Weiss, Sales Manager Darren Saat, and CEO Eric Alpert. Other familiar faces included Grech Motors, Turtle Top, Advantage Funding, Lancer Insurance, FleetMatics, and Century Business Solutions.

According to Maggie Vander Eems, UMA's meetings and operations director, more than 180 exhibiting companies occupied the show room floor's 200,000 square feet. This year's event saw an encouraging hike in both exhibition and registration numbers.

"There was definitely an increased attendance over last year, so we're really happy about that," Vander Eems said. "It was really great to see some of the best attendance numbers we've seen in years."

Vander Eems added that the expo's seminars "had a really great turnout," including a few new programs that aimed to keep the educational component fresh and all-encompassing.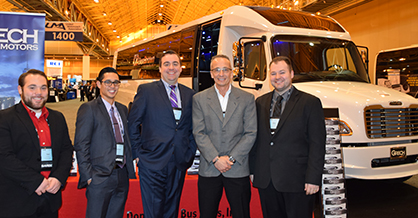 Representatives from Grech Motors were on hand at the annual expo "We added a track to our education seminars, which was for small operators," Vander Eems said. "It had multiple sessions with a focus on sub-topics that would be of interest to a small operator, and touched on things like ADA and insurance. That session was really well-attended."

It wasn't all business, and many of the expo's events brought attendees to New Orleans landmarks and hot spots like Bourbon Street, the French Quarter, and The Big Easy's many local dining establishments and watering holes. This year's launch of the Motorcoach Mardi Gras fundraiser, an initiative spearheaded by the Motorcoach Marketing Council with support from the separately operating UMA, looks to raise public awareness of motorcoach travel's benefits and held its fundraising event at Razzoo Bar & Patio.

While UMA is already looking ahead to 2016's expo in Atlanta, Ga., the organization's next big event will come with its annual Capitol Hill Days from March 17-18 in Washington, D.C. Owners and senior management of bus and motorcoach companies across the country are invited to meet with elected officials to discuss the industry's most pressing issues. Chief among these concerns are the possibility of motorcoach insurance limits skyrocketing from $5 million to between $20-$25 million and the potential of disappearing private-sector protections that prevent publicly funded transportation agencies from dipping into private charter work.

Completed registration forms for Capitol Hill Days, which can be downloaded from uma.org/capitolhill, are due no later than February 19.

Visit uma.org and motorcoachexpo.com for more information.

[CD0215]