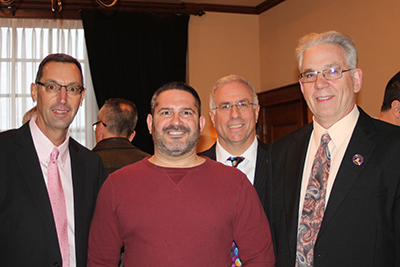 (L to R): PRLA Secretary Mark Barnett of Best of Times Limousine, Tony Previte of Dynasty Limo, PRLA Director Anthony Onorata of Anthony Limousine, and PRLA President Steve Rhoads of Rhoads Limousine King of Prussia, Pa. — The Philadelphia Regional Limousine Association (PRLA) held its most recent monthly meeting on April 8, which was sponsored by Brightbill Bodyworks.

The meeting kicked off with establishing that this year's Monte Carlo Night will be held at Twining Hall again, PRLA President Steve Rhoads of Rhoads Limousine (who holds an honorary board position with the Limousine Association of New Jersey) discussing the differences in Pennsylvania and New Jersey's TNC fights, and some association housekeeping. Rhoads also advised operators to continue speaking with their representatives and senators, and provided a list of key issues to serve as possible talking points during those meetings.

Mike Barreto of Flyte Tyme Worldwide also cited a recent study from expense management provider Certify, which addressed the "huge jump" in Uber's percentage of all paid ground transportation rides in North America over the course of a year: In March 2014, it accounted for 15 percent of the continent's ground transportation; in March 2015, it held a whopping 47 percent of that total.

"A 32 percent jump in just one year is extremely scary," he said, adding that Uber also represented 71 percent of business travelers' first-quarter ground transportation spending in San Francisco, 56 percent in Dallas, and 49 percent in Washington, D.C.

Jim Schantz, a legislative assistant from Pennsylvania Senator Lisa Boscala's office, spoke about the state budget, warning all in attendance, "The governor's looking for every possible dollar sources he can and nothing is off the table: Don't be surprised if your industry becomes a sales-taxable item, too." He echoed Rhoads's call for meeting with state and local representatives.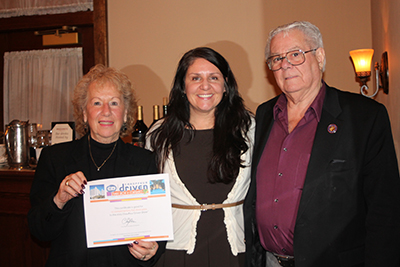 Chauffeur Driven's Director of Events Lori Battista (center) with Miami pass winners Mel and Don Marrolli of A. Royal Limousine "When you go speak to your local senators, remind them that you have enjoyed being a non-sales tax industry and your customers have enjoyed that, too," Schantz said. "Urge them not to pass the sales tax that you would have to pass on to your customers."

Schantz also explained that state government "hasn't had to deal with a whole new entity in years" and touched on two ways that things could play out: Either legislation will have to recognize TNCs under PUC's rules and regulations, or "Uber will cease to exist."

Senate Bill 447 was also among the topics Schantz discussed, as he provided a summary of the regulatory, safety, and liability issues it addresses. Introduced in February, SB-447 defines the differences between livery companies and TNCs, and calls for stricter regulations of the latter to better align with the state regulations imposed on the former.

Chauffeur Driven's Director of Events Lori Battista and Editor Madeleine Maccar were both present for the meeting. They raffled off a pass to October's Miami Show, which was won by Mel and Don Marrolli of A. Royal Limousine.

The next PRLA meeting is currently planned for May 13.

Visit prlainc.com for more information.

[CD0415]