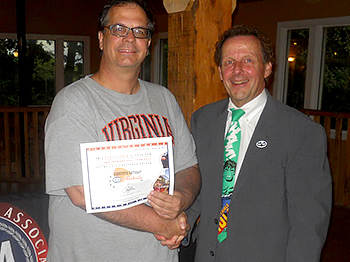 Nashville pass winner Dan Goff (left) of A Goff Limousine & Bus Company with CD Industry & Brand Ambassador Philip Jagiela Charlottesville, Va. — The Virginia Limousine Association (VLA) held an intimate meeting May 11 at the First Colony Winery, which was attended by CD Industry & Brand Ambassador Philip Jagiela.

VLA President Paul Walsh of Superior Transportation opened the meeting, which launched into a DMV presentation about how TNCs will be legally operative in Virginia starting July 1. The state statute grants enforcement of TNC regulations to the DMV and all law agencies, and all TNC vehicles must have $1 million in insurance coverage while the app is on.

Jagiela then spoke to the assembled VLA members about his role with Chauffeur Driven and how the creation of his position will allow CD to visit with every association at least once a year to explore industry trends and craft education relevant to both the industry and each association's unique needs.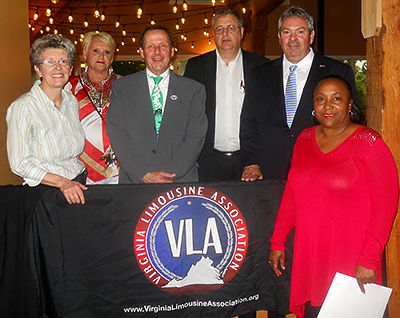 L to R: VLA 2nd Vice President Andrea Saathoff of Albermarle, VLA Treasurer Pam Tripp of Tripps Travel, CD Industry & Brand Ambassador Philip Jagiela, xxx, xxx, and Audrey Stroud of Black Tye Limousine A conference call with NLA President Gary Buffo was also on the agenda, which covered the national association's Ride Responsibly initiative and the work it's doing with PR firm EVINS Communication. The NLA is aiming to rebrand while also focusing on the safety of choosing traditional ground transportation over TNCs, and is developing a sticker that can be placed on luxury ground transportation vehicles to identify those currently registered with the association—all 36,000 of them. Buffo went on to say that he is confident that "we will prevail with our efforts against TNCs," and explained that this year's Day on the Hill, which will be held June 10, will focus solely on the issues of TNCs.

Andrew Nixon of First Colony Winery, which hosted the meeting, offered tips to make any vineyard tour a successful one before Jagiela raffled off two passes to Chauffeur Driven's 2015 events. Dan Goff of A Goff Limousine & Bus Company won the Nashville Executive Retreat Pass while Audrey Stroud of Black Tye Limousine was the winner of the Miami Show pass.

The next VLA meeting is scheduled for July 13.

Visit virginialimousineassociation.org for more information.

[CD0515]