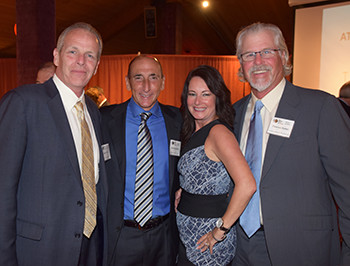 L to R: Steve Ward of Above All Transportation, Brett Barenholtz of Boston Car Service, and Tami Saccoccio and Dawson Rutter of Commonwealth Worldwide Chauffeured Transportation Saugus, Mass. — When the New England Livery Association (NELA) met on June 16, about 80 people were in attendance—a turnout that CEO Rick Szilagyi of Lexian Management said was in line with 2008-2009 numbers, indicating that the industry is returning to its pre-recession health. Chauffeur Driven Publisher Chris Weiss was among those present for the annual meeting, both as a speaker and as a newly announced member of the association's board of directors.

A return to membership involvement not seen since the Great Recession hit means that the association can better serve its membership, especially as regional TNC battles continue.

"Trade associations do three things: They provide advocacy, community, and education," Szilagyi said. "As far as advocacy goes, that's what we're doing legislatively in Massachusetts, Connecticut, Rhode Island, and New Hampshire."

The annual meeting also saw the announcement of NELA's 2015/2016 board of directors. With changes in association bylaws now allowing for up to three affiliate directors, the board is as follows:

President: Mike Callahan of Able Limousines
1st Vice President: David Lathbury of Black Tie Limousine (also co-chair of the Golf Committee)
2nd Vice President: Tina Benson of L.A. Limousine Service (also chair of Chauffeur Appreciation Day)
Secretary: Andrew Tighe of Tristar Worldwide (also chair of the membership meetings)
Treasurer: Teale Smith of Maine Limousine Service (also chair of the Education Committee)
CEO: Rick Szilagyi of Lexian Management (also co-chair of the Legislative Committee)
Directors: Don Libby of Feliciano Limousine Service, Anthony "Corky" Renzi of Transport the People, Lynda Saitta of Momentum Drive, Richard Saks of Liberty Limousine, Tom Shiels of Met Boston Limo, and Gina Walker of North Shore Shuttle/BeDriven.com
Affiliate Directors: Jeff Brodsly of Chosen Payments, Stephen Crispo of Research Underwriters, and Chris Weiss of Chauffeur Driven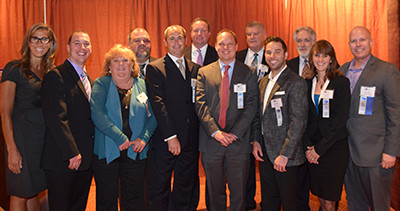 The New England Livery Association's 2015/2016 Board of Directors Weiss was the meeting's keynote speaker, offering a national perspective on the industry gained through attending other regional associations' meetings across the country, as well as meeting with the industry's 20 groups and speaking with operators. While profit margins are still tight, nearly 90 percent of chauffeured ground transportation companies are on the upswing, acquisitions are on the rise, and companies are finding more work by branching out into services that TNCs can't provide, such as wine tours and government contracts. He also discussed Chauffeur Driven's upcoming events, with Kevin Cronin of Above All Transportation winning a pass to CD's Miami show this October.

Kristen Carroll of The LMC Group was on hand to speak about hiring chauffeurs, offering points to improve the industry's image to make it a more attractive employment option than TNCs. She reminded the audience that while one company can't take on a giant empire like Uber, hundreds of smaller companies that band together certainly can. Carroll also advised those in attendance on ways they can embrace branding to improve each company's image.

With NLA's Day on the Hill preceding the meeting by less than a week, Scott Solombrino of Boston Coach/Dav El spoke on behalf of the national association about the event and the industry overall, addressing the ongoing challenges of operating above-board in a post-TNC environment. He called the recent legislative day in Washington, D.C. "the most productive week in the history of the NLA," as speaking to elected officials and their staff members about workers' rights in an independent-contractor economy resonated well with lawmakers.

Brodsly and Weiss both pledged money to the association to assist with the additional costs it has shouldered while fighting back against TNCs, with Brodsly also giving $2,500 to NELA for its ongoing working relationship with Chosen Payments.

A number of raffles ended the evening, with Lee Sickles of A-Executive Limousine donating his winnings back to the association's legislative fund.

NELA's next event is its 16th annual George Colarullo Memorial Golf Tournament, which will be held at Marlboro Country Club on August 18.


Visit nelivery.org for more information.

[CD0615