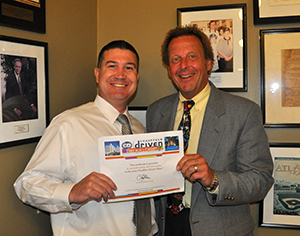 Miami Show pass winner Chad Casey (left) of Casey Corporate Transportation and CD's Industry & Brand Ambassador Philip Jagiela Atlanta — More than 30 members of the Greater Atlanta Limousine Association (GALA) met at Mary Mac's Tea Room August 18. Chauffeur Driven's Industry & Brand Ambassador Philip Jagiela was present for the bimonthly membership meeting, which was overseen by Vice President Jeff Greene of Greene Worldwide Transportation, as President Dennis DeLoatch of Carey Atlanta was unable to attend.

After member introductions and vendors' brief "elevator speech" overviews, the meeting launched into discussing two bills that have been introduced to the House. One of the bills, HB 225, would establish the parity that members want in order to bring TNC operations to a level playing field. In their pursuit of fair competition, GALA members are especially focused on limited operating permits, fingerprint-based background checks, vehicle inspections, and special livery license plates for TNC cars and drivers.

Greene, who is also on the NLA board of directors, discussed some of the NLA's current initiatives, such as Ride Responsibly (rideresponsibly.org), the upcoming emergency meeting in Washington, D.C., where all interested board members are encouraged to appeal to the Department of Labor in regard to TNCs' business models and independently operating drivers, as well as the nascent Deem partnership that aims to provide not only the industry but also the riding public with a national app.

With the NLA/Deem app in its infancy and its many moving parts in various stages of completion, both the timeline to and final cost of a successfully launched live application are still unclear. But the national association is hoping to defray some of its costs by seeking volunteers from within its membership base to help assess the app as it grows ever closer to becoming launch-ready.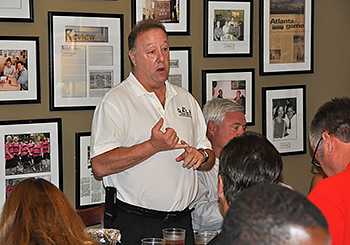 GALA Vice President Jeff Greene of Greene Worldwide Transportation Among GALA's more regionalized business include the new holding area at the Hartsfield-Jackson Atlanta International Airport (ATL), which will be designated once the planned fourth-quarter revitalization construction begins, and a few items pertaining to city council. Greene warned that the council's regulations may affect TNC operations, as the ride-sharing services cannot legally perform airport pickups at this time. The council is currently rewriting its regulatory requirements, and has both included GALA members in its work sessions and encouraged operators to voice their concerns by communicating with their legislators.

Jagiela then took the floor, discussing trends he's seen by visiting associations all over the country and providing an overview of what Chauffeur Driven is doing to support the industry, including the benefits of CD's quickly approaching Miami Show. He highlighted how operators nationwide are dealing with their own TNC troubles, especially the ways they have maximized their meetings with regulating authorities by being both positive and proactive when discussing TNCs with them.

GALA Treasurer and Golf Outing Chairman Fred Rich of Olympus Worldwide provided the treasury report and updated all in attendance about the annual golf outing's registrants, sponsors, and benefits. The fundraising charity tournament is the association's next event, scheduled for September 22.

Visit galalimo.org for more information.

[CD0815]