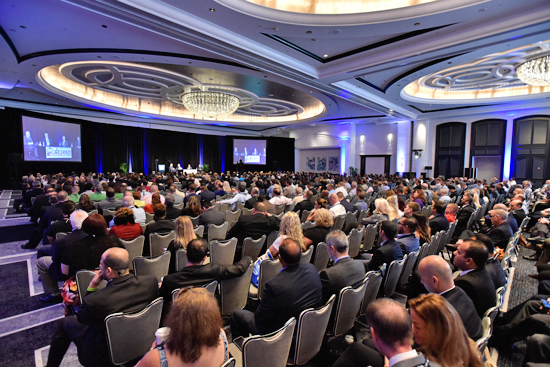 Miami—We knew that Miami was going to be a major destination after we left our previous venue in tired, old Atlantic City, but even we were shocked at what a great show it was this past October 11-14 at the Loews Miami Beach Hotel. It was impossible not to run into industry folks in the lobby, in the elevator, in the hallways...

Nearly 1,900 attendees flocked to the South Beach hotel for an incredible four days of education, networking, and a whole lot of fun. We welcomed many new faces, including many operators from around the world. A major thank you to our attendees, exhibitors, and sponsors—especially Title Sponsors Ford/Lincoln and Grech Motors—for making this our best show to date!

Affiliate networking was on everyone's minds as our Affiliate Central Networking Forum was packed with over 50 tables (a dozen of which were international operators) and 800 operators making their best efforts to share business. The International Meet & Greet was similarly well received with a more casual environment for operators to chat and make valuable connections.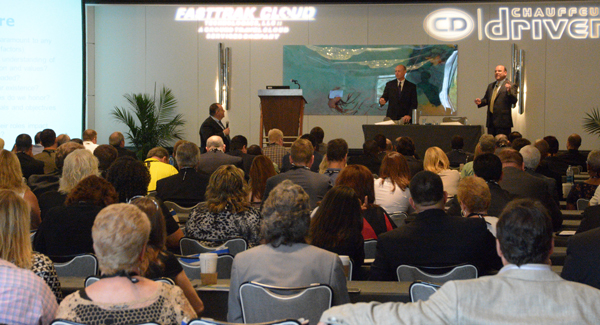 "It was my first show ever and definitely not my last," said Ralph Van Deldan of Van Deldan Corporate Limousine Services in Amsterdam, Netherlands. It was wonderful to meet people in the same business and share each other's expertise. It brings back the personal aspect of the industry, which I think is most important. I am looking forward to the next event!"

The show's seminars and workshops provided a fresh approach to industry education. Seminars held throughout the show's four days allowed operators and their staff the opportunity to share business tips, discuss industry trends, and network with mentors and companies from around the world. Noteworthy, was the State-of-the-Industry Address—a roundtable moderated by President and Publisher Chris Weiss featuring Mike Fogarty of Tristar Worldwide, David Seelinger of EmpireCLS Worldwide, and Scott Solombrino of Dav El/BostonCoach—which engaged and entertained a capacity-filled room with industry insight and experience. The show's keynote, provided by Terry Jones, the founder of Travelocity and Kayak, provided a true insider's perspective of the effect of technology on the travel industry and was enthusiastically received by attendees—and it's still sparking industry conversations nearly a month later.

"The show was great for me. Very informative speakers covering great topics! My favorite was the Mentor Program. I attended it last year and again this year in Miami, and I really enjoyed the insight and encouragement. As a small business owner, it really helps to receive ideas from the big guys and gals," said Jerry Vickery of Classic Limousine of Rockford in Machesney Park, Ill.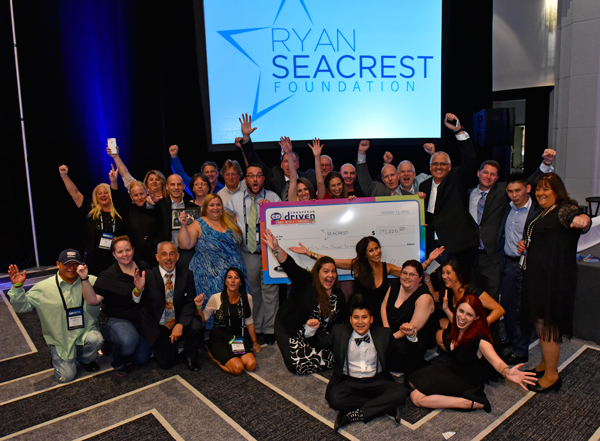 The highlight was undoubtedly the Charity Dinner and Auction, held to benefit the Ryan Seacrest Foundation, a non-profit organization that builds entertainment complexes in children's hospitals. The show auction raised a staggering $152,000, almost doubling the $85,000 raised the previous year. A personal video from Ryan Seacrest was presented by the Foundation's Executive Director and COO Meredith Seacrest, who was on hand to experience the generosity displayed by the chauffeured ground transportation industry.

And what would a Chauffeur Driven Show be without its world-class nightlife? CD hosted two extravagant parties, each designed to capture the pulse of the South Beach area. Sunday's Havana Nights kicked things off with a Latin-infused fiesta, complete with salsa dancers, cigar rolling stations, and tropical-inspired libations and food. On Monday evening, attendees headed poolside for the Caribbean Sun Splash, CD's first outdoor party. Island cuisine and drinks were the perfect complements to the beautiful beach-front view and ocean breeze. No one wanted the nights to end.

The Women in the Industry Networking Reception was a powerful debut as nearly 125 women joined us for the evening festivities. We listened to your feedback, and it will be even bigger and better next year when we land in Washington, D.C.!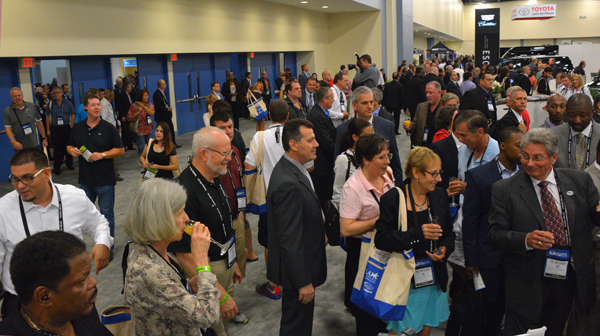 "It's so easy to say great things about CD events—the team effort really shows!" said Edison Kahakauwila of L.A. Limousines & Transportation Services in Victoria, B.C. "Starting with a riveting keynote speaker, Terry Jones was amazing and invigorating—exactly what a keynote needs to be. The international Meet and Greet was packed with global operators making it the best-attended meet-and-greet that I have attended. The Affiliate Central Global Partner Forum was an amazing idea and allowed for good conversation and lasting connections. All in all, great value in an awesome location, and I am definitely looking forward to Washington, D.C. next year just before the election—what timing!"

Next year we take the show to our nation's capital just weeks before the 2016 presidential election—we can feel the energy already! Mark your calendars for October 9-12, 2016, and don't forget to check out our post-show issue next month. Visit chauffeurdrivenshow.com for more information.

[CD1115]