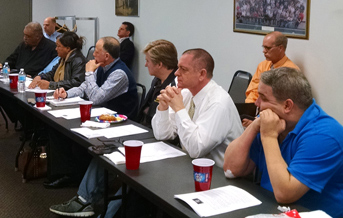 The 23 people in attendance at the recent VLA meeting were a mix of longstanding and new members Richmond, Va. — Twenty-three attendees were present for the first membership meeting of the Virginia Limousine Association (VLA) of 2016, held February 1 at James River Transportation. The meeting saw a healthy mix of longstanding and brand-new members present, with Richard Minter of Commonwealth Chauffeur & Concierge and Kent Rayfield of Signature Transportation among some of the new faces.

The meeting included presentations from an array of industry interests. Vendor Member Jack Rolfe of Georgetown Insurance spoke to those in attendance about insurance issues while Dave Glick of First Class Customs, also a vendor member, provided a brief overview on what differentiates his company from others.

Additionally, Barbara Arkwright and Gregory Wray of the Virginia DMV Motor Carrier Division's Field Operations spoke about how "agency is keeping an eye on the growing number of app partners of TNC companies soliciting work, and that our mutual cooperation has helped the field agents do a better job," according to VLA President Paul Walsh of Superior Executive Transportation.

At the association level, VLA is working toward the installation of an executive director so there will be an individual dedicated to the stable growth of the association who isn't simultaneously juggling the responsibilities and demands of owning a ground transportation company.

"As we are in such a large state, our intention is to grow the association into a large and sustainable membership," Walsh said. "Reality has shown us the difficulty of attaining these goals as "volunteer" board members who are also running our businesses and giving our time when we can."

While announcing an executive director originally had been slated for the meeting, the VLA decided to delay the hiring until all members' questions have been addressed, giving members a deadline of February 14 for submitting their remarks. Any input will be discussed during a conference call once the deadline has passed.

The next VLA meeting will be April 4.

Visit virginialimousineassociation.org for more information.
[CD0216]