Saugus, Mass. — More than 75 members were on hand at the New England Livery Association (NELA) quarterly meeting held on June 14 at the Kowloon Restaurant. In addition to providing news and industry updates for the members, the evening meeting also saw the announcement of the 2016-2017 NELA board of directors, who will assume their roles on July 1. The elected officers are:

President: Michael Callahan of Able Limousine
1st Vice President: Andrew Tighe of Tristar Worldwide Chauffeur Services
2nd Vice President: Tina Benson of L.A. Limousine Service
Treasurer: Teale Smith of Maine Limousine Service
Secretary: Lynda Saitta of Momentum Drives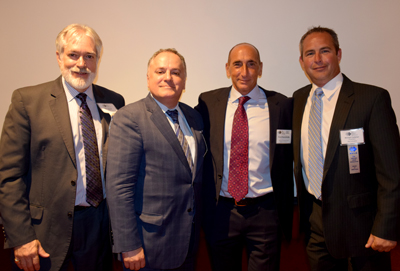 NELA Executive Director Rick Szilagyi, Scott Solombrino of Dav El/BostonCoach, Brett Barenholtz of Boston Car Service, and NELA President Michael Callahan of Able Limousine Following a cocktail hour and a demo of the Mercedes-Benz Metris, sponsored by Flagship Motors of Lynnfield, Mass., the group took part in a buffet dinner. After the meal, the evening's sponsors spoke to the members. CD Publisher Chris Weiss, representing the meeting's entertainment sponsor Chauffeur Driven, thanked the association and briefly touched upon October's Chauffeur Driven Show in Washington, D.C. Rob Slocum from Flagship was next to speak, followed by Chris Simpson of Allied Technologies, who sponsored the evening's raffle.

NELA Executive Director Rick Szilagyi of Lexian Management provided his update, which included the introduction of the new board and a recap of highlights from the fiscal year, which included NELA's recent Chauffeur Appreciation Day at Logan Airport that served barbecue to 1,000 drivers in the area. Szilagyi also touched upon recent TNC legislation in the six states that represent the association.

National Limousine Association (NLA) Secretary Scott Solombrino, president of Dav El/BostonCoach, took to the podium to share NLA news. As one of the chauffeured ground transportation industry's leading opponents of TNCs, Solombrino detailed the challenges operators currently face on the local, state, and federal levels.

"We're fortunate to have Scott working on the TNC issue across the country," said Szilagyi. "He's a dynamic speaker, and we're always glad to have him present."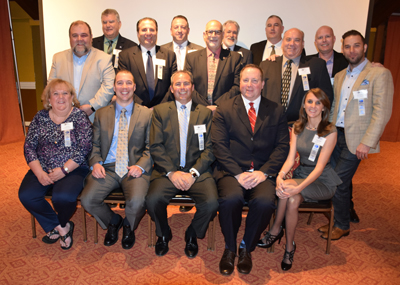 NELA Board of Directors The final speaker of the evening was Ellen Kearns of Constangy, Brooks, Smith & Prophete, who has been an editor of the first, second, and third editions of the Fair Labor Standards Act. She was on-hand to discuss the impending changes to the overtime rules, which goes into effect on December 1.

The meeting concluded with a number of raffles. Weiss donated a pass to the Chauffeur Driven D.C. show, to be held October 9-12, and was won by Brittni Kirk of All Points Limousine, Boston, Mass. Jeff Brodsly of Chosen Payments was the winner of the evening's 50/50, and he generously donated the money back into the association.

NELA's next quarterly membership meeting is scheduled for September 13.

Visit nelivery.org for more information.

[CD0616]