2016 will see the winds of change blowing through our nation's capital—and our flagship event will be no exception. After literally taking our show on the road for nearly 2,000 attendees in 2015, we'll be coming back to the Northeast just in time for the most history-making presidential election ever.  

This year's host property is the stunning and newly renovated Renaissance Washington, DC Downtown Hotel—which will also be the site of our latest hotel takeover, with the staggering majority of rooms reserved for our guests. Directly across the street, you'll find the Walter E. Washington Convention Center, where the latest products and most in-demand services from more than 130 vendors will be displayed in 115,000 square feet of space. Best of all, no shuttles!

While the schedule is being fleshed out, here's a sneak peek at two incredible events we have planned. First, we debut our Benchmark Breakouts for 2016, which is based on the popular 20-group concept. Here's how it works: Operators can pick from a number of different groups, where they will interact with 11 other like-minded operators from non-competing markets to share ideas and come up with solutions to business challenges. Each of the groups (listed below) will be broken down by revenue or type of staff, and have a moderator present for a structured, but open, exchange in a private meeting room.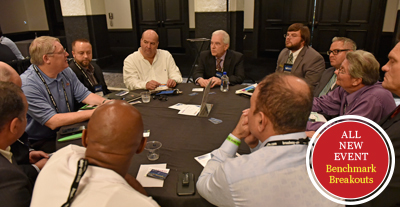 The categories for our Benchmark Breakouts are:

Less than $2 Million in Gross Annual Revenue
$2-5 Million in Gross Annual Revenue
Over $5 Million in Gross Annual Revenue
Affiliate Managers
Operations Managers
International Operators
Motorcoach Operators
Retail Operators
DOT Compliance
We're also bringing back an attendee favorite: Our Operator Mentoring Program. For those unfamiliar with this event, we pair 10 company owners (again, from non-competing markets) with a leading industry operator of their choice (listed below) to discuss whatever the group decides—from tips and tricks to success to growing pains to solutions for thorny issues that the mentors have likely faced themselves. The discussion is up to the group! This event is open to company owners only, and it will be on a first come, first served basis.
Our 2016 mentors are:
Robert Alexander, President/CEO of RMA Worldwide
Sam Amato, President/Founder of Gateway Global
Maurice Brewster, President/Founder of Mosaic Global Transportation
Alan Candeub, President of Park Avenue Limousine
Eric Devlin, President of Premier Transportation
Jon Epstein, President of Royal Coachman Worldwide
Mike Fogarty, CEO North America of Tristar Worldwide
Kim Garner, President/Co-Owner of BEST Transportation
Dan Goff, General Manager of A Goff Limousine & Bus Company
Joe Ironi, President of Global Alliance Worldwide
George Jacobs, President of Windy City Limousine
Kyara Kahakauwila, VP Operations of LA Limousines
Steve Qua, President of Company Car & Limousine
Tracy Raimer, President/Founder of Your Private Limousine
Ron Stein, President/CEO of Exclusive Sedan Service
Mike Zappone, CEO of All Transportation Network
You must register for both events, which will be available with the full launch of our show website at chauffeurdrivenshow.com on July 1. General show registration is now open at
chauffeurdrivenshow.com
. Early-bird rates of only $245 for a full show pass are good through August 19. We'll see you in D.C.!
[CD0616]