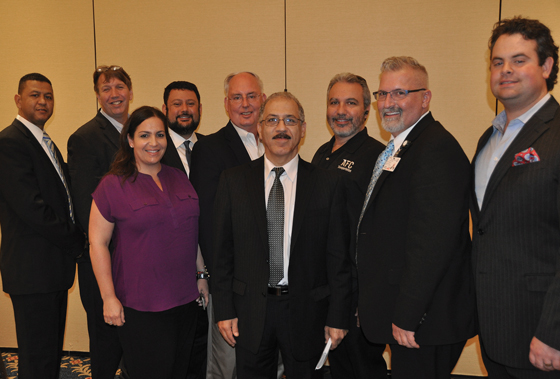 HALCA's board of directors. Front row (L to R): Secretary Lauren Barash of The Houston Wave, Vice President Ismail Abed of La Brees Limousines President Wes Hart of American Corporate Transportation and Treasurer Matt Assolin of Nikko's Worldwide Transportation. Back row (L to R): Board members Jon "Younis" Ouazdi of Transgates Limousines, Kevin Claypool of Atlas Limousines, Josef Khanoyan of AAA Corporate Car & Limo, David Dillon of City Car Services, and John Ferrari of AFC Transportation. Houston — More than 50 members and guests of the Houston Area Livery & Charter Association (HALCA) met on June 21 at the Marriott Houston Westchase for an evening meeting. Among the attendees of the event, sponsored by Karhoo, was Chauffeur Driven's Industry & Brand Ambassador Philip Jagiela.

HALCA President Wes Hart of American Corporate Transportation opened the meeting by welcoming the crowd and introducing the lineup of speakers for the evening. First, Hart introduced two representatives of the City of Houston Administration and Regulatory Affairs (ARA)—Kathryn Bruning, Asistant Director CP/Transportation, and Nikki Cooper-Soto, Division Manager-Vehicle for Hire Permitting and Enforcement—who addressed the group about licensing requirements and new efforts being made to coordinate registration for airport pickups. Bruning and Cooper-Soto spent a great deal of time clarifying the "Chapter 46" requirements that pertain to offering vehicle-for-hire services to those with disabilities. Attendees were encouraged to visit the ARA website for full regulatory documentation.

Next to speak were two executives from technology firm Karhoo: Tarek Mallah, Senior Vice President, and Gregg Haroutunian, Supplier Relations Manager. In outlining Karhoo's mission and goals for the near future, the pair encouraged HALCA members to think of the company as "Expedia for ground transportation needs." Mallah and Haroutunian also shared their belief that their aggregate service will allow a greater audience to select premium transportation services. Karhoo is planning a "soft launch" for those who sign up for the service early, with a "hard launch" in several large markets (including Houston) expected by November 2016.

Jagiela was the final speaker of the evening. He shared nationwide industry trends with the HALCA members, and stressed that CD is in the trenches with their involvement with associations around the country. Further, he encouraged the group to reach out to the magazine to share their views, and emphasized a need for each member to become more involved in the workings of the association. Before Jagiela concluded, he raffled a pass to the Chauffeur Driven Trade Show & Conference to be held in Washington, D.C. on October 9-12, which was won by Bill Ata from AllStar Transportation Service & Limousine.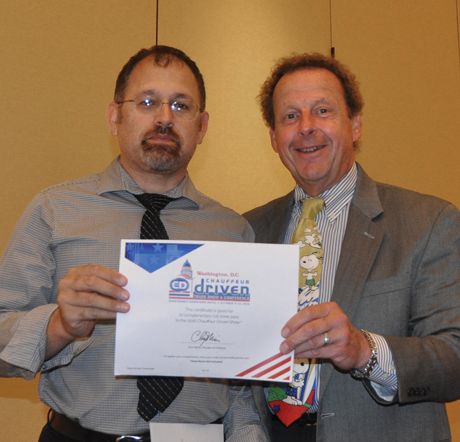 CD Show Pass winner Bill Ata of AllStar Transportation Service & Limousine (left) and CD Industry & Brand Ambassador Philip Jagiela Before concluding the meeting, Hart announced two by-law changes that need approval by general membership, and then introduced the 2016-2017 executive board officers:

President: Wes Hart of American Corporate Transportation
Vice President: Ismail Abed of La Brees Limousines
Treasurer: Matt Assolin of Nikko's Worldwide Transportation
Secretary: Laren Barash of The Houston Wave

HALCA's next general session meeting is tentatively planned for the third Tuesday in October at a location to be determined.

Visit houstonlimos.info for more information.

[CD0716]