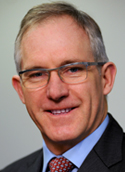 Tristar Worldwide CEO Dean de Beer London — U.K.-based vehicle-for-hire provider Addison Lee recently acquired Tristar Worldwide, effectively creating Europe's largest executive car service. With Tristar's operations in the U.S., Asia, U.K., and continental Europe, Addison Lee is now a major international operator of car services around the globe.

"This is a major landmark for our business," said Addison Lee CEO Andy Boland. "Our customers will benefit from access to the best executive car service in the world. Coming together with Tristar means our shared ethos and commitment to quality, service, and reliability can be expanded globally."

Tristar already operates the largest executive car fleet in the U.K. Together with Addison Lee's fleet, the combined operation will total almost 1,000 premium vehicles around the world.


Addison Lee CEO Andy Boland The acquisition fulfils both companies' strategy to focus on the premium end of the market and increase the availability of high quality car services to customers. There is strong demand for executive car services, particularly on a trans-Atlantic basis, which means the combined business is well positioned for growth.

Tristar has global revenues of £50m, more than 200 staff, and over 450 chauffeurs. It has over 35 years of heritage and a reputation for being one of the most trusted brands in the industry. The Tristar brand will continue to be bolstered by Addison Lee's substantial fleet, 23,000 business customers, and market-leading technology.

"There will be significant growth in the executive car market following the 15 percent jump in volumes we saw in 2015," added Boland. "With Tristar, we will be able to take our service to the next level and into new markets around the world. For the customers of both companies, this means a better and more efficient experience and a global service."

Tristar Worldwide CEO Dean de Beer said, "Both Addison Lee and Tristar are market leaders in their respective sectors with long standing reputations for service quality and reliability. When we set out to look for a partner with whom we can grow and take our business to the next level, Addison Lee was the obvious choice. I am proud of what we have achieved so far and excited about the next chapter for Tristar."

Visit addisonlee.com or tristarworldwide.com for more information.

[CD0716]