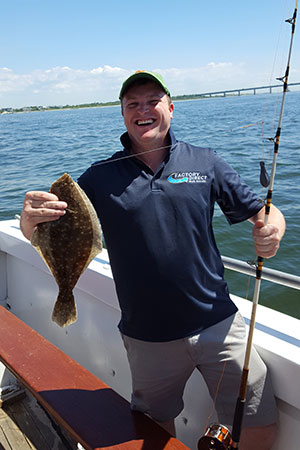 Adam Tortora from Bird Bus Sales with the catch of the day. Commack, N.Y. — The Long Island Limousine Association (LILA) celebrated the summer with a series of fun events for their members. The association hosted a trio of get-togethers around the Long Island shore region.

"We wanted to emphasize what summer in Long Island is all about," said LILA President Bill Goerl of Clique Limousines. "To us, it's about the water, fishing, barbecues, and concerts; July and August on Long Island are about vacation with family and friends, so we wanted to make the association part of that as well."

On July 26, LILA hosted their annual membership BBQ at Charlie's Bar & Marina in Lindenhurst. More than 85 members were present, making it a record turnout for the event. The annual BBQ is hosted by LILA member Charlie Gandolfo of Dynasty Limousine, who also is the owner of the venue. Goerl was pleased with the attendance, and said that it's the organization's biggest event other than the Holiday Party in December.

Two weeks later on August 9, LILA members took to the sea for a mid-week fishing trip. A LILA tradition in the making, this is the third time the association has chartered a boat from the marina in Captree to fish for fluke and flounder. Roughly 20 LILA members were able to take some time away from the business and take part.
"This was a huge success," said Goerl. "The members really liked the networking and 'no business' aspect of the trip."

Every summer, Jimmy Buffett and His Coral Reefer Band come to Jones Beach in what is one of the hottest concerts of the season. On August 25, LILA decided to take part in the traditional tailgating that has become an essential part of the Buffett concert-going experience. Goerl and association members Doug Schwartz from Executive Limousine, Matt Silver from Ultimate Class Limousine, and Eddie Podlesny of Serenity Limousine parked stretch limos in the parking lots around the Nikon at Jones Beach Theatre in order to promote the industry to the roughly 67,000 people attending the show.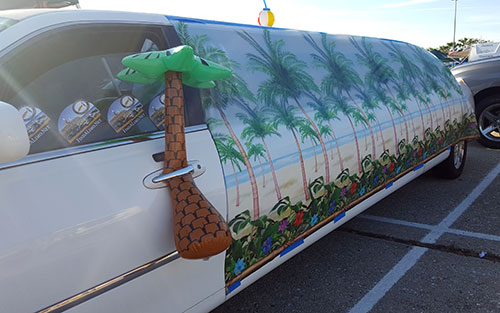 Limousine parked outside the Jimmy Buffett concert at the Nikon at Jones Beach Theater "We got on line at 5 a.m. to be ready to park when the lot opened at 6," said Goerl. "Arthur Messina from Create-A-Card made up some postcards with the FindaLimo.net branding, and we handed them out as a promotion. Findalimo.net directs consumers to our website to find companies in their area, and has been a huge success."

Goerl is enthusiastic about how the summer LILA events were received. "It's the first time we've bombarded our members with three activities, back-to-back, but the feedback from the members has been positive. They see fun stuff, and it helps add to the membership. We're trying to make the association more of a networking group."

Coming in September is LILA's chauffeur training class, held on the 13th at the Hilton Garden Inn in Plainview, N.Y. A general membership meeting will follow two weeks later on September 27.

Visit nslali.com for more information.

[CD0916]