Details

Category: Industry News
The US Department of Labor recently published a Notice of Proposed Rulemaking to help employers and workers determine whether a worker is an employee or an independent contractor under the Fair Labor Standards Act. The changes were proposed to combat misclassification, which the DOL has identified as a continued problem, and is currently seeking comments from the public to be submitted no later than November 28, 2002.
DOL says it proposed a framework more consistent with longstanding judicial precedent on which employers have relied to classify workers as employees or independent contractors under the FLSA. The department believes the new rule would preserve essential worker rights and provide consistency for regulated entities.
"While independent contractors have an important role in our economy, we have seen in many cases that employers misclassify their employees as independent contractors, particularly among our nation's most vulnerable workers," said Secretary of Labor Marty Walsh. "Misclassification deprives workers of their federal labor protections, including their right to be paid their full, legally earned wages. The Department of Labor remains committed to addressing the issue of misclassification."
The proposed rule would do the following:
Align the department's approach with courts' FLSA interpretation and the economic reality test.
Restore the multifactor, totality-of-the-circumstances analysis to determine whether a worker is an employee or an independent contractor under the FLSA. 
Ensure that all factors are analyzed without assigning a predetermined weight to a particular factor or set of factors.
Revert to the longstanding interpretation of the economic reality factors. These factors include the investment, control and opportunity for profit or loss factors. The integral factor, which considers whether the work is integral to the employer's business, is also included.
Assist with the proper classification of employees and independent contractors under the FLSA.
Rescind the 2021 Independent Contractor Rule. 
The department is responsible for ensuring that employers do not misclassify FLSA-covered workers as independent contractors and deprive them of their legal wage and hour protections. Misclassification denies basic worker protections such as minimum wage and overtime pay and affects a wide range of workers in the home care, janitorial services, trucking, delivery, construction, personal services, and hospitality and restaurant industries, among others.
The department's Wage and Hour Division considered feedback shared by stakeholders in forums during the summer of 2022 and will now solicit comments on the proposed rule from interested parties, which are due no later than Nov. 28, 2022. Comments should be submitted online or in writing to the Division of Regulations, Legislation and Interpretation, Wage and Hour Division, U.S. Department of Labor, Room S-3502, 200 Constitution Ave. NW, Washington, DC 20210.
[11.01.22]
Details

Category: Industry News
As ECHO AFC, a Texas-based full-service ground transportation company, is celebrating its 30th anniversary by adding Van Hool CX45 Motorcoaches to its fleet as part of an overall 2022 order for nearly four dozen coaches. The company has been working with ABC Companies to secure their new fleet additions.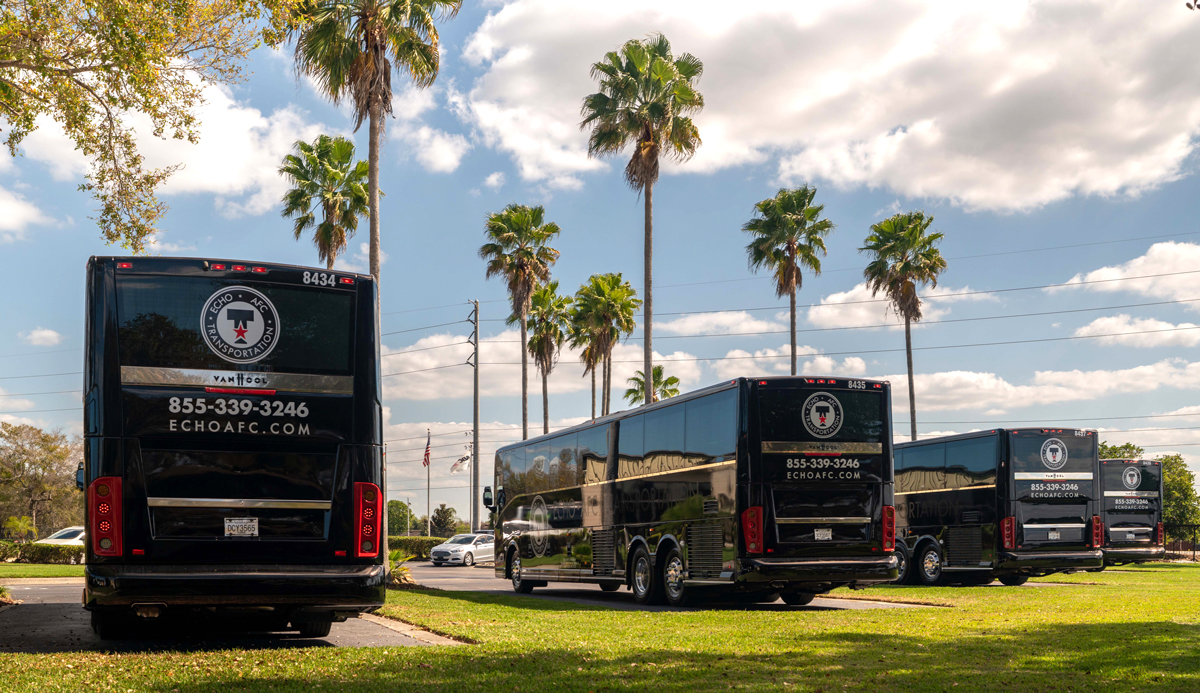 ECHO AFC purchases Van Hool CX45 Coaches
"Recognizing the value that every member brings to our team is central to the company's culture," said ECHO AFC President/CEO John Ferrari. "In conjunction with a continuous improvement mindset, we believe that our laser focus on elevating the customer experience has been essential to our success for the past 30 years. As we celebrate this major milestone, we are excited to expand our fleet with these current Van Hool models that enable us to offer all of the comforts, high performance, style, and safety features that customers appreciate and expect when they travel with our operation."
The new Van Hool models include several passenger safety, comfort, and signature ECHO AFC amenities such as full leatherette seating and enclosed parcel racks that provide a sleek interior look. The coaches also include a complement of integrated safety features including ACC/collision mitigation, interior security cameras, and 360 camera systems all designed to ensure a seamless, luxurious, and memorable passenger experience. Additionally, all new models feature a custom black on black reflective paint scheme that showcases the ECHO AFC brand, creating a cohesive and elegant signature look for the fleet.
"Consistency is key to our marketing and user-experience strategy," said Ferrari. "From the moment a passenger sees and then steps aboard any vehicle in our fleet, they will experience the same look, feel and level of luxury and comfort. This focus on uniformity and dependability also extends to the hospitality and professionalism customers can expect when interacting with every member of the ECHO AFC staff."
ABC Bus SVP of Sales Brenda Wordelman
The new coaches will be used primarily for charter service with professional sports teams, as well as university athletics, public or private school charter field trips, sports, educational outings, youth group transportation, and more.
"John and the entire ECHO AFC Transportation team emulate a passion for unparalleled customer service", said ABC Senior Vice President Midwest & Southwest Sales Brenda Wordelman. "Their attitude and dedication parallels ABC Companies' own focus on providing an excellent customer experience, which may explain why this leader in ground transportation has been a loyal customer with ABC for 30+ years. We are grateful and excited to support ECHO AFC's continued growth for decades to come."
Visit echotransportation.com for more info on ECHO or abc-companies.com for more details on the Van Hool line of buses.
[11.01.22]
Details

Category: Industry News

There's a lot to be excited about here at the CD headquarters, just outside of Philadelphia. Not only are the Phillies in the World Series, the Eagles undefeated, and the Union headed to the MLS Cup final, but we're particularly stoked about the 2022 CD/NLA Show returning to the East Coast in just two weeks this November 13-16. We're excited to be back at the Gaylord National Hotel & Convention Center, located on the Potamic River just outside of Washington, D.C., for four days of top-notch educational programming, unbeatable networking, and some good ole fashioned fun.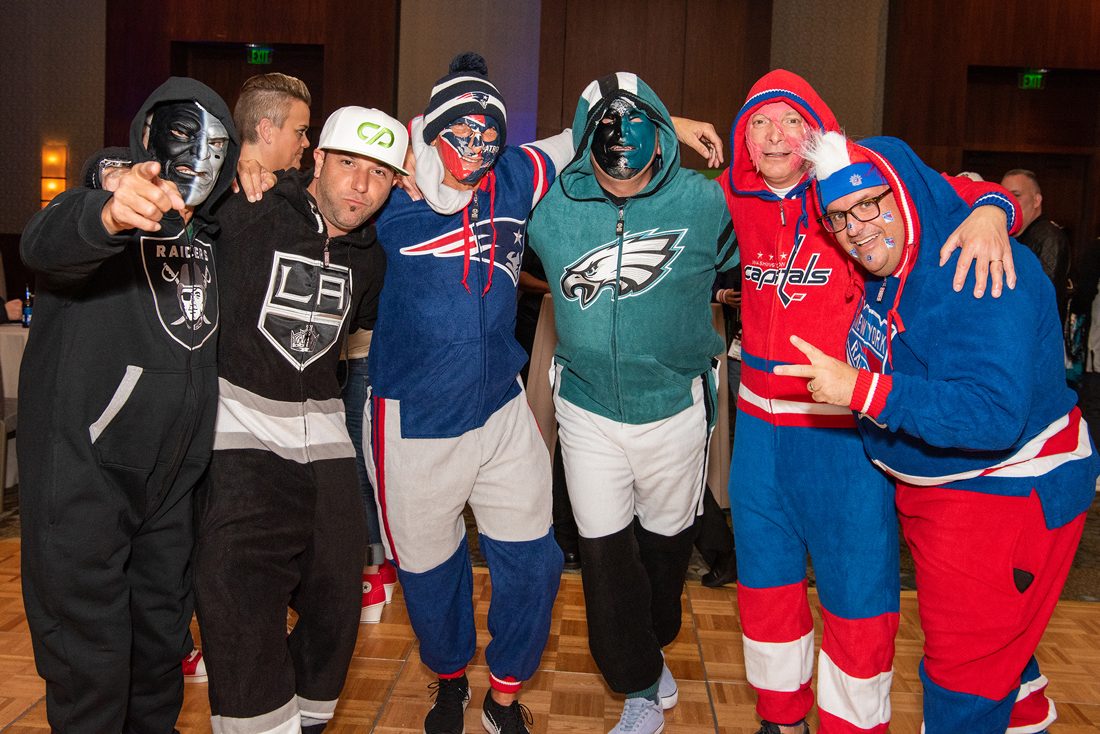 We might be days away from our fall event, but there's still time to register. Just head over to cdnlashow.com to sign up. And while you're there, why not take a few minutes to enroll in one of the most popular events of our show: our Operator Mentoring Program. There are still prime slots available with many of the Mentors, who will field questions, offer advice, and swap ideas and tips. Take part to see why this is a perennial favorite event at the CD/NLA Show.
Another show favorite returning to the Gaylord National on Tuesday morning is our Affiliate Central—sponsored by Volvo—back to help you build or grow your affiliate network. We have 41 companies on display with many more operators networking during the event, representing markets from around the globe. With access to chauffeurs and vehicles remaining a challenge, having an extended roster of trusted affiliates to accommodate those same-day requests has become more important than ever. As such, we've dedicated an area on the show floor to accommodate the traffic that this event generates each year. You'll have plenty of room to table-hop as you get face time with potential new affiliates. Then, after the forum concludes, stay on the show floor for lunch and unmatched show deals from our exhibitors.
Speaking of show floor ... on Sunday night, November 13, at 9pm, the hottest party in town will be right there on our packed show floor. Join us for our Opening Night Party where you can get a sneak peek of the latest offerings from our vendors and exhibitors, while enjoying hors d'oeuvres and an open bar. Of course, it wouldn't be a CD/NLA Show without entertainment, and boy, do we have a lineup for you. Our juggler and ventriloquist will have you in stitches, while our George Washington impersonator will have you brimming with American spirit. If that's not enough, be sure to check out magician Kenny Wardrick and international and critically acclaimed mentalist Alain Nu, both of whom will leave you speechless with their how-did-they-do-that performances. Close out the night with a photo/video from our 360-degree photo booth, which will be the envy of your social media feed.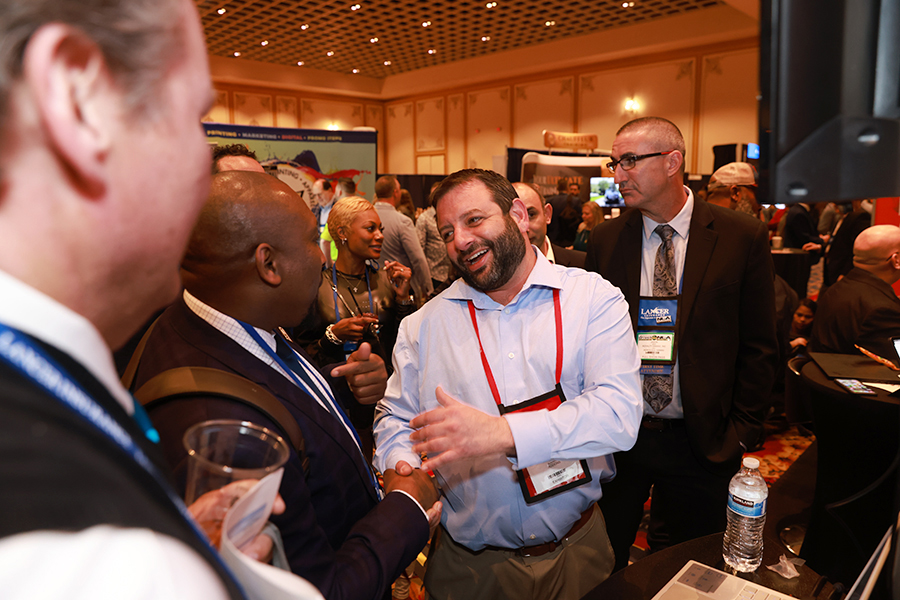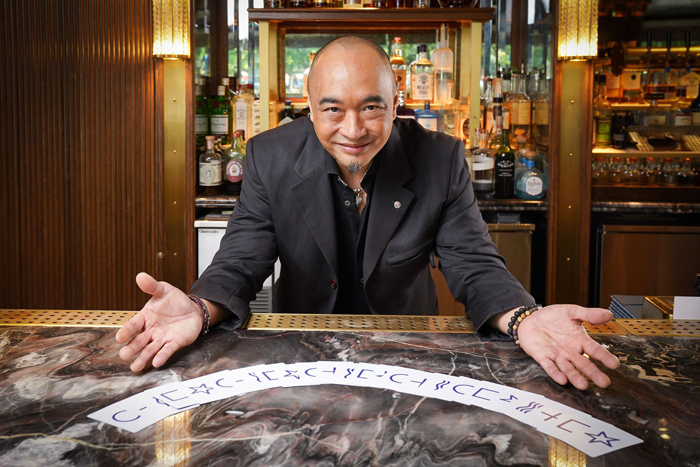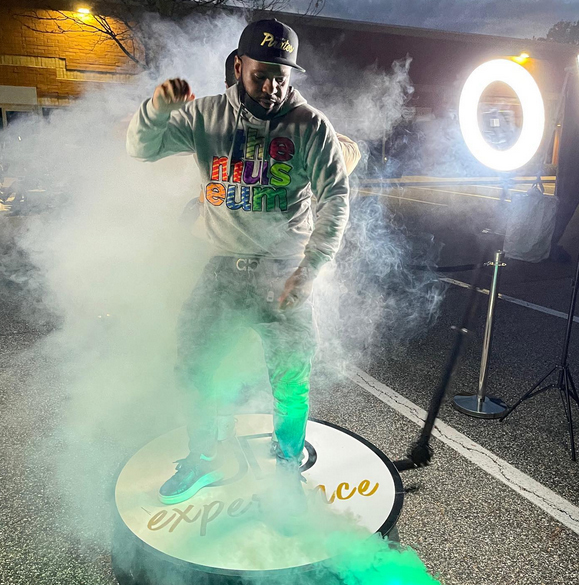 Then on Monday night, are you ready for some football?! On Monday, November 14 from 9:30pm-12:00am join us for our Tailgate Partywhere you can show your team spirit and colors as we watch the Washington Commanders and Philadelphia Eagles battle it out on the big screens. In true tailgate fashion, you're encouraged to wear a jersey with your favorite team as we offer delicious stadium-style eats, cool brewskis (and other drinks), and tons of great company. Not into football? No problem! We have fun planned for you too with some fantastic music, games—including air hockey, foosball, beer pong, football toss, basketball, ping pong, and more—and, of course, the always popular photo booth. Hang out with friends new and old, keep the drinks flowing, and relax the night away. Special thanks to party sponsors ANB Trans and U.S. Sedan Service. Many thanks to all of our wonderful sponsors, including Title Sponsor Ford PRO.
Still on the fence? No worries, there's still time! An advantage of the Gaylord National is its convenient location, so whether you're coming by plane, by train, or even car—we're driving distance from many major markets—you can get there with ease.
Visit cdnlashow.com for more information.
[11.01.22]