Details

Category: Industry News
Columbia, S.C. — CLT Express Livery of Charlotte, N.C., a leading ground transportation provider in the Carolinas, recently acquired Busy Bee Coach and Bus Tours. The vital Columbia market was in need of a full-service chauffeured transportation coach and mini bus operator, and CLT welcomes the chance to serve clients in this area. Kristen Carroll of The LMC Group brokered the sale, making the transition effortless and seamless.

Busy Bee Coach and Bus Tours has been in operation for well over 20 years, proudly serving North Carolina, South Carolina, and Georgia. Office manager Jackie Williams will remain in the same position, ensuring a smooth transition as Busy Bee joins the CLT Express family. James Canady will be the operations manager.

In January 2016, CLT Express Livery will be rebranded and introduced as SC Coach. Laura Canady, also a board director of the National Limousine Association, has named Lauren Carter as the new office manager of SC Coach. Carter has been with the company since CLT Express Livery bought Aiken Limousine in 2010.

CLT Express and SC Express are owned by Jeff and Laura Canady. Founded in 2000 with one sedan, as of 2015 CLT has acquired four companies and currently operates a combination fleet of over 50 vehicles and 40 employees. With their diverse fleet and experienced and highly trained personnel, they cover the North and South Carolina area, providing excellent service to their clients. In the future, owners Jeff and Laura Canady plan to grow the physical operation with a nine-acre complex minutes away from uptown Charlotte and Charlotte International Airport. This expansion will make their site the largest chauffeured transportation facility from Washington, D.C., to Atlanta.

"We at CLT Express Livery are appreciative of our local and national partners in our industry, which allow our company to continue to grow while giving 100 percent to our clients with internal and external customer support now and well into the future," said Jeff Canady.

Visit cltexpress.com or liverymanagement.com for more information.

[CD1115]
Details

Category: Industry News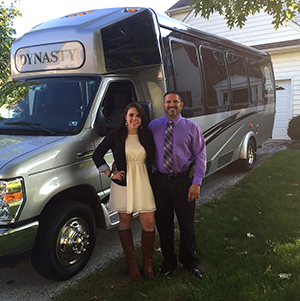 Dynasty Limousine Sales Manager Joanna Shealy and President Tony Previte King of Prussia, Pa. — Dynasty Limousine Service recently announced that Joanna Shealy has joined its team as sales and marketing manager.

Shealy, a recent graduate of West Chester University, brings nine years of restaurant sales experience to Dynasty Limousine Service. In her current role, she will focus on the company's social media and bridal show business, but within the next year, Shealy is expected to expand into building affiliate and corporate accounts.

"I am honored to be part of Dynasty Limousine Service," said Shealy. "My plan as sales and marketing manager is to take the company above and beyond the industry standard. Thinking outside of the box is a specialty of mine, and I plan on continuously analyzing the market to apply the changes needed to our ever-growing business model."
Tony Previte, president of Dynasty, is excited about having Shealy with the company. "Her innovative ideas and marketing skills will help Dynasty Limousine Service achieve its next level of success. She is quickly becoming an integral part of our team."

Visit dynasty-limo.com for more information.

[CD1115]
Details

Category: Industry News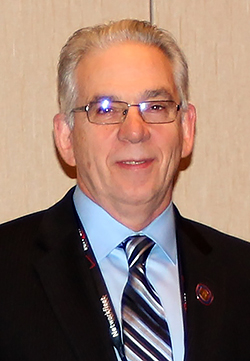 PRLA President Steve Rhoads of Rhoads Limousine Atlantic City, N.J. — The Philadelphia Regional Limousine Association (PRLA) hosted a breakfast meeting at Harrah's Resort on November 10 to introduce new members and discuss current industry topics and trends. Chauffeur Driven's Rob Smentek was in attendance along with approximately 25 association members and guests.

TNCs, of course, remain a hot-button topic and were the main issue discussed at the meeting. PRLA president Steve Rhoads invited board member Anthony Onorata to speak to the attendees about Pennsylvania Senate Bill 984 (SB 984), which is currently being fast-tracked through the state legislature. Spearheaded by State Senator Camera Bartolotta (R-46), SB 984 is designed to regulate TNCs, but many in the industry feel it falls short of leveling the playing field. Aside from statewide legalization of TNCs, especially significant for Philadelphia where services like UberX are currently operating unlawfully, the bill's largest controversy is the relatively low insurance coverage required by TNCs as compared with limousines: $500,000 vs. $1,500,000. According to Onorata, this creates a public safety issue by allowing "underinsured cars into public service." The bill also proposes removable placards to identify TNC vehicles and criminal background checks on the drivers; however, fingerprinting drivers will not be required.

With the bill gaining speed, Rhoads and Onorata recently met with Joe Kelly, Sen. Bartolotta's chief-of-staff, to discuss the implications of SB 984 on the industry. While Kelly was receptive to the PRLA's concerns, he stated that "it's time for a change in Pennsylvania." He encouraged the PRLA board members to consider seeking a change in regulations to reduce their coverage, an idea that was not favored by Rhoads as it compromises consumer safety. Rhoads recommended that all meeting attendees continue to increase awareness about the TNC safety issues with legislators. "One sentence from everyone in this room would help the cause in general," he offered. "This is only the beginning."

Another TNC-related matter raised at the meeting specifically dealt with parking at the Philadelphia International Airport. New PRLA member Ron Robinson, General Manager of Sterling Limousine of Wrightstown, Pa., related a call he had with the Philadelphia Parking Authority (PPA) about the overload of TNC cars at the airport's holding lots. Robinson argued that the 50-60 TNCs that are in the lots at any time are "impeding real customers with real business who have paid for rides." The PPA, while sympathetic to the chauffeured ground transportation industry, cannot eject cars parked legally, especially in paid lots. In the week prior to the meeting, they began assigning security officers to the lots in order to make sure that TNC drivers remain with their cars and obey all regulations. It was noted that the Philadelphia police have taken a strong stance in the areas around the airport, and are sweeping loitering TNCs from the cellphone, commercial, and international holding lots.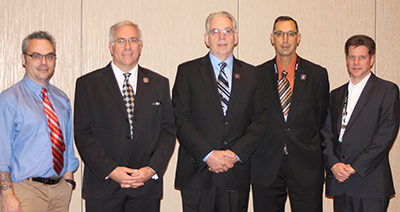 L to R: CD Assistant Editor Rob Smentek, PRLA Director Anthony Onorata of Anthony Limousine, PRLA President Steve Rhoads of Rhoads Limousine, PRLA Secretary Mark Barnett of Best of Times Limousine, and PRLA Treasurer Chris Haines With 2015 coming to close, Rhoads reminded attendees about coming regulatory changes taking place on January 1. Among these new laws is a 350,000-mile limit on limousines, and new registration required on interstate busses.

Late in the meeting, Rhoads shared that he recently received a call from a "government-relations lobbyist," who proposed that the PRLA become a state organization, as opposed to regional. Prior to the meeting, the idea was discussed among the PRLA board members, who felt that due to the size of the state, such an organization would be difficult to handle and would require control, which would be best handled by hiring an executive director. Rhoads invited other association members to join him for a breakfast with the lobbyist on November 19. Several attendees immediately reacted favorably to the proposed expansion. Mike Barreto from Flyte Tyme Worldwide Transportation was among those strongly in favor of transitioning to a statewide association. "It benefits use to stand together as a state organization," he said. "We need the influence from the state to support what we're trying to do in Harrisburg, because it's just not a Philadelphia problem anymore." Two visitors to the meeting offered further support for the change, admitting that they would only join the association if it had statewide status. A movement to have a quorum vote was denied in favor of garnering interest from the entire PRLA membership via an e-mail blast.

Next up for PRLA is its annual Monte Carlo Night. The holiday party will be held Wednesday, December 9, at Twining Hall in Trevose, Pa.

Visit prlainc.com for more information.

[CD1115]