Burlington, Mass. — More than 100 members and guests were present of the New England Livery Association's (NELA's) quarterly meeting and holiday party sponsored by Lancer Insurance and Research Underwriters and held at the Boston Marriott Burlington on December 13. Not only did the event give NELA members the opportunity to catch up on industry and association business, but the seasonal merry-making was in full effect, along with some entertainment courtesy of comic Steve Sweeney. CD Editor Rob Smentek was among those in attendance.

While a DJ spun holiday favorites, the party got underway with a cocktail hour sponsored by Chauffeur Driven. Following a buffet dinner, NELA President Mike Callahan of Able Limousine welcomed the crowd, and asked everyone for a moment of silence in honor of recently passed NELA members Johnny Greene and Jerry Robbins.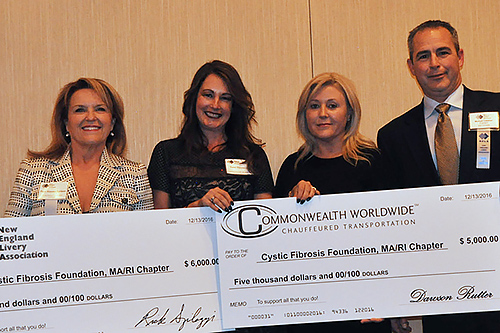 NELA presents two checks to the Cystic Fibrosis Foundation. (L to R) Pam Simms-Spitzer of the Cystic Fibrosis Foundation, Tammy Saccocio of Commonwealth Worldwide, Karen Kelly of the Cystic Fibrosis Foundation, and Mike Callahan of Able Limousine Next, the evening's sponsors were invited to speak, including Steven O'Shea from Lancer Insurance, Steve Crispo from Research Underwriters, Dan Morgan from Advantage Funding, Jeff DeMarco from Royale Limousine Manufacturers, and NELA Director Lynda Saitta of Momentum Drives spoke on behalf Jeff Brodsly from Chosen Payments who was unable to attend. Scott Solombrino of Dav El/Boston Coach was invited to speak, and shared his memories of close friend Robbins and provided an update of the association's legislation successes.

The giving spirit of the season was in full force when two checks were presented to the Massachusetts and Rhode Island Chapter of the Cystic Fibrosis Foundation (CFF). Earlier in the year, NELA raised funds for the foundation at the association's annual golf tournament. Six thousand dollars was raised from proceeds of the golf outing, followed by another $5000 bid by Dawson Rutter of Commonwealth Worldwide at a live auction following the tournament. At the holiday party, Tami Saccoccio of Commonwealth presented the checks to CFF representatives Karen Kelly and Pam Simms-Spitzer.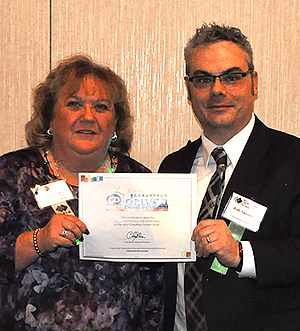 CD Show pass winner Tina Benson of L.A. Limousine with CD Editor Rob Smentek NELA Executive Director Rick Szilagyi of Lexian Management along with Saitta then acted as MCs for the evening's auction, which included a pass donated by CD to their 2017 Trade Show and Conference in Orlando from October 22-25. NELA 2nd Vice President Tina Benson of L.A. Limousine was the winner. Other prizes included an assortment of lottery tickets that was donated in Robbins' name.

The evening concluded with a comedy show and karaoke party, sponsored by Chosen Payments, Advantage Funding, Royale Limousine Manufacturers, and an anonymous sponsor on behalf of Robbins. Sweeney, a regional comedy legend and character actor, kept attendees in hysterics during his 45-minute stand-up set. NELA members and their families then got to play rock star as they sang some of classic rock's biggest hits.

NELA's next quarterly meeting is scheduled to be held on February 28 at Kowloon Restaurant in Saugus, Mass.

Visit nelivery.org for more information.

[CD1216]