Phoenix — More than 30 members and supporters were in attendance for Arizona Limousine Association's (ALA's) first holiday luncheon at the restaurant Macayo's on Central. Chauffeur Driven Publisher Chris Weiss was among those who turned out for the festive event.

ALA President Jeff Conly of Vitesse Worldwide kicked off the gathering by addressing association business before handing the meeting over to Weiss, who was also the day's guest speaker. He shared insights into industry trends and prevailing concerns before launching in to a Q&A session.

"Having Chris and Chauffer Driven there was great, and we appreciate the support our association has received," Conly said.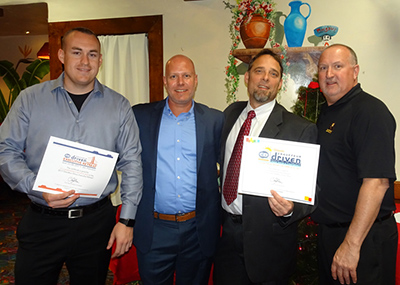 L to R: ALA Director Billy Jinks of JET Limousines, CD Publisher Chris Weiss, ALA Director Keith Clifton of Desert Knights Sedans and Limousines, and ALA President Jeff Conly of Vitesse Worldwide Weiss brought with him two certificates to CD's 2017 events to be raffled off to some lucky winners, both of whom are ALA directors. Billy Jinks of JET Limousines won a pass to the June 25-28 Executive Retreat in San Francisco while Keith Clifton of Desert Knights Sedans and Limousines got the pass for the 2017 CD Show in Orlando, which will be October 22-25.

The next ALA meeting will be January 31.

Visit azlimousineassociation.com for more information.

[CD1216]