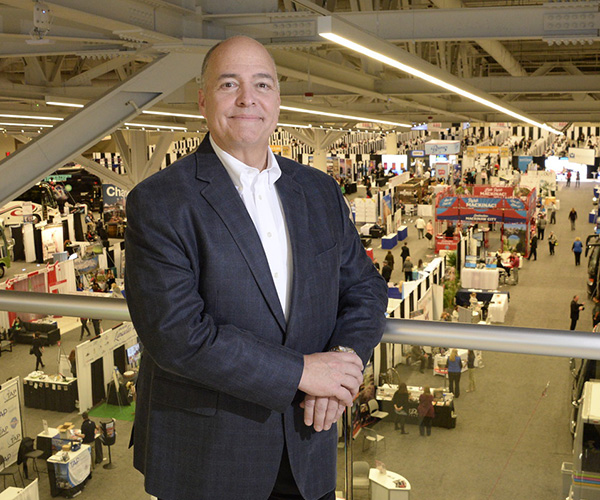 ABA President Peter Pantuso overlooking the show floor (Photo courtesy of KRR Photography) To kick off the new business year, American Bus Association (ABA) held its 2017 Annual Meeting & Marketplace in Cleveland from January 14-17.

The event provided attendees—which included motorcoach and tour operators, travel industry professionals, and associate and supplier members—the educational programming, business opportunities, and networking events they needed to start the year energized and on the right track for a successful 2017.

Of the 3,300 attendees, nearly 900 consisted of motorcoach and tour operators from all over North America. More than 300 operators participated in 144,000 pre-scheduled business appointments with an average of 29 appointments per travel industry seller. The event provided nearly 100 education sessions, with topics ranging from safety to professional development to technology.

All of ABA's councils—the Bus Industry Safety, Bus Maintenance & Repair, Entertainer Motorcoach, Hispanic Motorcoach, and Women in Buses councils—co-located their winter meetings in Cleveland, which enabled members the opportunity to network and engage with others, as well as hear all about the latest in industry trends and government regulations.

This year, ABA also provided attendees with the opportunity to sign up for TSA's PreCheck program right on the show floor. This was the largest TSA PreCheck campaign outside of the airline industry, as nearly 200 attendees left the show with their PreCheck IDs, giving the industry's frequent travelers future peace of mind.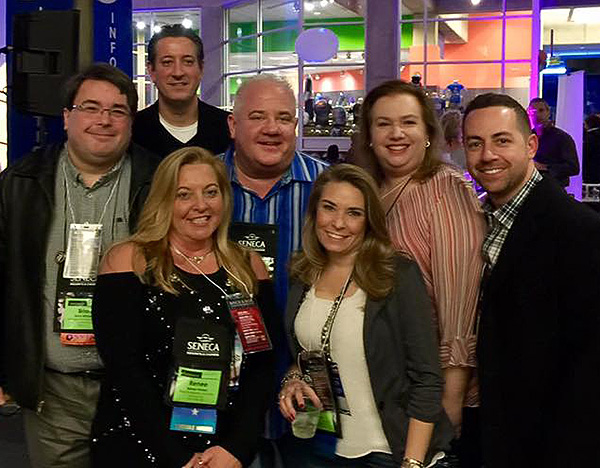 Back row (L to R): Brian Whitaker of Chicagoland Transportation Solutions, David Rogers of United Airlines, David Erdman of ECS Worldwide Chauffeured Services, Julie Dotan of J&B Executive Transportation, and Jason Messinger of BBZ Limousine & Livery Service. Front row (L to R): Renee Ferraro of ZBEST Worldwide Chauffeured Transportation and Mary Sharp-Smith of GEM Transportation. Attendees were also inspired by special keynote speaker Josh Linkner, a renowned tech entrepreneur, NYT bestselling author, and lauded venture capitalist. Linkner left his audience with the tools they needed to be creative, innovative, and in a position to reinvent the way they do business.

When not attending educational sessions or taking appointments, attendees enjoyed visiting with more than 130 exhibitors on the networking floor or touring one of the 17 buses available for viewing. ABA also showcased a number of entertainment options from members such as Myrtle Beach's Alabama Theatre, Branson, Mo., Fee/Hedrick Family Entertainment Group and the Group Sales Box Office/Broadway.com.

The ABA Foundation's live and silent auctions were also among the highlights, as well as the Hard Rock Café-sponsored Afterglow party, where all proceeds from these events benefited the Foundation's Fund a Future scholarship campaign. This year, the three events raised more than $120,000 for industry scholarships that are available to ABA members, their employees, and their families.

Each year, ABA also shows its gratitude to the event's host city through its Marketplace Gives Back program. This year's recipient was Cleveland's Providence House, a crisis nursery that provides emergency shelter and care for at-risk children, to which Marketplace Gives Back donated $14,000.

ABA's 2018 Annual Meeting & Marketplace will take place January 27-30 in Charlotte, N.C.

Visit buses.org for more information.

[CD0217]