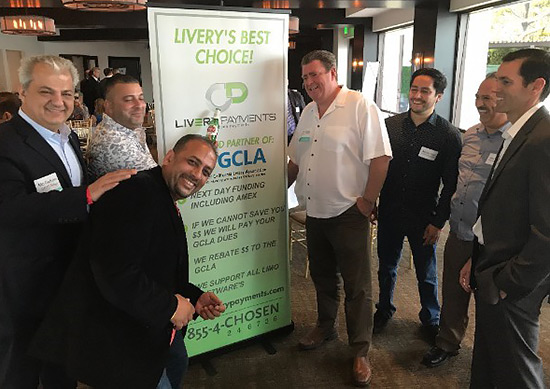 GCLA members at a recent association meeting in San Diego After taking its meetings on the road throughout The Golden State last year, Greater California Livery Association (GCLA) continues to test out new approaches to its meeting as it explores methods for best reaching its geographically far-reaching members.

Last summer's unveiling of a hyper-local series that brought association events to key regions and cities to engage members closer to home was a success, so the association is continuing along that path—but with additional tweaks to accommodate the conversations that members want to have at a gathering of their peers.

"We are testing out new events formats, so now it's like a real mini trade show where there's no dedicated speakers," Executive Director Tom Garrett said, adding that the format has been well-received at recent meetings in both San Diego and Los Angeles. "People come in and they get a drink and some food, they network, we have a row of vendors doing demos, we have vehicles on display, and then we have featured guests from the airport or the PUC answering specific questions. It's been going really well. This new format has done a lot to bring people together and build a community, which is our main mission."

According to Garrett, streamlining presentations into one prevailing topic helps keep attendees' tuned into news they can actually use, rather than covering a range of topics in one meeting that aren't applicable to the widest swath of members.

This new format has already allowed for specific topics to be addressed, such as a representative from LAX discussing airport construction and how to handle its impact on client pick-ups and drop-offs at the L.A. hub.


The new GCLA meeting format aims to strengthen its members' sense of community Tonight's meeting in San Francisco at the Embassy Suites-SFO Waterfront will similarly facilitate intimate conversations to exchange information: PUC Director of Enforcement Nick Zanjani, the landside manager of the San Francisco International Airport, and Harish Paaji of Bay Area Limo Repair will all be at one table where they can talk directly to operators who are looking to have either their feedback heard or their questions answered.

This also allows the GCLA to focus on the quality of its meetings instead of worrying about the details of planning an event.

"We're dialing back the production: We really just need a room where people can get together with other operators and vendors," Garrett explains. "They just need a place where they can get together and talk like they want to so they can exchange the information they need."

As members' priorities have shifted away from the ins and outs of dealing with TNCs and have settled on the more immediate issue of profitability, GCLA is adapting to offer its members the advice it needs to navigate a tough market.

"There isn't really any clarity as to how to regain margin or volume, so people are looking to merge or sell or evolve their business, and they're looking to us for help," says Garrett.

To be of immediate assistance to its members, the association still manages the GCLA Hotline and Mentorship Program it introduced last year, where any questions will be addressed within 72 hours.

GCLA's next meeting is in San Francisco tonight, then it heads to Santa Ana June 20.

Visit gcla.org for more information.

[CD0617]