Members of HALCA rallied together after Hurricane Harvey ravaged the Houston area Houston, Texas — With local post-Hurricane Harvey relief efforts and cleanup already underway, Houston Area Livery & Charter Association (HALCA) forged ahead with its regularly scheduled September 12 meeting, which was also attended by Chauffeur Driven Publisher Chris Weiss.

The meeting, according to HALCA President Ismail Abed of LaBreese Limousine, was crucial to follow through with, proving that the association and its members will not only prevail but also support each other in difficult times.

"I didn't want to cancel the meeting because we can't let the storm get us down, and it won't stop us from doing what we do any more than it's already affected us," he said. "It didn't kill us, and it won't. If we keep moving ahead like we're supposed to, that's the best way to handle the aftermath. I've lived through wars: When the enemy attacks and kills innocent people, the survivors pick themselves up, rebuild, move on, and live their lives. It will happen again, and we can't give up every time a storm comes through."

Abed, however, said that maintaining a positive mood in the face of adversity was not his role alone, as the 35 individuals in attendance were also determined to keep their chins up despite taking a beating.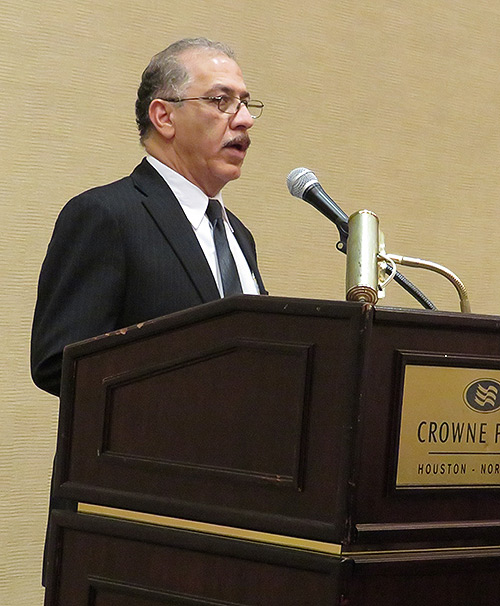 HALCA President Ismail Abed of LaBreese Limousine "Everybody came with a good, positive attitude," Abed confirmed. "Yes, they had hurt in their hearts because, regardless of whether or not they were directly affected by losing their house, business, or cars, they still were affected because we were essentially shut down for two weeks. We did not have much business because the airport didn't operate for almost a week, and that right there hurt everybody financially. But everybody had a good attitude about it, agreeing that it's a problem—but also recognizing that it's also not the end of the world."

Besides, he added, a financial hit might set a company back, but losing a car or a building pales in comparison to losing a loved one: "If it's money we lost, we can restructure ourselves and our habits for a few months to get back on track. Mostly everybody is okay, and that's what really matters."

Times of trouble also present scores of opportunities for people to band together, and Abed has been seeing HALCA members step up in big ways by helping and supporting their fellow operators in the hurricane's messy aftermath.

"I feel like there are a lot of good people who care," he said. "We've been raising money for some of the operators who were hurt the most. We know that a few thousand dollars isn't going to fix anyone's problems, but we want them to know that we're thinking about them, that we're hurting for them, and that we're here to help them. It's something to show that we're behind them no matter what."

Abed said that he has been systematically reaching out to HALCA members and Houston-area on his own time to make sure they know their industry peers won't abandon them in a difficult, stressful time as they claw their ways back to normal operations.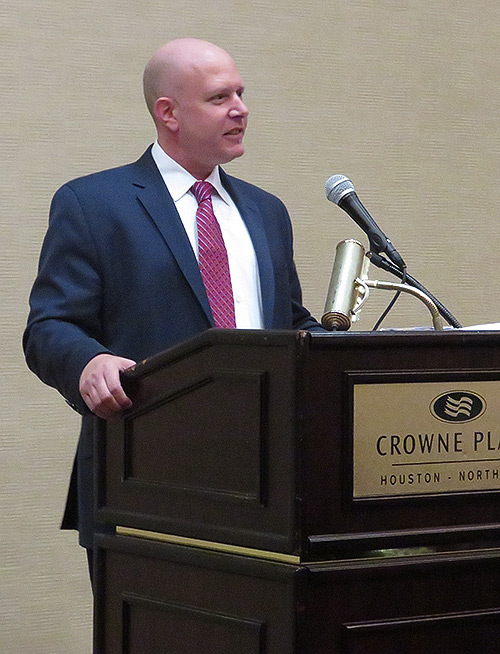 CD Publisher Chris Weiss spoke at the meeting "I've been on the phone every day to check in on everyone, to make sure they and their families are okay," he said. "It doesn't cost anything to just pick up the phone to say, 'I feel your pain and I know what you're going through, and it's going to be okay.' It's important to give them support, tell them it's not the end of the world—we're flying through some bad clouds but the sun's going to shine soon. You might lose a few dollars but if you work as hard as you've always worked, things are going to get back on track."

While Abed says that the meeting didn't have a formal agenda beyond bolstering spirits, he said the having Weiss there helped bring in more people than he thought the meeting would welcome, and hearing about the rest of the industry and where it's going meant a lot to HALCA.

"Chauffeur Driven has always been a big supporter of HALCA, and one of the reasons why the meeting was so successful was because Chris was there," Abed said. "It brightened up the meeting and gave some people who might not have attended a reason to be there. It was one of the most positive things about a meeting that I expected more people to miss because they still trying to recover from the storm."

HALCA's next event will be its December holiday party.

Visit houstonlimos.info for more information.

[CD0917]