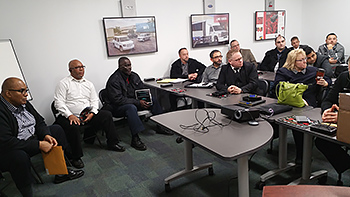 More than 25 members attended ILA's open board meeting, which was hosted by Midwest Transit Equipment Kankakee, Ill. — The Illinois Limousine Association (ILA) held its monthly open board meeting January 6 to close the door on 2015 and discuss issues affecting the organization in the coming year. Midwest Transit Equipment hosted the event, which was attended by 25 members, and provided a facility tour and lunch.

ILA President Tracy Raimer of Your Private Limousine discussed 2015's major accomplishments, which included improving member communications, increasing state and local officials' awareness of ILA, and streamlining ILA's office. In 2016, the association will work toward holding continued legislative meetings and making a more aggressive effort to increase membership.

Remaining a hot issue for ILA is the federal lawsuit against Chicago over the city's unfair treatment of taxis and livery compared to TNCs. The deadline for the city to respond to the complaint was extended to Friday, January 8. The association promises to keep members updated as the lawsuit progresses. To support ILA's legal fight, throughout the month of January, Arthur Messina of Create-A-Card will donate $100 for every order totaling more than $200 to the association.

Other TNC-related topics discussed at the meeting included licensing, fees, airport traffic, and the potential long-term impact to the qualified professional chauffeur pool.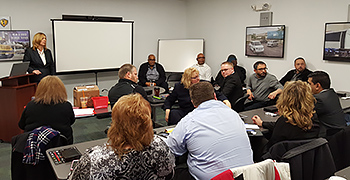 ILA President Tracy Raimer of Your Private Limousine oversaw the first ILA meeting of 2016 The group also examined new procedures for airport departure. As the paper airport departure tax stamps are being phased out by Chicago's Metropolitan Pier and Exposition Authority, attendees shared late-breaking issues experienced at O'Hare and Midway airports. It was also confirmed that the city will continue to accept the peel-and-stick stamps until kiosk and application problems are resolved.  

Everyone was reminded that the open board meetings are held monthly, and all members and vendors are invited to participate. In-person meetings are scheduled to be held at least once per quarter.

ILA's next open board meeting will be February 3 and its annual meeting will be held May 11 at Comfort Suites O'Hare Airport Hotel in Schiller Park, Ill.

Visit illinoislimousineassociation.com for more information.

[CD0116]