BY PHIL COLE
Players from the ground transportation industry were among the many to attend Salute to American Heroes, a charity event for wounded soldiers spearheaded by non-profit group, Adopt-a-Soldier Platoon (AaSP), which aims to improve the morale of all United States soldiers and their families. The event drew over 300 people—including veterans from WWII, Korea, Vietnam, Iraq, and Afghanistan—into the stunningly beautiful venue, Nanina's in the Park in Belleville, N.J.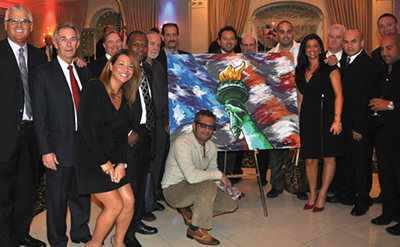 Artist Scott LoBaido (kneeling) poses in front of his 3-minute painting, which was later purchased by David Seelinger Emceed by Emmy-winning journalist Marvin Scott of WPIX-TV, the event provided food, music, entertainment, as well as a for-charity silent auction including autographed sports apparel, a seven-day time share in Antiqua at Jolly Harbour, and a helicopter ride for two over New York City. Among other attendees supporting the cause were Chris Weiss and Eric Alpert of Chauffeur Driven, AJ Thurber of Don Brown Bus Sales, David Eckstein and Robert Mackasek of Valera Global, and Alan Candeub of Park Avenue Limousine.

David Seelinger of EmpireCLS Worldwide Chauffeured Services, one of the biggest sponsors of the event, also attended with a couple members of his team. EmpireCLS spared no expense for the cause as it handled the pickups and drop-offs of wounded soldiers from Walter Reed National Military Medical Center. The lineup of chauffeurs also included—to everyone's surprise—a number of veterans as well.

"It was a great event for us," says Regional Sales Manager Mike Burnett enthusiastically. "To see a dozen of our chauffeurs who I quite honestly had no idea were Vietnam or Persian Gulf vets—to hear and understand their stories and see where they came from—it was eye opening for us as an organization to learn that we have American heroes working for us."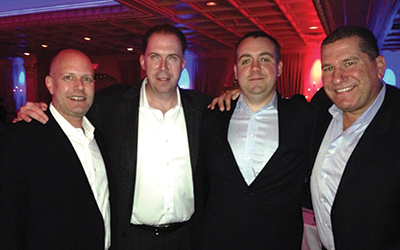 L to R: Chris Weiss and Eric Alpert of Chauffeur Driven, AJ Thurber of Don Brown Bus Sales, and Alan Candeub of Park Avenue Limousine A highlight of the night came when famous patriotic artist Scott LoBaido painted an impressionistic American flag behind Lady Liberty's Torch in three minutes while God Bless America played behind him. The spectacle put the crowd in awe and later on in the night, Seelinger purchased the painting for $11,000 in the silent auction.

The night took an emotional turn when Corporal David Bixler, a wounded Silver Star and Purple Heart recipient and 2010 USO Soldier of the Year, took to the front of the room to make the keynote speech. Bixler shared his heroic account of saving an Afghani soldier from an improvised explosive device (IED) and becoming injured in the process, all while managing to make the crowd laugh a couple times throughout his moving speech.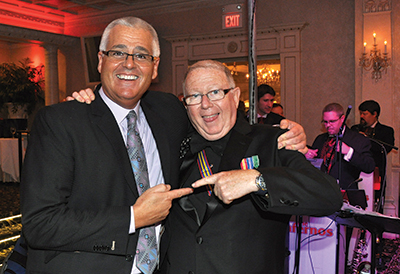 David Seelinger (left) and Alan Krutchkoff, who coordinated the event "To be honest, his humor was what kept me personally from breaking down," says Seth Marcus, vice president of sales and marketing at EmpireCLS. "The courage that he portrayed both on the battlefield and during his recovery from being wounded truly explains what a hero is made of."

Bixler also showed his appreciation to AaSP President and Co-founder Alan Krutchkoff and his wife Mary-Edna, whom he considers his informally adopted parents due to their key role in his support system. Krutchkoff produced the event and was responsible for its seemingly effortless execution.

By the end of the night, AaSP raised nearly $100,000, all of which will go directly toward providing things like therapy dogs, motorized wheelchairs, accessories for specialized vehicles, and a year's worth of car insurance and gas for wounded heroes. "It was a spectacular evening," says Krutchkoff who had never held a charity event of the sort. There is no self-congratulation in his words, though—only sincere gratitude to everyone who came to support the cause and, of course, to the heroes it was all for. "These kids have a lot of obstacles in their lives." he says. "So we're there to do what we can."

Visit adoptasoldierplatoon.org for more information. [CD12.13]