BY SUSAN ROSE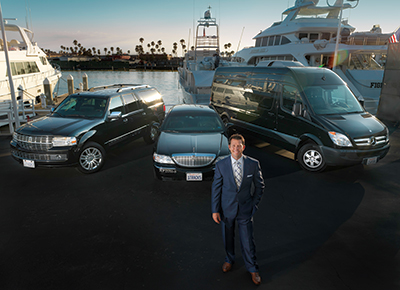 Strack Premier Transportation CEO Matt Strack with some of his fleet at Newport Beach Harbor
Earlier this year, a three-week trip to the Costa Rican jungles changed Matt Strack's life. Visiting with a company called La Reserva Forest Foundation—a non-profit dedicated to not only helping companies become carbon neutral, but in improving the planet along the way—Strack saw firsthand how he could help. The trip to the delicate ecosystems of the Central American country—ones that had been damaged by man, but also ones that are being helped by man—reaffirmed his commitment to the environment and solidified his efforts to operate a sustainable business. It was a pivotal moment for the young entrepreneur.

Growing up in California, environmental causes had always been important to Strack, but it wasn't until he started his own transportation business, Strack Premier Transportation (SPT), when it finally occurred to him that he could actively make a difference. To Strack, it's as important as excellent customer service and the use of technology. The policy of "Ride with Strack and Give Back" was born.

"I really wanted to get down to a grassroots level with my commitment to the environment. I was looking for an organization with minimal overhead so the bulk of our donations would go to planting trees," Strack says. "It was a great trip. I learned the advantages of planting trees in the tropics, in particular the faster growth, more leaf structure area to sequester CO2 and the vitality of the trees year-round, to help reduce carbon for the planet at an expedited rate.

Strack is aware that his approach is a bit different than other transportation providers, but that's also the point. "I'm a little bit younger than some of the company owners out there," he says. "The newer generations think more like I do, so it's going to become an issue soon if you don't have a company that balances with the environment and people like me are your customers. Not only does it make sense ethically, but it's also good business practice for the future."

The beauty of the chauffeured transportation industry is that there is a place for the Matt Stracks of the world to challenge the status quo and deliver service for a niche of customers who want and need it. His philosophy is obviously about more than just green initiatives as SPT has grown from one car to 20 in just 7 years.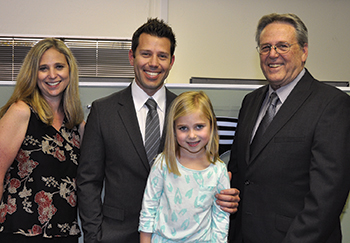 Strack with his family (L to R): sister Laura Peters, niece Madelyn Peters, and father Michael Strack Strack was raised in a family of entrepreneurs. His father owned several companies while he was growing up, and served as his inspiration for when the entrepreneurial bug bit him several years ago. An economics major in college, he was initially attracted to financial companies like Morgan Stanley, but soon found that he wanted something different, something to call his own. He had always maintained little side businesses, such as an automotive detailing company in college, but he assumed he would be following the path of his father into construction wholesale.

Before the construction business could get off the ground, Strack knew he had to secure another source of income that would bridge him until the company became profitable and one that allowed for flexibility of hours and days. He landed at a small limousine company called Millennium Transportation as a chauffeur in 2005.

"About a year after I started working for Millennium, the owner, who was separating from his wife, approached me to buy the business. I wasn't interested because I had a plan for my other [venture], but he pursued me and I eventually gave in," says Strack. Millennium's vehicles had already been sold and he was essentially buying a book of business and a phone number, so he had a clean slate with which to work. He renamed the company Strack Premier Transportation.

"The previous name felt a little outdated since it was years after the millennium, and I wanted something that was mine," he says. "Now it's my name on the line, it's my reputation."

Many companies in the chauffeured ground transportation industry use The Ritz-Carlton as their benchmark in customer service excellence. During his time behind the wheel, Strack drew upon his experience as an associate with another renowned customer-service leader, Nordstrom. The retailer is famous for its ability to cater to high-end customers and keep them coming back The story is that a Nordstrom associate, empowered to do what was necessary to make a customer happy, allowed the return of a used tire—an item that is most definitely not sold by the retailer. While the story is one of legend, perhaps urban legend more than fact, it does demonstrate the value of customer relations. It's an enduring tale that has been tied to the company for almost four decades. This was the model for his own customer service.

"When I started in the business, I asked around about what clients wanted and found that it was consistent, excellent service," he says. "I enjoyed my time behind the wheel and my customers liked that there wasn't anything I wouldn't do when it came to service. I would act as their mobile concierge, always asking if they needed restaurant reservations or perhaps their dry cleaning picked up. I made an effort to note their personal preferences. If they needed executive protection services or jet charters, I made it happen. I didn't know anything about it, but I reassured them it wasn't a problem and then figured it out! I would receive rave reviews and it became a way of retaining customers and receiving more referral business. I want my customers to know that I have it covered, regardless of what 'it' might be."

This was just the type of service that was needed in Orange County, an affluent area made up of conservative and close-knit communities just south of Los Angeles. His goal was also to tap into the corporate market, which at the time only made up about 50 percent of his book of business. He knew that high-end corporate clients were the way to steady growth. "When you start working with clientele who expect certain things and a level of service, price becomes secondary to your ability to deliver," he says.

To achieve this, Strack takes chauffeur hiring, training, and appearance very seriously. Chauffeurs are dressed in black, well-fitting suits with ties and pocket squares. They are to be well groomed and always act as an ambassador of the company. Spotlessly clean cars are a given. They hold tablets that double as greeting signs, which can include the logo of the company. The image is as imperative as the service.

"Chauffeur training is constant, and it can be a meeting with our entire chauffeur staff or a one on one," he says. "We use videos, have a manual, and spend a lot of time showing them how to do things the Strack way. We go through the whole process of what it's like to have a client in the car. If you don't train and constantly retrain, they won't be on top of their game." Like Nordstrom, Strack wants his chauffeurs to use good discretion when assisting clients. "I want them to anticipate what the client's needs are, and to feel empowered to make it happen. If you notice that a client has been running around to different meetings all day, offer to get him lunch. Make sure that his favorite brand of lemonade is in the vehicle. Be that personal concierge."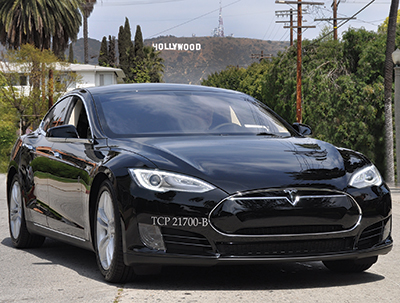 Strack Transportation was the first in California to add the fully electric Tesla S to its fleet Strack also elicits feedback from clients, especially on newer chauffeurs, and utilizes GPS and other technology to ensure that chauffeurs aren't hard braking or turning too fast—all of which is uncomfortable for the client and abusive to the vehicle. Chauffeurs are logged in to vehicles by the use of fobs, which then creates a record. When rough driving patterns are observed, the chauffeur is counseled so that the bad behavior is corrected. As a result, Strack has instituted a quarterly chauffeur incentive program, which is based on the number of client requests, good driving reports, and positive feedback received.

SPT has two offices: the headquarters in Orange County as well as a satellite office in Los Angeles. The two locations stand in wild contrast to each other—liberal LA versus conservative Orange County—but having the offices has afforded the company the opportunity to explore some cool niches. In LA, for example, Strack says he'd love to break into the music scene or even do work for the studios. Celebrity and high-end producer transportation are other markets he'd like to pursue in the future. There's also a strong tech community in Santa Monica, which he says is often called Silicon Beach, so the corporate market is robust.

The second office is more than just functional. One of the hallmarks of California—besides the gorgeous beaches, Hollywood, and ridiculously beautiful weather year-round—is the insufferable traffic. Strack notes that getting from point to point in Los Angeles County is particularly difficult and varies depending upon the time of day. The real estate is quite high in the city, but it was essential to have a second location to keep vehicles. He's even shopping for a new office because it has outgrown the current space.

"Having vehicles at a second location was important for our Los Angeles clients," he says. "Because of the traffic, it can cost us for the wasted fuel while idling as well as the time of the chauffeur. Having that extra location helps." Some vehicles are also sent home with chauffeurs, which, thanks to GPS, can be monitored if needed.

SPT's fleet has also gone through a bit of an evolution over the years, all based on clients' needs and desires. Strack, of course, purchased the standard Town Cars and SUVs that are so pervasive in the industry, even two stretches that are used mostly for sporting events, but he's also a bit of a risk-taker. He wasn't afraid to add some hybrids to the fleet early on, which have been a plus for the LA market.

"I started out with a Prius, Fusion Hybrid, and BMW 7 Series Hybrid, some of which I still operate today. It's my vision for where I want to take the company," he says. "I always want to push myself out of my comfort zone, to go out on a limb. If you fail, it's fine, but you start over. I wanted to see how the market would respond to it and push my own ideals forward as well." One of the more surprising ways that he's pushed outside the realm of comfort is with his newest fleet addition: a Tesla S. The vehicle, which is all electric, has been getting a lot of buzz in the industry lately, but it was a first for chauffeured ground transportation in California.

"It's unique and has a very cool image," he says. "Customers love riding up the highway completely silently, using zero fuel. It's been a great car for us."

Maintenance of hybrids, according to Strack, has also been largely painless and on par with traditionally powered vehicles. He's encouraged by the longevity of hybrids.

"Hybrid vehicles make great fleet additions because they run and run. Just look at the taxi fleets that use hybrids—those vehicles are running 24 hours a day, seven days a week. I've found them to be dependable and don't cost any more to maintain." That also includes the Tesla, which is completely different from a dual-powered hybrid. "The Tesla is maintained every 10,000 miles, kind of like an oil change. We simply stop in, the latest update is downloaded, they check over the vehicle for any issues, and you're on your way. This actually may cost a little more, but there's no $4 per gallon fuel to purchase." As SPT continues to build its corporate work, Sprinter vans have been one of the most popular vehicles for those customers. Strack says that they are fantastic for corporate work, especially roadshows, but that with a little dressing up, they can also be used for nights on the town (as he still does have some retail clients). He says the crossover is like having two vehicles in one. SPT is now mostly corporate, especially group work and roadshows.

Strack has been a hands-on CEO since the beginning as he slowly added staff—first a reservationist, then a dispatcher. Just last year he was able to start giving himself a little time away from the company, although he's still heavily invested in the company's day-to-day operations. Not being tethered to SPT 24/7 has given him the freedom to pursue some other ventures (he is an entrepreneur at heart, of course), as well as travel and work toward his pilot's license. His focus is still trained on SPT. When not working with his sales team and making sure that the company is on the right track, he's managing the company's strong growth over the last few years. The office staff is now up to nine people, including Strack, in addition to about 30 full- and part-time chauffeurs.

"The marketplace is changing, and I don't necessarily think that having the most cars is the best plan right now," he says about growing SPT. "We really want to be a specialty vehicle company that provides the best service. It becomes a challenge to maintain that level of service the bigger you get, and I never want to be in a situation where I am comprising that in order to have a larger fleet. My focus has and will always remain on customer service."

The company has also become a bit of a family-run venture, with a twist. A few years ago when the economy was in full-on collapse, his father's company was in the unfortunate position to take the brunt as the housing market cooled. After closing shop, his father, Michael, then joined his son's company as the chief financial officer and is now a part-owner. His sister, Laura, also handling the billing for the company.

"I like to call my father my consigliere," he jokes. "My father was always the CEO of his own company, but he's really enjoying working 40 hours a week. He's had so many years of running his own company that it's nice to step back and not have that pressure. It's great to have him around, because I'm always bouncing ideas off of him. We're visionary people." To manage his ideas and stay in step with his colleagues, Strack joined the Enterprise Group, which was founded and is facilitated by Strategy Leaders' owner Andi Gray. SPT will host its next meeting in Los Angeles this December.

"I can't say enough good things about Andi [Gray] and the Enterprise Group," he says. "We will meet three times and year, and she's done a phenomenal job in organizing it. We talk about the real things that affect our business and find different ways to think about the challenges. It's a great group, and worth the time."

He's also an active member of the NLA and the Greater California Livery Association (GCLA). When new to the industry, Strack was struck by how collaborative and friendly other operators were and how willing they were work as a team, but he often wishes they would go further.

"With the laws that are being passed in California, even with Uber, I feel that we could have done so much more if we had united as an industry," he says. "The taxi industry will unite for a common cause and kill anything that hurts their business as a whole, but I don't see that with us. The GCLA is a few hundred operators in a state that has thousands. The association does a great job, but just think of how much more we could do if we all united around a cause like other industries will do."

One of the ways that Strack has been ahead of his competition is with technology. As you would expect from a 36-year-old entrepreneur, technology has been seamlessly integrated into all of SPT's major functions so that it's not only cost-effective, but beneficial for his customers.

"It's really a shame that [chauffeured ground transportation providers] aren't all on the same or similar systems, or worse, not using technology at all," he says about the fragmented industry software. "Without it you can't monitor your chauffeurs, and you don't innovate your business and fall behind the times. We have to be one step ahead of our customers at all times."

It's obvious that companies like Uber are on his mind because of its efficiency and direct connection with customers. "We have to ask ourselves where we want to go with it. Do we want to focus on high-end customers who will never get what they need out of Uber? If it's just about the bottom line, then sure, Uber makes sense because it can be cheaper sometimes without offering anything other than a ride. We will have a problem if it makes a big push toward corporate work and can offer what we offer."

But for Strack, it's more about the efficiency on all levels—from the reservation to the final billing. He can't imagine a world where dispatch is managed on whiteboards, and he knows that clients use their phones more like computers rather than, well, phones. It's about connecting with customers on their level. Besides the aforementioned GPS tracking of chauffeur driving patterns and use of tablets for customer meet-and-greet signs, technology also helps clients know that their vehicle is so many minutes out. If a change is made to a reservation, it's made in one place and all parties can see that it has been made, which reduces errors downstream. He says that he is always looking for ways to be even more efficient for the sake of his clients.

Technology has also had one additional benefit: it's helping SPT become carbon-neutral by 2014. Thanks to Livery Coach Solutions, the software is moving the company toward a paperless office, he says. Combined with the work with La Reserva Forest Foundation, Strack is on target to achieve that goal. The company planted 950 trees just a few weeks ago and is working on an environmentally friendly highway that won't impact animals' habitats and might possibly prevent serious injuries to them.

"I wanted to set an example, and for my own personal convictions I wanted to have a business that is doing well for society," he says. Who knows? He might even be a trend-setter. [CD12.13]