BY PHIL COLE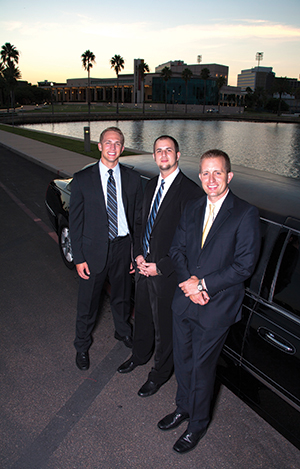 L to R: Brian Gaputis, Ryan Hilberth, and Keith Gaputis

You know there's an industry-wide revolution going on when you see young, tech-savvy entrepreneurs like Ryan Hilberth ­running to the scene. Founder and CEO of the new online reservation service, Rental Limo ­(rentalimo.com), Hilberth sees the growing technological momentum in the chauffeured transportation industry and thinks it's only just begun.

In his younger years, Hilberth was enchanted with the limousine experience he got when his father's friend would send him on occasional chauffeured transportation rides to places like McDonald's or Blockbuster. Years later, Hilberth held onto those memories as he did client work with search engine optimization and marketing products and services—slowly putting together an idea that he'd eventually share with his longtime friend and Rental Limo co-founder, Keith Gaputis, who had a strong background in web development and programming.

The two teamed up in 2010 and began building Rental Limo from the ground up, with Gaputis working on developing the website and Hilberth on advertising and attracting clients. By 2013, the product was ready. Right before its launch, Gaputis' brother Brian joined the team as executive account director and eventually as a partner, helping transportation companies get set up on the website.
… as the industry makes itself more accessible through technology, Hilberth believes the customers will see tiered options: luxury, medium end, and low end … the luxury option often offers a better bang for their buck."
Hilberth sees Rental Limo as using the same approach with limousines and sedans that companies like Kayak and Travelocity take in helping people book hotels and airline tickets. When a customer goes to Rental Limo, he goes through three steps. First, he gives information on the ride—pickup date, time, duration, etc. Next, the customer sorts through different vehicles by picture from Rental Limo-registered operators for the one that best fits his needs. After picking a vehicle, the customer then sends his payment information through a third-party processor for a $1 authorization fee.

Operators, depending on variables like fleet size and budget, can register with Rental Limo under Bronze, Silver, or Gold packages with no long-term commitment, says Hilberth. Once an account is activated, operators receive an online booking channel on Rental Limo wherein they can attract customers and view data such as how many impressions their page has received a month and how much traffic their channel has brought to their website.


"We're really doing what we need to in order to make these companies happy," says Hilberth, "and that includes a level of transparency that other online services may not have." Instead of attaching its brand to your operation, Rental Limo acts only as the facilitator between a transportation company and the customer who needs your service. The company will also debut its mobile app in early 2014.

All of the constant battles against Uber and on-demand transportation services aren't lost on Hilberth and seem to suggest an unwritten notion of our industry—that operators have to pick between being convenient and providing quality. Perhaps so, but as the industry makes itself more accessible through technology, Hilberth believes the customers will see tiered options: luxury, medium end, and low end. And on top of that, they'll be surprised to learn that the luxury option often offers a better bang for their buck.

"What happens is the original price of $30 or so for a point-to-point ride using Uber ends up being more like $60, $80, or $90. And then you're comparing that to a chauffeured transportation provider that could have given you better services for the same price. There is crossover, I just think it's going to take time," says Hilberth. In other words, customers will see the value in your services offered as long as they are educated about the different types of offerings out there.

There's an interesting level of irony in Hilberth's philosophy. In his own way, this tech-savvy businessman is more of a chauffeured transportation purist than one would think. While some operators scramble to compete with the new, cheaper services provided by companies like Uber and Lyft, Hilberth says let those companies do their thing because they don't necessarily have to be a threat. Furthermore, chauffeured transportation companies have been doing on-demand ride service for decades now. Now, as the technology begins to catch up, the industry can begin to shine in this new market without having to lessen its services—and perhaps even scoop up some new clientele in the process.  [CD1213]