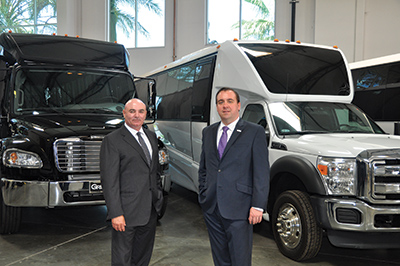 Grech Motors' Owner Ed Grech (left) with VP of Sales and Marketing AJ Thurber at the Calif. sales officeEd Grech's enduring legacy as one of the industry's premier builders is already well known to operators' so focusing Grech Motors' manufacturing process on luxury shuttle buses in 2012 was a natural evolution for the longtime builder. Shuttle buses are some of the most popular fleet additions' and operators have praised Grech Motors' products for versatility and progressive design.

"We build our buses with the highest-quality materials and offer more standard features than any other builder' producing vehicles with unparalleled fit and finish. We back up our products with the industry's best warranty and after-sale support'" says Grech' owner and founder of Grech Motors.

When we last caught up with Grech' the Riverside' Calif.-based company was doing an impressive amount of business. Two-and-a-half years later' the builder is having its best year thus far' with new staff members' products' and a popular marketing campaign.
Growing the Team
Grech has been one of the leaders in vehicle manufacturing and design for more than 30 years and he is relying on his seasoned sales team' as well as some new blood' to continue moving the company forward.

"We are expanding our sales division due to our rapidly growing market share and increasing sales volume. Grech Motors maintains the most loyal client base in the industry with the most desirable' highest quality buses on the road today'" says Grech about his vehicles.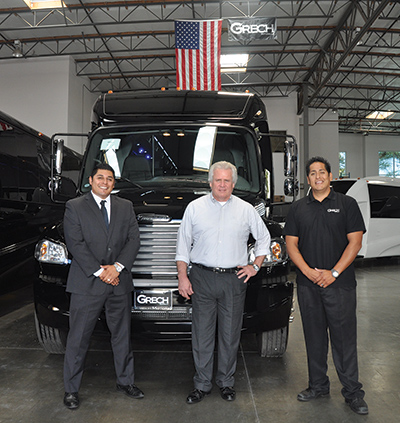 Part of the sales team (L to R): Rene Martinez, Sam Singleton, and Larry OlivarezThe sales team consists of industry veterans such as John Beck' AJ Thurber' Larry Olivarez' Rene Martinez' and Kaye Marseilles. The two newest members of the sales team are Sam Singleton and Michael Campos.

Singleton joins Grech Motors as a factory sales rep with more than 35 years of vehicle production and sales experience in the industry. For Campos' it's all about marketing. If his name sounds familiar' you likely know him from his days as an industry journalist and marketing specialist. His unique background gives him a thorough and well-rounded perspective on what an operator needs in all areas of business.

AJ Thurber' formerly of Don Brown Bus Sales' joined Grech earlier this year as its vice president of sales and marketing. His consistent attendance at industry trade shows and association events gives him a deeper insight into what operators need most from their vehicles.

"AJ was a welcome addition to the Grech Motors team for future growth and development of the company's success'" says Grech. "He continues to maintain a great relationship with Don Brown Bus Sales' our top distributor."

Supporting Grech's in-house sales team is Don Brown Bus Sales' its exclusive Northeast distributor' led by luxury bus experts Mark and Eric Sebast.

"Don Brown Bus Sales does an excellent job with stocking and distributing our products'" says Grech. "More important is the after-sale service it provides to customers. I am very proud to have Don Brown as our distributor."

Grech also appointed George Lee as senior vice president of Edson Financial Services' a company that provides commercial equipment lending and specializes in ground transportation. Lee has been in the industry for more than three decades and is well-versed in the special circumstances that operators face. Edson Financial operates independently' although it was founded by Grech' and assists Grech Motors' customers with the fiscal end of the sale if needed.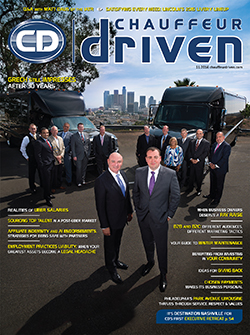 Cover Art: Ed Grech (center, left) and AJ Thurber with several Grech Motors customers (L to R): Billy Jinks of Jet Limousines, Ahmed Atris of U.S. Sedan Service Worldwide, Marc Claessens of L.A. Excursions, Kevin Illingworth of Classique Worldwide ­Transportation, Matt Assolin of Nikko's Worldwide Chauffeured Services, Jeff Greene of Greene Worldwide Transportation, ­Matthew Johnston of AJL International Worldwide Chauffeured Transportation, Don Mahnke of ABC Worldwide Transportation, ­Patricia Frierson of La Fleur Transportation, Sal Milazzo of ­Signature Transportation Group, Tony Mehdiof of North Point Transportation Group, and Alex Malek of Worldwide Transportation. Photography by Ed Alfaro Photography in Laguna Beach, Calif.
Ramping Up Production
Grech Motors certainly has plenty of room to expand operations at its 100'000-square-foot production facility' which was modeled after an OEM assembly plant for consistent quality and volume control.

The company still builds on several different platforms' including the Ford F-450' F-550' and F-650' and the Freightliner chassis (gas and diesel options available). Thurber says that Freightliner is by far its highest volume selling model' of which three sizes are available: GM40 with seating for up to 42 or 38 with rear luggage' GM36 with a 36-passenger or 32-passenger with rear luggage capacity' and GM45 (its largest) with seating for up to 48 with rear luggage. The last two Freightliners are new to the Grech lineup and are definitely turning heads.
Grech Motors' buses offer a long list of standard features' including a patented panoramic front viewing window' frameless windows' electric plug entry door' passenger retractable seat belts' roof-mounted HVAC systems' LED interior and exterior lighting for long life and low energy consumption' rear luggage storage' premium rear audio' and altro wood-like flooring.

Grech Motors also modifies Mercedes-Benz Sprinter vans' which continue to be a top-selling van in our industry because of its customizability for any niche. Grech currently offers several livery models' including the Sprinter shuttle (with seating for up to 16 or 13 with rear luggage) and Sprinter limo (with seating for up to 12 or 10 with rear luggage).

"The Grech Motors Sprinter exemplifies our team's 30-plus years of experience in being the leader in limousine manufacturing. The attention to detail' quality building materials' and fit and finish far surpass expectations'" says Grech. View all of the product line and floor plans at grechmotors.com.
Now that we're entering a new year' Grech Motors' sales have never been stronger and the company just keeps growing in all areas. The continued expansion of its lineup surely has its faithful followers watching for what's next. [CD1114]