AJ Thurber at the company headquarters in Johnstown, N.Y. BY SUSAN ROSE
If you've attended any recent industry events and association meetings, there's a good chance you've seen Don Brown Bus Sales listed as one of the sponsors or exhibitors. You've possibly run into General Sales Manager AJ Thurber or one of Don Brown's regional sales managers. It's no accident; in fact, it's all part of Thurber's pledge of support to the industry.

Don Brown Bus Sales (donbrownbus.com) may be one of the newer bus dealers in the industry, but it is a long-established company that has been selling school and commercial buses for over four decades. Thurber joined Don Brown in 2009, the same year it broke into the limousine market. While it probably hasn't done much for his home life, traveling constantly has helped Thurber build trust within the industry for the new and pre-owned products he sells.

Don Brown's headquarters is centrally located to serve the Northeast region in Upstate New York, but it is truly a nationwide dealer with its additional sales and service locations in New Jersey, California, and Missouri, and a national warranty and service program providing onsite service, pickup/drop-off, and direct pay for sublet repair. The company's regional sales managers—who also frequent many industry events and association meetings—are on the ground in their respective territories to assist customers at any time. The experienced team includes Carl Restivo (N.J., Pa., and Ohio), Terry McCart (New England), Brian O'Neill (Va., D.C., and Md.), Richard Springer (metro NYC), Steve Little (La., Mo., Ark., and Texas), and Pat Butler (Calif., Nev., and Ariz.).

"Our entire focus is to give back to those who give to us, and one way we do it is through associations. We really want to support the markets that support us and fuel their growth," says Thurber.

He is true to his word. Currently Don Brown lends a financial hand to associations across the country, including the Limousine Association of New Jersey; New England Livery Association; Limousine, Bus, and Taxi Operators of Upstate New York; Long Island Limousine Association; Philadelphia Regional Limousine Association; Virginia Limousine Association; Maryland Limousine Association; Greater California Livery Association; and Houston and Texas associations. He also actively participates in national bus associations such as the United Motorcoach Association and American Bus Association, in addition to consulting groups like Driving Results.

Buses of every shape, passenger capacity, and size have been steadily gaining market share in the luxury ground transportation industry for the last decade. Being face to face and listening to what operators really want and need has helped him and his team deliver what is necessary for operators to stay competitive.

Don Brown is partners with many of the major bus manufacturers, including Glaval, Turtle Top, Federal Coach, and Ameritrans. Having strong relationships with these companies allows Don Brown to offer the full spectrum of buses, including full-size motorcoaches and limobuses, as well as smaller shuttles and the popular Sprinter vans. They even offer niche products like trolleys and paratransit vehicles and everything in between.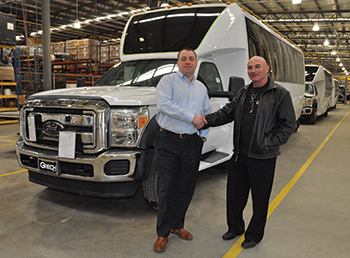 AJ Thurber with Ed Grech at the Grech Motors Plan "Our strength is product availability—nobody can match," says Thurber. "We have more product on the ground at any given time from a variety of builders specifically for the limousine market than any other dealer. Also, because we're a high-volume dealer, we have a significant price advantage. But more importantly, it's our after-sales support. When we sell clients a vehicle, we're there for them after the sale. We're always there to support them in any way. It's what makes Don Brown different."

This past year, Don Brown joined forces with some familiar faces in vehicle manufacturing. It recently became the Northeast dealer for former Krystal founder Ed Grech's new bus company called Grech Motors, with a focus on shuttle buses. "It is an honor to have AJ Thurber and the team at Don Brown Bus Sales exclusively distribute and represent the Grech Motors product line in the Northeast," says Grech, president of Grech Motors. "With my longstanding commitment to producing the industry's highest-quality vehicles and Don Brown's strong reputation, sales team, and infrastructure, this is truly a great partnership. The culture and reach that AJ and his team have created is extremely impressive. With our core values and philosophies aligned, we are very excited about our future together."

The company is also the exclusive dealer for Newport Coachworks, which is run by industry veteran Carter Read. "Newport Coachworks' strategic alliance with Don Brown Bus Sales as our exclusive distributor provides us with a significant advantage. No other bus dealer in the industry has comparable presence in the industry," says Read, who adds that he enjoys working in the professional environment that the bus industry offers.

Don Brown also produces its own line of designer executive bus and Sprinter interiors through a new company called First Class Coachworks, which debuted last year. Building on shells produced by premier manufacturers such as Federal or Grech, First Class transforms a simple bus into a work of art, tailor-made for operators in luxury ground transportation.

But Thurber is most proud of the company's after-sales support through its nationwide service program. If a vehicle is in need of a warranty repair, Don Brown locates a convenient service center that will complete the repair and then handles the paperwork so that the operator isn't bogged down in claims for a warranty reimbursement.

"If you're not near one of the manufacturer's service centers, we'll direct pay for any warranty repairs through a third party," he says. "Don Brown pays for the service, and then we go to the bus or components manufacturer for the claim. We never want our customers to be in a position where they have to submit a claim to the manufacturer. We deal directly with them for you."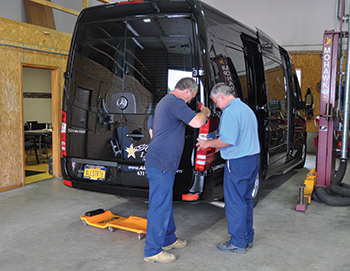 Sprinters are some of Don
Brown's best selling vehicles,
according to Thurber Customers in the mid-Atlantic also have the option of onsite service, where a certified mechanic travels to the operator's location to perform repairs on the spot. Thurber says they also offer a pickup and drop-off service for more complex repairs—always being mindful of the fact that any vehicle downtime costs the operator money—and work quickly to resolve any issues.

Don Brown is also sensitive to the cost-conscious nature of the industry and the hefty financial commitment required when making a vehicle purchase. Having access to a diverse product line from numerous manufacturers means that an operator will find a quality product at a price point that makes sense for their business.

In addition to an enviable product line, Don Brown offers in-house financing with lease and finance terms starting at only 12 months and working up to 84 months. "With Don Brown Capital, we have the final say in credit decisions, which is great for our clients because we can offer much better terms and leasing options for a variety of credit needs. We can structure financing so that the client is comfortable with the terms so it is affordable for his business," Thurber says.

Don Brown also recently expanded its commitment to the industry through a one-of-a-kind rebate program with the NLA. Any NLA member who purchases a product through the company will receive an additional $1,000 off the lowest advertised price. In addition, Don Brown will donate $250 to the NLA for each product sold to a member. If a customer is not a current member of the association but wishes to join, he says that they will cover the cost of membership for the first year.

"From my perspective, the NLA's program with Don Brown Bus Sales is a win-win for the members," says Diane Forgy, president of Overland Chauffeured Services in Kansas and NLA board member. "This is the best case scenario for our members when we can offer a program that allows members to save money as well as give money back to the industry. The rebate that the NLA receives from each sale will go right back into supporting our members and fighting for the industry."

As Thurber and members of the Don Brown sales team continue to make the rounds throughout the industry, there's one place Don Brown will be this fall—the Chauffeur Driven Show in Atlantic City. Don Brown was one of the first companies to sign on as an exhibitor and sponsor of the event. In the meantime, look for them at a meeting near you. [CD03/04/13]