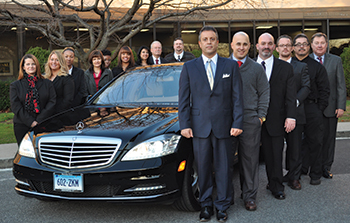 The Vitesse staff at the Connecticut headquarters BY SUSAN ROSE


Shawn Abaspor was a man ahead of his time, and possibly even a trailblazer for how the industry would evolve and adapt in the 21st century. When he founded U.S. Limousine back in 1987, his vision was to be more than just a "limousine" ­company, more than just a local service. U.S. Limousine may have served the New York/New ­Jersey/Connecticut area in its first few years, but Abaspor dreamed bigger. From the very beginning, Abaspor focused on providing high-end transportation services almost exclusively to C-level executives as well as some entertainment professionals and diplomats. U.S. Limousine was corporate from day one, leaving it to its competitors to handle the "traditional" limousine work of the '80s, such as proms and nights on the town.

Its headquarters in Stamford, Connecticut, just north of New York City, was the ideal hub to cater to the needs of these elite travelers. He added affiliate service in other cities—such as London, Paris, Los Angeles, and San Francisco—soon thereafter, well before the affiliate model was commonplace. When he expanded his offerings to include private air charter services (Royal Falcon Air Charter) in the early 1990s, it catapulted his company into a new league.

The combined operations of U.S. Limousine and Royal Falcon were ­rebranded under the name Vitesse Worldwide in late 2011. The rebranding also included the debut of a second office in Phoenix, making it a bicoastal operation, in addition to its 600-plus affiliates in over 75 countries.

The name Vitesse is French for "speed," which Abaspor says was the message he wanted to convey to customers. "I wanted to show that we were a truly unique brand. We're not just a 'limousine' company, we're an executive travel management company," says Abaspor.

The operation grew rapidly in its early years. According to Abaspor, the average annual growth was 15 to 18 percent. A testament to its solid reputation was the conspicuous lack of advertising until recently; word of mouth and customer testimonials was how the company maintained a competitive corporate advantage. Vitesse now encompasses five facets of corporate travel: ground, air, yacht, executive protection, and concierge services. It's a blend of services that grew organically over its 26-year history to meet the changing needs of traveling executives.

"It's a reality for today's executive who may need chartered air service to his destination and ground transportation with executive protection when he gets there," says Roy Barnes, senior vice president of operations, East Coast. "And tickets to an exclusive event through our concierge services," adds Abaspor. He says that the company moves over 300,000 passengers each year around the globe, whether it's an individual traveler or a 1,500-person road show across several cities or countries.

The Vitesse business model is clean and unfussy by design; Abaspor and his executive management team strive to make travel as uncomplicated as possible for clients. While transportation professionals are all too aware of what happens behind the scenes to execute flawless service, Vitesse clients only see the results of that hard work, regardless of the complexity or timing of the transportation needs. The company's cornerstone has always been about the customer service experience and ensuring consistency from trip to trip.

"We don't want clients to have to worry about transportation, when they should be focused on what will happen at their destination," says Barnes. "The customer always has a choice. These are important people who have their own priorities, and we're the link between those priorities. They're looking for hassle-free, consistent service. We're building a brand."

That customer service attitude starts right at the top with Abaspor, president and CEO. Over the years, Abaspor has surrounded himself with talented senior-level managers from the worlds of air travel, hospitality, and ground transportation. Combined, the team represents more than 150 years of experience with various sectors of executive travel.

Abaspor likens the Vitesse experience to what one would typically receive in first-class airline travel. "They will be met by a well-dressed professional chauffeur with a clean, easily recognizable car branded with the Vitesse logo. We provide them with almost $90 worth of amenities—their preferred reading materials, sometimes $30 or $40 for a single issue; mints; hand sanitizer; our own branded water; even a Vitesse branded towelette like they would receive in first-class travel."

Vitesse customers are tech-savvy and expect to have access to the latest technology for booking and managing their trips. It was one of the first transportation companies to offer a reservations app for its customers, and clients receive email notifications of vehicle arrival times, real-time reporting of a chauffeur location, and a picture of the chauffeur who will be meeting them. "The industry as a whole has really lagged behind in technology, more so than other industries like airlines. It's an area where we stand out with our clients, who expect to be able to manage their [itineraries] online," says Barnes.

Vitesse chauffeurs are also connected digitally to the office through iPads, where they can download trip sheets and update the status of their runs easily. "It eliminates the need for two-way radios and cell phones," says Abaspor, which also boosts safety. The iPad also serves as a digital meet-and-greet board, which can be customized with the client's company logo for a more personalized touch and distinguishes Vitesse services from other transportation companies that still use white boards or pieces of paper.

If circumstances had been different, Vitesse may not be in existence today. Since he could remember, Abaspor's true passion was for flying. After some time in the travel and banking industries, he nearly realized his dream of becoming a full-time commercial pilot with Eastern Air Lines. As fate would have it, the pilot program he joined was cut and the longtime airline went belly up only a month later. Royal Falcon was born several years later not only out of that dream, but due to demand from his customers who wanted the same reliable service that his ground transportation company offered. It was the best of both worlds: his love of flying and being able to offer his customers a truly exclusive service.

"Royal Falcon Air Charter was started because our clients needed executive air travel and didn't want to spend a lot of time and money to do it," says Barnes. "It was a service that grew to be essential, like executive protection and concierge." Executives will often travel with a small team, which makes using commercial airlines inconvenient. While the company only operates two of its own planes, Abaspor has trusted partners all over the world with impeccable safety records and flight hours who can provide anything from 5-passenger planes and small helicopters to 300-passenger corporate jumbo jets. It has grown into Vitesse's most profitable division.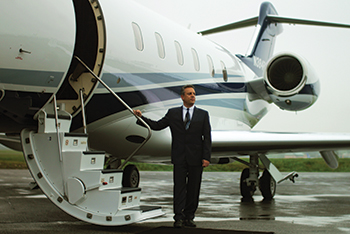 Vitesse is one of the few companies that offers ground and air transportation services
As an accomplished pilot, Abaspor is able to travel the world and satisfy his wanderlust. He calls flying his "high"—which he means literally. But he also puts his skill to good use. Abaspor works with Angel Flight, a volunteer organization created by experienced pilots who donate their time and equipment to fly those in need of medical attention to hospitals and clinics nationwide.

Abaspor likely found a kindred spirit in Barnes, his right-hand man who has worked for Vitesse for the last 11 years. Barnes not only shares his passion for travel, but had an impressive 35-year career with British Airways, where he helped to build strategic markets for the airline throughout the Middle East, Latin America, the U.S., and Europe. He runs the daily operations at the headquarters in Stamford, and complements Abaspor in executing the company's mission of customer service excellence.

"It's all about customer service—our attitude toward them, their significance to us, the consistency. You can't get away from service; it's the relationship with the customer," says Barnes. "If you want repeat clients, you have to focus on it because one bad trip can ruin it all. It's why I spend my time making sure that our staff understands just how important the customer is to our business. There's no point in being in the business unless you like customer service. Clients are only prepared to pay for our services if they see the value and get the quality they expect every time without fail.

"Other senior management includes Harold Getting, senior vice president of sales & marketing, who built a career in hospitality, most recently with world renowned Starwood Hotels and Resorts. David Longo worked for nearly two decades in the corporate travel department for pharmaceutical giant Bristol Myers Squibb and is now Vitesse's global reservations manager. Rounding out the team are Kurt Christopher, who has been with Vitesse for 17 years and is vice president of groups & events; Bita Ramkar, vice president of concierge services; and Laurie Braxton, global affiliate manager.

Abaspor starting working with New York-based business consultant Andi Gray several years ago, and he now considers her part of the Vitesse team. Gray, who is also the founder of Strategy Leaders and serves on several executive boards throughout the New York metropolitan area, is a member of Vitesse's in-house board of advisors. "She has been a true mentor and a confidant for me, for us," he says. "She has been indispensable for Vitesse."

The overwhelming majority of Vitesse's chauffeurs are employees, over 95 percent according to Abaspor. Having employees rather than independent operators was a deliberate move to ensure consistent quality and training. Chauffeurs are treated like professionals and are offered health benefits and retirement savings plans so it can be built into a career. "Our chauffeurs have tremendous pride in the service they deliver and in the way they present themselves," says Barnes. The reservations, sales, dispatch, and accounting professionals are all located in the Stamford office. The Phoenix office, which opened in 2011 and coincided with the rebranding of the company, is managed locally by Jeff Conly, senior vice president of operations, West Coast. Conly lead ExecuCar Phoenix for 20 years, during which time he built the largest fleet in the state. Conly's counterpart in the Phoenix office is Mary Thompson, who also came from the ground transportation world. Thompson, vice president of national sales, worked with networks like Music Express and Carey International, in addition to running her own service in the Pittsburgh area.

Why Phoenix? Although Abaspor jokes that he wants to retire there—he owns several properties in the area—he says it was all about talent. "Jeff Conly was the most qualified and an extremely well-respected industry person in Phoenix. The way he ran ExecuCar and his reputation were why we opened there. That goes for Mary as well—they are both well-qualified professionals and make a great team." After the extremely snowy winter in Connecticut, Arizona is probably looking good to Abaspor right about now.

"When we opened in the Phoenix market, we wanted to be unique and different than the other black cars services that dominate. Instead of the traditional Town Cars, we brought a fleet of Mercedes-Benz S550s that we ­offered for the price of a Town Car," says Abaspor. The 22-vehicle fleet also includes, 10- to 14-passenger Mercedes-Benz Sprinters.

The Connecticut location—which continues to be Vitesse's dominant market—has about three times the fleet with 63 vehicles ranging from Town Cars and Mercedes-Benz S550 sedans to 35-passenger executive shuttle buses. "All of our sedans are model year 2011 or newer," Abaspor says. "We recently road-tested a number of sedans with our clients as a replacement to the Town Car. The feedback was strong. The Lincoln MKT rated highest amongst all the vehicles for safety, comfort, space, and technology, so we've since started adding a few MKTs to our fleet in addition to S550s." The company also runs executive vans, several SUVs, and a few stretch limousines.

Vitesse keeps its services fluid, augmenting and streamlining to fit the specific needs of its clients. Executive travel changed drastically after the economy turned in 2008, and the Vitesse team reacted quickly to ensure that relationships with certain clients didn't end due to budget cuts. "We offered service to meet the needs of certain individuals who were facing extraordinary challenges without sacrificing quality," says Barnes. Abaspor says that Vitesse introduced a temporary tiered level of service for those who needed a more cost-conscious option but still required exceptional transportation, which he refers to the distinction between first class and business class.

"What makes us stand out amongst our competitors is our people—from our management and staff to our common goals," says Abaspor. While 2009 was a difficult year for most businesses, he says that they were lucky enough to retain all staff rather than force furloughs or layoffs.The trend of late has been toward expansion as demand is again robust. Thanks to a successful 2012—up 25 percent from 2011, according to Abaspor—Vitesse recently added boat and yacht charters to its list of services to meet customer demand. Vitesse also opened a small satellite office in Virginia to handle meetings and events.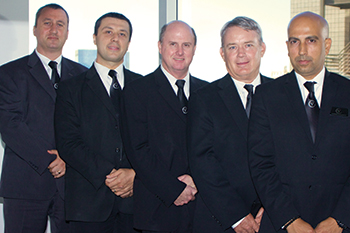 Arizona chauffeurs (L to R): Antonis Marinchev, Nick Nikolov, Todd Dunn, Chris Olson, and Alex Panahi
A natural extension of Vitesse's executive transportation is its concierge services, a division run by Bita Ramkar. "We are not your average concierge. We don't do hotel recommendations or dinner reservations," says Abaspor. "It's a white-glove service and our sole focus is to provide our clients with hard-to-get tickets for exclusive events like the Emmys, Grammys, U.S. Open, Super Bowl, or the Olympics." It's about providing customers with unique gift ideas and granting special requests just because. Perhaps most surprising about Vitesse is its wedding services, which is handled through special events. Vitesse is not a retail transportation company, so this is not your typical wedding service—think an executive's daughter having a destination wedding. The company also features a Priority Pass, which allows airline passengers access to some of the most exclusive airport lounges around the world.

The Fortune 500 executives who work with Vitesse frequently travel all over the globe to some of the most desirable and exotic locations—as well as some that aren't. With international travel comes the potential for risk, so Vitesse offers executive protection for those travelers and the members of their party. Like the aircraft charter, Vitesse works with an elite force of highly trained, licensed, armed or un-armed agents who are ex-military, servicemen, Navy SEALs, intelligence agents, or locally experienced agents such as Israeli Mossad. Customers traveling to hot spots in South America are steered to the Vitesse website to read Southern Pulse reports on the ­current conditions on the ground.

The broader appeal of Vitesse could be its service, but it's quite possibly because Abaspor and his team get it and understand the life of a C-level executive and his symbiotic relationship to the economy. "They're people who spend their lives on the road, traveling around the globe, providing valuable business to hotels and airlines, and they're just looking for recognition of that fact," Barnes said in a 2011 interview with the Wall Street Journal's MarketWatch. "They feel that they're providing valuable business to the people who need this business and the service is not commensurate with what they're providing ... and what they're paying for." Judging by Vitesse's longevity and continued growth, the company is connecting with its customers.

"We're different. We're always ahead of the curve and we always want to be," says Abaspor. "It's because of our people, and especially our clients who drive the services that we offer. That's how it should be."  [CD03/04/13]