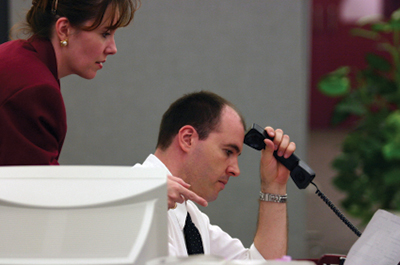 RANDI BUSSE
When my clients ask me that, I respond, "What if you don't train them ... and they stay?" Try this little test: If I propose that your best customer speak with any one of your employees, and you can't respond positively that you trust each and every employee to handle this call properly, your company may be overdue for training.

Your front-line employees often provide the first impression a prospective customer has with your company. Are you relying on them to make a good impression? If you don't trust them, you probably shouldn't. You need to be confident they'll do the right thing when it comes to taking care of customers—from your most demanding to your best.

Trust is key to retaining your most valuable employees and bringing out the best in them, and it's an essential ingredient for world-class customer service. When you are a customer, you want to hear, "Yes, I can handle that for you," when you need something a little unusual, a little faster, or requiring a little more effort. As a customer, you also like things to happen swiftly. If you are able to build a culture of trust within your organization, employees will make good decisions in real time that provide outstanding customer service. By contrast, employees who are not trusted with decision making won't solve the immediate problem. They'll just kick the customer up the chain of command to a supervisor, manager, or you.

So what does it take to build that level of trust and respect, and be confident enough to empower your employees to delight customers? Clear expectations, open communication, leading by example, and an ongoing investment in your employees' skills and development.

I can hear it now: "Investment means money, and we have no money in the budget for training. We can't spend additional resources to improve service." Seriously? Knowing that the way customers are treated is critically important to differentiate yourself from your competition? Knowing that it costs more to obtain new customers than it does to keep the ones you have? Knowing that one delighted customer is likely to bring in three or more referrals? And by the way, studies show that customers are willing to pay more, often 10 percent more, and sometimes up to 25 percent more for great service.

Organizations that are looking for a competitive edge today are investing in customer service training—even for their shorter-term employees. Why? Well, how many customers will that employee touch during their tenure? How much business could you potentially put at risk from untrained employees providing poor service? How many more prospects would be converted to buyers if everybody who answered your phones or worked the counter knew exactly what to do and did it with a smile?

Companies that don't invest in their employees' training and development are more likely to see higher staff turnover, less motivated employees, increased absenteeism, decreased productivity, and sinking morale over the norm. (It's especially true when companies put training in the budget during good times but won't invest in lean times.) Since your employees—long-timers and short-termers, trained, motivated, and coached or not—deliver the experience your customers have with your business, you may want to think of training and development as part of your customer retention strategy.


So, let's talk about who to train. Obviously, you want to train the employees who answer your phones, take appointments, work the counter or front desk, and go out on calls. These individuals have regular, direct contact with your customers. Often, they are the first member of your organization a prospective customer encounters. You want them to be ready, willing, and able to handle a customer interaction with professionalism, skill, friendliness, and purpose.

You will also want to provide training and coaching for the managers and supervisors of these individuals. There is little purpose in providing training to a group of people if their own supervisor will never coach them using the trained techniques, or hold them accountable for performing the way the employees were taught. Less obviously, you will want to consider training or holding a workshop for the remaining employees. The reason is, you need for your employees to work collaboratively, meet deadlines, behave professionally, remove obstacles, and act with a sense of urgency when dealing with each other. Employees are each others' internal customers, working collectively to serve the external customer.

If you think this is a lot of effort and that what happens inside your company doesn't affect customers ... well, no, you know better than that. But let me give you a simple example of the impact of allowing employees to treat each other the way you wouldn't permit them to treat a paying customer. One of my clients has four technicians. They do not typically work directly with customers, but their customer service reps are in contact with them multiple times a day. Two of the techs are downright nasty to the customer service reps—rude, dismissive, and unresponsive. As a result, the customer service reps avoid these two technicians and instead direct their questions to the nicer techs. The impact? The tech staff workload has become unbalanced; customer response times increased because the two "nice guys" are handling the volume of inquiries intended for four, and the nice guys' ability to meet their own deadlines is compromised. And frankly, they are ticked off that their rude counterparts get away with this. None of this is lost on the other employees, who have developed a pretty cynical attitude about management's credibility. Customers get lost in the shuffle. You could probably insert your own example about the dispatcher who gives choice runs to his favorite chauffeurs or the diva staff member who everyone in the office avoids.

That's why when you want to change how your employees treat customers, you have to first connect the dots between their behaviors and the consequences for customers—and ultimately the business. Once you understand this, you can train appropriately to the challenges within your organization. It's most effective if you train and coach employees on the language, tone, questions, and responses to use in speaking with customers. Then it's imperative to educate and coach managers and supervisors on holding employees accountable, coaching their employees, sharpening their skills, and walking the talk. It's only effective if management extends the customer service mindset to the entire organization, so that employees treat each other as well as they treat the paying customer. It works, and it pays off by retaining customers, increasing revenue from existing customers, and earning referrals and rave reviews.

Do you want to keep your customers and increase your revenue? Sure you do. Then what are you waiting for to make the investment in training that will transform your workforce and your bottom line? [CD03/04/13]

Randi Busse is president of ­Workforce Development Group, A Customer Service Training Company. She can be reached at randi@workdevgroup.com.