BY MADELEINE MACCAR
Kevin Cronin (second from right) and Stephen Ward (right) with Chauffeurs Robert Bishop (left) and Jason Ultaro at Fenway Park, home to the Boston Red SoxCronin began his career as a mechanic, and the company traces its origins back to being the retail half of another transportation operation. All that changed in 1988—the year Cronin established Above All as its own entity—and the crew at Above All have been working hard since then to stay ahead of industry trends while catering to the Boston area's retail and corporate travel demands with equal dedication.

Both Cronin and General Manager Stephen Ward have been in the business long enough to have seen it all: The changing tastes dictating both the cars and costs their clients expect; the ongoing balancing act of knowing who among their clients will utilize technological advances and who still wants to call in to hear a human voice on the phone; and riding out the ceaselessly cyclical ups and downs of an industry inherently tied to so many others.

Cronin not only holds fast to the lessons he's learned in the past but also constantly looks ahead in order to be among the first to jump on industry innovations before they become the newest staples. "I've been pretty good at picking out a lot of the coming trends, at least here in the Boston market," he says. "As soon as the big, long cars like Expeditions started showing up, I grabbed onto those right away. Same thing when the Hummers appeared: When there were just seven in the state, I had four of them."

"One of the things that Kevin's very good at is anticipating what the public wants," Ward adds. "Every year, he tries to outdo himself. And every year, everyone asks about what Kevin's doing." Keeping close tabs on what's poised to become all the rage is just one of the ways Cronin has maintained a buoyant company when others were floundering over the years. Both he and Ward cite the aftermath of the September 11 tragedies as one of the biggest industry shifts they've ever seen—and as an unexpected affirmation that maintaining a foothold in both retail and corporate travel was to Above All's benefit.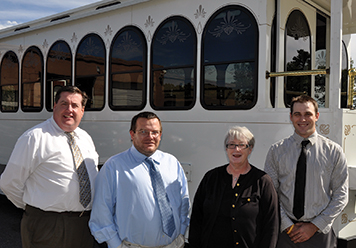 Members of the Above All Transportation team include (L to R): Robert Myette, Scott Godfroy, Peggy Logan, and Thomas Montgomery, pictured with the company's trolley "The biggest change came after all the planes were grounded. We saw so many companies go out of business because they were so tied to corporate travel," Ward says. Even though it only lasted a few days, the event overall had a significant impact on the industry. "Nobody could fly, nobody could go anywhere, but our vehicles were still on the road every night of the week."

"We have a full retail side and a full corporate side. So when the corporate side was crashing, the retail side was up," Cronin says. "Weddings were up for a year and a half after September 11, and people were driving distances they used to fly."

Having its feet firmly planted in both sides of the ground transportation industry might sound like it comes with the expensive troubles of juggling two separate fleets, but the folks at Above All know how to get the most from their versatile vehicles. Stocking vans, buses, and cars that can appeal to weekend club-goers and weekday corporate business in equal measures is how Above All has logistically doubled its fleet size—often by just the flick of a switch.

"Everything's toned down so corporate clients can use the buses in the daytime but those same buses can still go out on the weekends if we just turn the lights from white to blue," says Ward. "And even if our corporate clients decide to take the vehicle out for the night, they can do that, too."

Collaborating with vehicle manufacturers and Mercedes-Benz Sprinter upfitters has produced a number of vehicles that are tastefully equipped in subdued décor. Understated blacks and greys make for classic interiors, and functional amenities like a bar—because Cronin says that "people just want somewhere to put a glass of water in easy reach"—keep everyone happy, and the bells and whistles of hidden TVs and color-changing LED lights turn efficient transportation into a roving party.

Even though Above All has cultivated a duality in its fleet, serving a diverse client base demands diverse vehicle offerings. The company has diligently amassed more than 50 vehicles to satisfy all sorts of client demands while making sure its selection stays current. From sedans to SUVs, MKT limousines to Van Terras, buses that seat anywhere from 26 to 42 passengers, and Sprinters to trolleys, Cronin tries to maintain both a variety and redundancy in his fleet, since "you're always going to be thrown curve balls and you need those extra vehicles to be able to react accordingly."

One of those curve balls Cronin describes is a scenario where a party bus gets a flat tire on a Friday or Saturday night outing. Rather than halt the client's festivities for an unforeseen vehicle issue and risk significant monetary loss, an expensive tow, and an agitated customer, Cronin—who is not only a handy mechanic but also in possession of a CDL—will deliver another bus right to the client and send them on their way before fixing the tire himself and bringing the vehicle back to Above All, which saves him a dinged reputation and quite a bit of money. "Naturally, we have to take care of the client and comp them some time, but you're not losing $1,000—you're maybe losing a few hundred," he says. "If it comes down to 10 cents or no cents, I'll take the 10 cents as long as it's profit.
The train, plane, and boat can all be late—if the car service is late, you're done." – Kevin Cronin.

Being able to roll with unexpected punches in order to please a client is a recurring theme in the way Above All does business. It has allowed for a little more flexibility and creativity in its fleet options beyond merging strictly corporate and special-occasion vehicles in a demonstration of subtly smart business sense. If it's not by way of custom-building buses that appeal to corporate clients while being jam-packed with enough hidden features to entertain a party on wheels, it's knowing when and how to sell a decidedly unconventional vehicle to a client looking for business-related transportation.

"Our trolley is great for weddings, but there [generally aren't] weddings Monday through Thursday. So I'll convince corporate clients to take it out because it's something different and it's a vehicle that isn't being used during the week, unlike the corporate shuttle buses I only have a limited amount of," Ward says. "We'll give it to them for the same amount of money a typical bus would cost, instead of what we'd charge for a wedding or during prom season."

And Boston certainly sees its share of corporate travel, being a global city with a huge economic impact. The historic city—the largest metropolitan area in New England and one of the oldest cities in the country—is home to national landmarks, universities, cultural centers, and international businesses alike, with many financial and tech companies nestled in nearby locales such as Canton and Worcester. Above All generally shies away from Boston's booming tourism industry, aside from utilizing a few tour guides and embarking upon specifically routed city tours on an as-requested basis.

Ward says that while the company has "cars working in or around Boston at any given time," only 10 percent of Above All's business operates in Boston proper, as the company is often shuttling clients to the many businesses outside the city or as far south as New York City and Washington, D.C.—though navigating streets that were built well before the first automobiles ever hit the road presents a unique challenge to his staff whenever they venture into the city's limits.

"I'm just totally amazed day in and day out at how these chauffeurs get themselves around Boston," Ward says. "I've gone on rides with them, especially the guys who drive buses for corporate clients, and I don't know how they do it. My hat is off to them."

Above All does, however, cater to Beantown's fervent loyalty to its athletic teams, which represent Boston in all four North American professional sporting leagues and even Major League Soccer. The company does some work with hockey's Bruins and basketball's Celtics, but is mostly involved with the Red Sox, as Above All is the transportation provider in the limousine package that the baseball team bundles with big ticket purchases. That, too, delivers an opportunity to personally connect with customers while offering them a little something extra.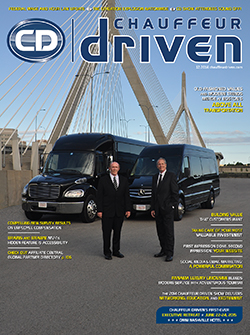 Cover Art: Above All Transportation President Kevin Cronin (left) and General Manager Stephen Ward stand in front of two of their fleet's offerings at Boston's iconic Leonard P. Zakim Bunker Hill Memorial Bridge. Photography by Chris Weiss. "I'll shoot an email off to whoever's purchased a package to tell them I'm their point person, let them know about everything we offer, and that we can handle transportation from the airport if they have people coming from out of town," Ward says. "One time, a group was in town for a four-day convention. I told them they could rent the limo before and after the game, and we ended up doing all of their transportation."

Delivering personal service that focuses on providing an exemplary customer experience is the hallmark of Above All. Cronin is keenly aware that he's not the only game in town and does whatever he can to mitigate the risk of losing clients.

"The train, plane, and boat can all be late—if the car service is late, you're done. There are lots of services out there that a customer can go to and get almost anything," Cronin says. The flip side, of course, is that another company's mistake could always be Above All's gain: "The only way you get in on a corporate client is when somebody screws up or if you're the first one knocking on the door as they're building the offices they're moving into. So you really have to think outside the box."

Exercising a little bit of that outside-the-box thinking when it comes to doing business is necessary in a market as saturated with transportation professionals as Boston and its surrounding areas are, and a willingness to go the extra mile for a customer is often what sets a company apart from the herd. That's where the 120 full- and part-time office staff and chauffeurs who comprise the Above All team have their chance to shine—a unit Cronin describes as a "tight-knit, talented staff" that he trusts to represent the company as if it were their own.

"You're going to know pretty quickly if you want to work for us, or even in this industry," Ward says. "It takes a certain kind of person, and our staff are dedicated people."

According to both Cronin and Ward, it's hard to pinpoint standout individuals when Above All employs a range of high performers in all of its positions, but the versatility of Sandy McGill—who Ward says is a wedding coordinator in title but does much more—has made her an asset to the company for 15 years. Cronin also calls out Robert Myette and Scott Godfroy in dispatch as two key figures who keep things running smoothly, but emphasizes that Above All is a team of superstars who get back from the company what they put into it.

"We demand a lot from them but we give them a lot in return. You want to make sure that exceptions are always made for everybody as long as they're team players," he says. "You have to be flexible with the staff and you need a lot of flexible people working with you. I couldn't do this without proper staff who are skilled at what they do."

Offering employees "a nice place to work" and an adequate work-life balance in return for working in a 24/7 industry are just a few of the reasons why Cronin believes Above All enjoys a low turnover rate. "Many chauffeurs, once they do arrive at these doors, are here to stay," Cronin says. "Our turnover rate is minimal: We have a lot of long-time staff, and there are a lot of people who call this place their home."

It's perhaps fitting that a company with much success in blurring the lines that separate staff members from family and corporate from retail would also do the same with its regular customer base and its affiliate network. "The last thing I ever want to hear about an affiliate is, 'Oh, they're just another limousine company.' They're not an affiliate—they're a client, and they should be treated like a client," Ward says. "We should even give them a little extra because they're in the business and they know what to expect."

Above All has affiliates all over the country, and frequently enjoys a mutually beneficial relationship with those who operate right in their own backyard, in terms of sharing both vehicles and work. Cronin says that if he has 20 jobs on a typical Saturday night, "five to eight of them are probably from local operators. Our affiliates rent equipment from us that they don't want to carry in their own fleets. A lot of the corporate guys don't like to deal with the retail market but they do get requests for it, and you can't say no to a good customer."

In addition to maintaining a healthy affiliate base, Cronin and Ward are also active in various associations, like the Global Business Travel Association (GBTA), National Limousine Association (NLA), and especially the New England Livery Association (NELA). In fact, Ward says that he usually represents Above All at most association meetings, but only something of dire importance can keep Cronin from attending a NELA event.

"It's a good place to meet the people in my market. We do a lot of business for a lot of companies in the area, so it's nice to put a name and a face together," Cronin says. "The meetings allow me a chance to support my local association, as well as supporting the NLA."

Above All has also supported a number of charities in the past as well as those it donates to still, namely The Make-A-Wish Foundation and the ALS Association. "Kevin's a very giving person but he's never looking for the limelight," Ward says.

The company was also among many from the industry who participated in the Ice Bucket Challenge this past summer to raise both money and awareness for ALS in memory of Tom Mazza, and even had a unique vantage point for watching the viral phenomenon unfold.

"The Ice Bucket Challenge began here in Boston. Peter Frates, who it all started with, went to St. John's Prep with my son-in-law," Ward says. "We thought it was a local thing here, and then I started seeing everybody in the industry doing it. It kept growing because they all were doing it and donating for Tom. It was unbelievable watching it spread all over the world."

That altruistic spirit extends throughout the company, too. A survivor of 2013's Boston Marathon bombing sought Above All's services for a concert they were attending. The staff recognized the individual's name, prompting Ward to ask for a corporate connection's help in getting the client backstage to meet the musical artist—and immediately balked as soon as any mention was made of getting a press secretary involved. "We don't do these things for the press," Ward says. "We're not looking for praise; we don't put it on Facebook."

Indeed, Cronin himself is hesitant to wholly embrace social media and technological shortcuts, opting instead to spend "less than half a percent of our entire sales" on advertising rather than thousands of dollars a month on Google optimization—and even delivering brownies to regular clients rather than sending e-cards during the holidays. "Not everyone does these things, but we say thank you the old-fashioned way," Cronin says. Still, with changing times come technological advances, and Above All does boast tech-savvy offerings that provide convenience, like a reservation app that's available on both Android and iOS platforms.

Cronin's personal investment in both his company and the industry it serves is further demonstrated by the hours he keeps, which have him spending between 85 and 90 hours a week on-site. While he'll use that time to answer the phones, take reservations, and talk to clients, he admits that he'll sneak out on Fridays to see his daughters, 10-year-old Danielle and 11-year-old Cassandra, participate in karate, gymnastics, cheerleading, and softball—what he calls the important stuff. "They're always on the go, so it doesn't matter if I'm home or if I'm at the office," he says. "I'm always home in the morning and at night, I get the goodnight call if I don't see them."

Both Cronin and Ward—the latter has four children: Caitlyn, 28; Ryan, 23; Colleen, 22; and Shannon, 21—say that they're lucky to have families who understand that their line of work often calls for long days. Ward's wife Cathy is a nurse who can keenly empathize with the hours he keeps, while Cronin states that he's blessed to have the unwavering support of his wife Michelle. "The growth of this company would have been impossible without an understanding wife and children," he says.

Cronin also says that his wife's patience has allowed a favorite hobby of his—collecting and restoring pinball machines—to flourish in the past few years, as their basement showcases the approximately 40 games he currently owns.

"I was looking for a pool table and came across a pinball machine about four years ago, and it rekindled fond memories from when I was a kid. And then it just took off from there," he says. Ward was careful to make sure his children didn't feel pressured to follow his footsteps, but says that his oldest daughter has voluntarily been the most exposed to the industry—especially once he found out that hiring her and her friends benefited everyone. "They're great to take out on meet-and-greets. All these kids in college are looking to make some money and they listen well," he says.

As for Cronin and Ward, they're among those who can't get enough of what Ward calls "the thrill of the game."

"Kevin and I were recently talking about this, and I think that's what everyone's in this industry for," he says. "It's the highs, it's the lows, it's 'How am I going to solve this problem,' it's the adrenaline—it's the business. We're not curing cancer, but it's what we do and we take it seriously. Most of us in this industry just love it. You would have to." [CD1214]