BY MADELEINE MACCAR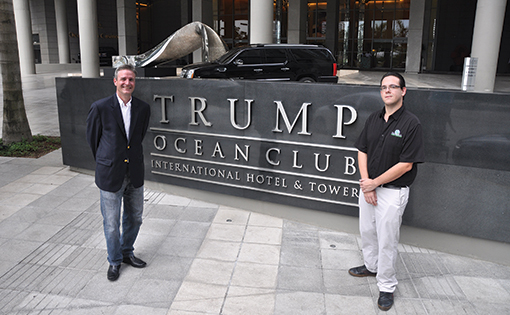 Panama Luxury Limousine's Founder and Consulting Partner Patrick O'Brien (left) and President Joe Luttrell at the Trump Ocean ClubIn 2008, when the world economy was plummeting and the central American country of Panama hadn't yet found its footing as a travel destination beyond its canal, Patrick O'Brien had just sold a tourism company and bought property in the Latin American country that he anticipated was on its way to becoming an in-demand locale.

"It was a crazy idea—who thinks to start up a transportation company in Panama?" O'Brien says. Panama is an interesting juxtaposition of a modern, beautiful cityscape with natural, pristine jungles just miles outside city limits. "There was little tourism infrastructure at the time but I thought Panama had amazing potential for it."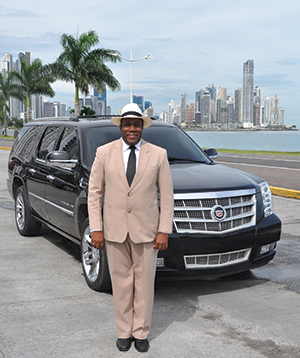 Senior Driver Clyde Menal at The Causeway And with that seemingly wild notion, Panama Luxury Limousine was born. Panama has proved to be the fastest-growing economy in Central America, as its natural delights and ongoing development have attracted an increasing number of international visitors—not to mention Fortune 500 companies like 3M, Grainger, and Caterpillar—since Panama Luxury Limousine's inception. With a veritable explosion of upscale hotels comes no scarcity of opportunity: The company has already landed an exclusive transportation deal with the recently opened Trump Ocean Club, which brings an American casino and hotel to Panama, as well as establishing a presence at local Hilton properties.

Today, O'Brien is still peripherally involved in the company he founded, serving as a consulting partner while Panama natives Joe Luttrell and his sister Katherine Luttrell—president/general manager and operations manager, respectively—have spent the past two years as the dedicated primary operators of the country's biggest luxury transportation company.

Panama Luxury Limousine has certainly grown with its country, which has seen a steadily growing population (currently 3.6 million). The company's recent purchase of three new Escalades puts its fleet at 16 vehicles with access to another 70, and it currently employs more than 30 full- and part-time chauffeurs and office staff.

Transportation is one of the key services that Panama Luxury Limousine offers—not just to hotel guests but to traveling heads of state and corporate clients, too. Being trusted with high-profile clientele leaves little room for error, and the Luttrells have made sure their staff delivers the same exceptional services that foreign clients expect from their native countries.

"Patrick's ideology for the company was to bring American standards to Panama," Joe Luttrell says. "People get great customer service in the United States, Canada, and even Colombia. In Panama, that expectation is improving every day and I wanted to be a part of that improvement, teaching people that we have a standard to uphold."

Part of that improvement starts with training chauffeurs to be transportation professionals, tour guides, and concierges. In addition to defensive driving courses, Panama Luxury Limousine chauffeurs undergo a rigorous introductory period of shadowing current drivers and then being critiqued by them, followed by customer-service training, courses in tourism, and surprise spot checks.

"Our training takes these great people who want to work and polishes them up to be the superstars that they are," Luttrell says. "When they take people out, they have this great knowledge, give these great tours, and build these great bonds—when clients come back, they request so many drivers by name."

It's not just luxury transportation that Panama Luxury Limousine offers. Much like its country where dualities are very much alive—you can watch the sun rise over the Atlantic and set over the Pacific in the same day and a metropolitan landscape gives way to untamed rainforests—the company also features a prominent tourism component.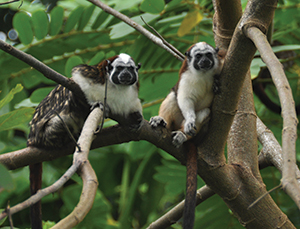 Two Geoffroy's tamarins"You go out in a metal boat with a captain and a tour guide to the middle of the Panama Canal," O'Brien says. "Instead of just going to see the visitor's center and watch the boats come in, you can ride up to these islands and see all sorts of wildlife."

The recent establishment of full-service destination management company (DMC) Panama Adventures blends both sides of the company into one unique offering. Born of an exclusive agreement with Trump hotels and partnered with local tourism company PBA Holding, Panama Adventures is a one-stop tourism shop.

"Panama Adventures includes luxury or standard transportation, tourism, and a focus on bringing our transportation standards to tourism," Luttrell says. Of course, Panama Luxury Limousine's continued growth is a genuine group effort, and Luttrell is quick to say that his sister Katherine "works most of the magic," as well as a staff of senior drivers that includes Clyde Menal and Mario Clarke. Menal and Clarke have been with the company since its beginning and train newer drivers.

Armed with a hardworking team and a bright future, Luttrell aims to maintain the personalized, quality service that exemplifies Panama Luxury Limousine.

"My job is basically making sure that the clients can always reach me," Luttrell says. "It's very important that they know it doesn't matter how much we grow, they'll always be able to contact me." [CD1214]