BY SUSAN ROSE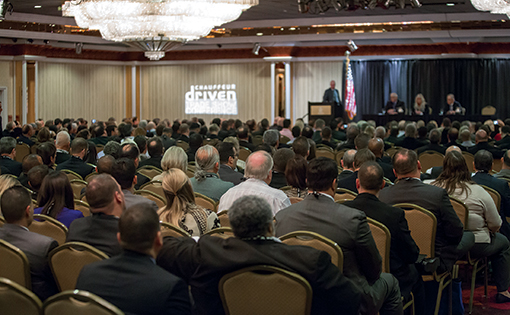 It was a fitting farewell to the Trump Taj Mahal this past November as we arrived for the final Chauffeur Driven Show to be held in the New Jersey shore town—next October, the show debuts in Miami Beach. With nearly 100 exhibitors, dozens of sponsors, and over 1,700 attendees from all around the world, the show was the shot of adrenaline that the industry needed to continue the strong growth streak we've been experiencing for the past few years. A special thank you to our Title Sponsors, The Lincoln Motor Company and Don Brown Bus Sales.

After our successful first show last year, we went to work making some minor tweaks to our most popular events, improving others, and ensuring the maximum return on investment in all areas. One of the places where we expanded opportunities was with building affiliate relationships, including a seminar dedicated to the topic as well as through two highly attended events: The more casual atmosphere of the International Meet and Greet (sponsored by Global Alliance Worldwide, Icona Global, and Modern Car Worldwide) and the structured Affiliate Central Networking Forum (sponsored by A1A Airport & Limousine Service). The International Meet and Greet was attended by over 200 people from nearly two dozen countries—not bad for an early-morning event. Affiliate Central was even busier with 40+ exhibitors, a quarter of whom were from all over the globe. In fact, all of the events of Affiliate Tuesday were crafted around becoming a better affiliate partner. It was clear that attendees were happy with the changes—and they let us know. Later in the day, both Music Express Worldwide and EmpireCLS Worldwide held their annual affiliate meetings at the show, and both rooms were packed solid.


It was our second year attending the Chauffeur Driven Show and again it was a great experience, one of the best shows we've ever attended. We had the opportunity to meet many people from around the world and make new connections. We are looking forward to attending your next shows!" –Susanna Pope of Abaser Limousine Service in Barcelona, Spain

"It made a huge difference this year having Affiliate Day on the second day of the show when everybody was there, rather than on the last day when everybody's leaving," said Victoria Durbin of Kansas City Transportation Group in Kansas City, Mo. "I had a table there this year—it was awesome and I met a lot of new contacts. I thought that the workshops were excellent, too. You guys know what you're doing."

"It was one of the best shows yet, and the Affiliate Central was off the charts this year," said Ryan Bradford of AJL International in Dallas. "A big thank you for moving it up a day over last year—it was a huge help, so thank you for listening to our suggestions regarding that. There was a lot of positive energy and overall a great show."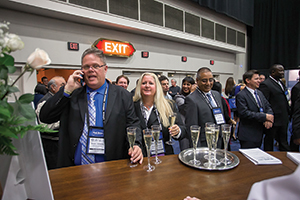 Attendees took advantage of the diverse networking and educational opportunities, including in-depth and interactive workshops that went beyond the traditional classroom-style learning and were focused on timely topics like capturing more bus and motorcoach work and automating your business for greater efficiency. The workshops also featured the results of our first-ever salary survey—conducted by The LMC Group and Chauffeur Driven—so that operators could have a benchmark against which to measure employee compensation packages (read more about it on page 76). Our speaker lineup included many of the industry's rock stars and experts in their fields, including HR and employee management, sales and marketing, operations, and business strategies. Many thanks to our outstanding Education Committee, especially Committee Chair ­Jason Sharenow of Broadway Elite Chauffeured Services Worldwide for moderating the sessions, and to FASTTRAK Cloud Technologies for sponsoring the educational program and coffee service.

"I think the show was great, as it always is. People seemed to be more friendly and outgoing this year. The seminars were fantastic and I'm just having a really good time," said Mike Fargnoli of Precious Moment Limousine in Long Island, N.Y.

Education was definitely not limited to the "classroom" as there were chances to learn something new with all of our events. The industry's only Operator Mentoring Program (sponsored by Don Brown Bus Sales and Grech Motors), which debuted last year, was once again a popular favorite as 14 leaders both offered advice to and led discussions with their small groups. Participants ranged from newbies to seasoned veterans alike.


The show definitely surpassed our expectations. From the standpoint of generating new business, we were extremely successful, and were equally or more successful in strengthening relationships with our existing clients. There was a ton of attention brought to our booth. It was networking, business, and socializing at its finest, and going out with a bang at The Taj Mahal." – Kristen Carroll of The LMC Group and Grace ­Limousine in Manchester, N.H.

Operators were also empowered by the lively State of the Industry Address—delivered by Cheryl Berkman of Music Express Worldwide, David Seelinger of EmpireCLS Worldwide, and Dean De Beer of Tristar Worldwide—and the Uber/TNC Panel that preceded it, both of which were standing-room only. It's no surprise that TNCs—or transportation network companies like Uber, Lyft, and others—dominated the conversation, and real-life suggestions on how to rise above the "technology" companies were discussed by Uber/TNC panelists Al LaGasse of Taxicab, Limousine & Paratransit Association (TLPA); Mike Fogarty of Tristar Worldwide and TLPA; and Matt Daus of International Airport Transportation Regulators (IATR), all of whom are championing the cause for the industry.

"I received good feedback on our Uber/TNC session from the folks who dropped by our booth," said Al LaGasse of the Taxicab, Limousine & Paratransit Association. "We even had several companies join TLPA at the show and several more indicated they would join before the end of this month, including a major fleet in NYC. Great show!"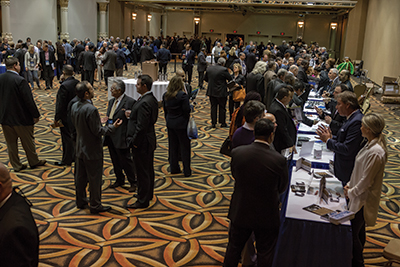 The Uber/TNC discussion even spilled over into our Keynote Address, sponsored Grech Motors and Mosaic Global Transportation. Extended Stay America CEO and former Starbucks CEO Jim Donald inspired the audience with his plain talk and no-nonsense message about being a different type of leader, but he also gave his thoughts on how we can collectively combat Uber much like how his own industry is dealing with the threat from another disruptive technology company, Airbnb.

"The content of the seminars, the events in between, and the show floor were all great. The mentoring program was really good, too. It ended up being more of a roundtable discussion where everybody kind of contributed, and I enjoyed it because I took in a lot of information not only from the mentor but also from the other folks who were there—and there were some other people I was also able to help, so it was a definite win-win. The show was awesome," said Renzo Ormsbee of Elite Worldwide Transportation Solutions in Houston, Texas.

Three associations—The Limousine Association of New Jersey (LANJ), Minority Limousine Operators of America (MLOA), and the Florida Limousine Association (FLA) also hosted meetings at the show, all of which saw lively discussions and robust attendance. Those interested in keeping the association conversations going were also able to speak directly with representatives from more than a dozen different associations in the Association Pavilion on the show floor, sponsored by Chosen Payments. Association Pavilion was also the home of the Micro-sessions, sponsored by Federal Coach and Krystal Bus.

"The Limousine Association of New Jersey so appreciated the opportunities provided at the 2014 Chauffeur Driven Show," said Patty Nelson, LANJ executive director. "We were not only able to host our general meeting on-site, which attracted more than 100 attendees—at 8 a.m.!—but also spotlight our special offer recruitment program that brought us eight new operator members. Many thanks, Chauffeur Driven!"

Beyond education and networking, operators were clearly looking to buy products, vehicles, and services from our show floor exhibitors. With heavy traffic all three days of the show floor, many of the major vendors mentioned not only an uptick of interest in their wares but also increased sales.

"We were exceptionally busy on the floor's opening day, and the second day was when the people we talked to on the first day wanted to come back and confirm sales. Every opportunity we have to introduce our product to new people is a standout moment for us," said Howard Kelly of Meridian Specialty Vehicles. "It's not about the glitz and the flash, it's about how we focus on the customer. The show had a great diversity of both client opportunities and manufacturers to talk with, much more so on the client side. It was a great show for us."

"It was fantastic. We were absolutely blown away by the show this year, and we had an amazing run," said Marco Schneider of BMW of North America in Woodcliff Lake, N.J. "We made so many new connections and fresh leads, met so many new people who are new to the brand. We also had so many customers who came back to the booth to say how happy they are with their cars, to look at our cars again, and are maybe thinking about new business. We honestly got everything out of the show that we wanted and couldn't wish for more. It's the perfect platform to showcase our product line and BMW as a brand, and to speak to all the people we want to in the industry."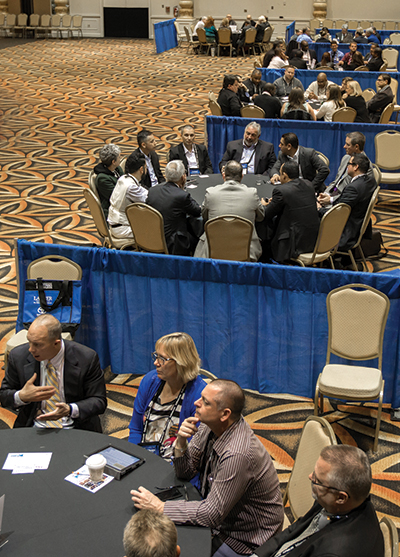 Attending a show for four days is tough on your body, so we made sure to schedule in some fun activities and breaks to help everyone recharge. On our heaviest two days where the breaks were most welcomed, we held lunch buffets where attendees could relax and chat casually with some new friends they had met at the show. Monday's lunch was graciously sponsored by Titus Leasing and GroundWidgets, while Tuesday's was provided by Acton/SoCal Penske and Mobility Ventures.

Attendees also had some casual downtime at our two evening parties—Night of the Living Dead (sponsored by Battisti Customs) and Rockin' Roundup (sponsored by Meridian Specialty Vehicles and Premier Transportation). Many attendees came dressed in their scariest costumes and enjoyed some killer tunes from our DJ, as well as finger foods and lots of libations. The fun was considerably less creepy on Monday during Rockin' Roundup where a few dozen brave souls tried their hand at our mechanical bull. Others kicked up their heels on the dance floor to the sounds of our awesome live band or enjoyed some downhome eats. By the time Tuesday night rolled around, attendees were well primed for our After-Hours Suite Parties, which were sponsored by ETS International, Flyte Tyme Worldwide Transportation, MLOA, Rental Limo, and ZBest Executive Transportation. There were quite a few who were up well beyond their bedtime!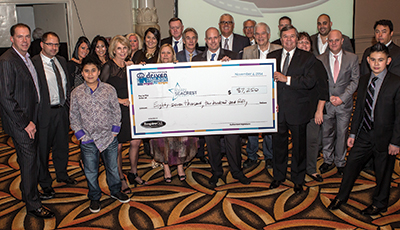 But the highlight of the evening activities was Tuesday night with our Charity Dinner and Auction. David Seelinger hosted the live auction with Publisher Chris Weiss, and together helped raise close to $90,000 for the Ryan Seacrest Foundation, a phenomenal charity that helps inspire sick children through the healing power of music. Ryan Seacrest made an appearance via video, but his parents, Gary and Connie, were on hand to help with the evening's festivities. Thank you to our extraordinary Charity Committee, who collected dozens of donated items for our silent, chance, and live auctions, and also helped to facilitate the event. The entire event was sponsored by EmpireCLS.

"Once again, Chauffeur Driven just did a wonderful job. Everybody's upbeat and smiling—even on the last day, everyone's still running around and having a great time. The vendors were wonderful, the parties—as always—were spectacular. It's another incredible show by the Chauffeur Driven team," said Bob Kitko of Limousine Associates in Cincinnati, Ohio.

Next year, the 2015 Chauffeur Driven Show hits the road and lands in beautiful Miami Beach, Fla., from October 11-14. You'll love the venue we've picked: the spectacular Loews Miami Beach, one of the hottest properties in South Beach. We'll have more details for you by the end of the year. In the meantime, we're working on uploading all of the photos, education recordings, PowerPoint presentations, and handouts of the educational sessions to our website (chauffeurdrivenshow.com). Don't forget that our ­first-ever Executive Retreat will take place this June 22-24 in Nashville. You can get the most up-to-date information on our show website, in the pages of the magazine, and through our social media. We'll see you next year in ­Nashville and Miami! [CD1214]