It is our pleasure to debut Market Watch, our newest section that introduces you to a city and—unlike our traditional profiles—a few of the operators in the market instead of just one. We tried to take the guesswork out of navigating the city and its nuances with these snapshots of San Diego and the companies that service it.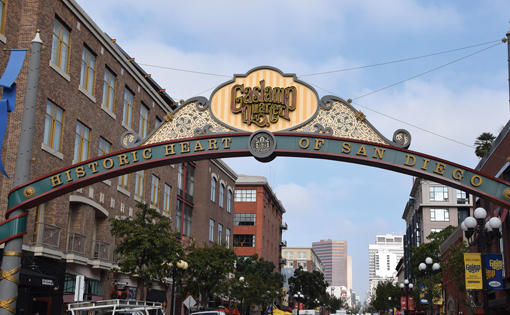 Close your eyes and imagine paradise. Chances are that it looks a lot like San Diego: glorious sunshine with ocean breezes that keep the temperature nearly consistently in the 70s and a modern—but classic—city framed by ocean, desert, and mountains. From hiking to surfing and golfing, there's not much that isn't explored outside. With so much natural beauty surrounding the city, it's a wonder that any work gets done. About the only thing this Mexican-border city doesn't offer is snow.

San Diego is more than just Los Angeles' pretty little cousin to the south. Making that assumption can cost you: While L.A. is all about the glitz and glamour that is Tinseltown (and who doesn't love L.A.?), San Diego is more laid-back, casual, and cool. The cities frequently intersect—San Diego's international airport, also known as Lindbergh Field, is limited by airlines, routes, and quite literally space—but travelers to San Diego have a purpose. The market is thriving with biotechnology, health care, and medical supply companies, not to mention the number of military installations nearby from Camp Pendleton to Miramar (Top Gun fans, rejoice) to the Naval base (the largest on the West Coast and home of the Pacific fleet). National Geographic recently filmed a special there to air this spring called "Smart Cities," which will feature the city's intelligent gas and electric grid, innovative architecture, and advancements in industry (especially biological sciences and aeronautics). In fact, San Diego is the only U.S. city to be featured. Its population is rising comfortably, but not at the breakneck pace of the Bay Area, and it's still California's second-largest city.
Stats
City pop: 1.3 million

Countywide pop: 3 million

Major attractions: San Diego Zoo, SeaWorld, LEGOLAND, Comic-Con, Balboa Park, world-famous golf courses, vibrant downtown, to name just a few

Largest employers: Military, biomedical firms, health sciences (insurance and hospitals)

Major companies: Qualcomm, Bumble Bee, Chicken of the Sea, Neurocrine Biosciences, Nventa Biopharmaceuticals

Airport: San Diego-Lindbergh Field International Airport (limited), 10 local and municipal air fields throughout county

Closest first-tier market: Los Angeles (about 100 miles north)

From the world-renowned San Diego Zoo (often called one of the best in the nation), SeaWorld, and LEGOLAND California, to the spectacular popularity and longevity of Comic-Con and the dozens of festivals in between, there is always something going on. Did we mention the thriving number of local microbreweries and restaurants of every stripe in the Gaslamp Quarter? Its convention center is looking to expand again in the near future as it attracts nationwide events and concerts. Enjoy your quick trip to San Diego!

From Buses to Corporate: Epic Limousines
The ideal growing conditions for grapes is a hot, dry summer,
so it shouldn't come as a shock that San Diego—with its long, gorgeously dry, full-of-sunshine summers—has a number of world-class wineries in its midst. In fact, the area boasts more than 50 in the county alone.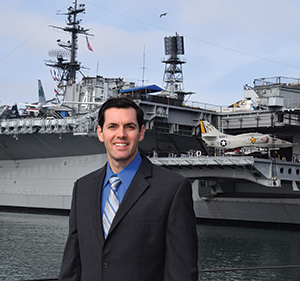 President Ryan Silva in front of the U.S.S. Midway,
a retired Navy aircraft carrier museum
Ryan Silva, president and founder of Epic Limousines, looked to capitalize on that winery tour niche when he purchased a used limobus in 2004. He had been working in marketing and took up driving for a business partner before he thought he could make a go of it on his own. At the time, buses and limousines were still two different types of transportation companies, although change was just around the corner. After giving his bus a bit of TLC and some marketing, he was ready to roll.
Silva says that Epic grew conservatively, about one limobus per year for the next handful of years, but he felt a bit stuck in retail work. In 2007, when attempting to purchase two sedans from a local company, the owner instead offered him a fantastic deal on the entire operation. When most operators were considering their first limobus, Silva was adopting sedans and SUVs. Now armed with four limobuses, eight sedans and SUVs, and book of corporate business, Epic was catapulted into the corporate market.
"San Diego is an ideal mix of retail and corporate work," says Silva. "We have major biotech and financial companies here, but you can't totally escape retail work in a town known for its sunshine and beaches. Because of our great weather, we have a pretty good convention season. Plus Comic-Con, the International Auto Show, and tons of biotech meetings with doctors who need to be moved around a lot for dinners and speaking engagements—we do get that business."
While Silva initially went after the 30 and over crowd with his winery tours—which still keep Epic busy on Saturdays as well as during the holiday season for company outings and parties—he says that the explosion of craft beer breweries has become one of San Diego's hottest trends.
"Not only do these craft breweries bring the college kids to downtown, but it also brings tourists to town," he says. During evenings and weekends, the heart of San Diego is hopping.
Downtown San Diego has changed a lot in the past 10 years, he says, which has helped grow his business. While he doesn't get a ton of work from sporting events, his location right across from Petco Park doesn't hurt either. Running a fleet of buses allows Epic to work with high-end clubs and bars that hire the company to transport people between the two.
Of course, in an area as affluent as San Diego there are plenty of 5-star resorts that dot the waterfront and cliffs, including The Grand Del Mar and Rancho Valencia. The world-renowned Torrey Pines Golf Course and La Costa Resort and Spa have been attractions for years, although there are dozens of excellent courses all over the county. Tourist hot spots include Coronado Beach (which has been named one of the top ten in the world) and La Jolla, while families flock to SeaWorld and the famous San Diego Zoo.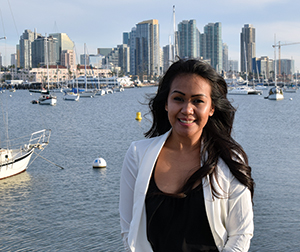 Mary Un in front of the San Diego skyline
Epic's current fleet of 13 vehicles (Town Cars, SUVs, vans, a few stretches, and limobuses) means it can handle the diversity needed to accommodate families and corporate clients alike. What he doesn't own, he'll farm out to one of numerous affiliates. "San Diego has a pretty friendly base of affiliates," he says. "I learned early on that you need each other to survive so there's no point in being hostile. I feel like those who have the best working relationships tend to do well."

Silva keeps his office lean and mean with about three in-house staff, a full-time mechanic, detailer, and around 20 full- and part-time chauffeurs. His office manager, Mary Un, is his right-hand person, and relying on her to run the operation allows him to be out marketing his business. Silva is also a member of Driving Results' education and leadership group Spinning Wheels, and he and his company hosted the most recent meeting of the group back in November 2014.

San Diego is a bit more laid-back and casual than other cities in the Golden State, and Silva says that because they lack the crushing traffic and the frustration that comes with it (L.A. gridlock, anyone?), their pricing structure with inbound affiliates is a little looser than other California cities. Still, California is an incredibly expensive state in which to operate, due to heavy business and employee regulations.

"California has a lot of regulatory issues, and you could be inadvertently breaking the law without even knowing it. Laws are changing all the time, and really the only way to stay abreast of the situation is to become a member of the local association (Greater California Livery Association). There's just a lot to know on every front. It's easy to get a permit here but I think it's business-prohibitive to operate at times because the margins are a little thinner," he says. Silva currently serves as a regional director for the association.

Save for complicated state and federal regulations, Silva says that it's a fairly easy industry for someone to prosper and do well in, as long as the very basics are never compromised. "I meet customers who are worried that we're not going to show up on time or that our vehicles are going to break down," he says. "That means they've been burned in the past. I'm a stickler for the details. I just feel that you don't have any business being in this industry, especially as a chauffeur, if you can't show up on time with a clean vehicle at the bare minimum. The devil is always in the details in this industry and I won't grow until I know it won't compromise quality. I pride myself in my customers getting what they need without exception."

Silva says that he is comfortable with the pace of his company's growth; however, instead of exploring a new niche he thinks he would like to scale back a bit, especially with retail, and grow his corporate work. "While I like retail work because it pays a little more, we all know what those 2 a.m. calls are like. Retail is a young man's game, and I'm not as young as I used to be," he says with a laugh.

The Established: La Costa Limousine
Over their past 25 years in business, Dale Theriot and Rick Brown,
co-founders of La Costa Limousine, have seen quite a few changes to the industry. When they started the company with Theriot's remaining $15,000 from an insurance settlement (sadly, he was seriously injured by a drunk driver several years prior), stretches were still the go-to vehicle. However, the Town Car of the day featured the classic velour interior, which the partners knew would not work for the high-end customers they wanted to court.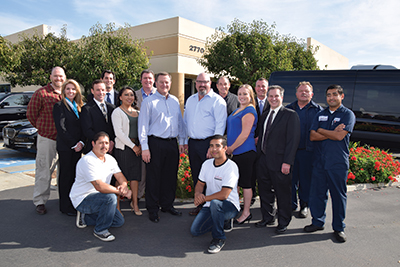 Standing (L to R): Senior Dispatcher Mike Firth, Chauffeur Cynthia D'Angelo, Chauffeur Director Ron Laverta, Senior Chauffeur Carlos Vargas, Accountant Lisa Begay, General Manager Darren Croasdale, Owners Dale Theriot and Rick Brown, Controller Verne Gaston, Reservation Manager Sarah Casale, Assistant Chauffeur Director Jason Galde, Manager of Operations Rick Stone, Fleet Manager Dan Hawkins, Mechanic Rafael Carillo. Kneeling: Detail Manager Uriel Ramirez (left) and Detailer Alex Arrango
"This was back in the day when the Town Car was still square," says Brown. "So we went to Krystal and told them our customers were used to leather in their own vehicles, and that's what we wanted for our limousine. We ended up paying something like $1,200 extra for the leather, but it worked. A brand-new body style came out in 1990 and we rushed to order a new stretch."

La Costa already had a few healthy competitors in the smaller San Diego market, including the massive Presidential Limousine, which Brown says had more than 75 cars at the time. But the partners had a different goal in mind: They wanted to capture the richest demographic in the area, people who didn't necessarily care about price as long as the service was top-notch.

"We don't go after the price-conscious customers. I want the customer who is after the best service. He's the guy who doesn't care that Motel 6 is $79 a night because he wants to stay at the place that has luxury sheets and will address him by name," Brown says.

Brown was already catering to these customers. Ten years before he and Theriot opened La Costa, he started a washing and detailing service. Operating three trucks and three crews, the service would go to personal residencies and businesses to clean vehicles. "If you can spend $150 a month to wash and detail your car, then you'll probably spend $300 to go out in a limo, and they did." The work was mostly retail, which meant that they were operating at night and on weekends. Theriot and Brown were driving, but they weren't pulling any money out of the business—Brown says they even threw their tips back into the operation. They also continued to work during the week at their own jobs. It wasn't until the mid-'90s when the company was stable enough for the partners to take a salary; Brown sold his detailing business. Three things helped the company thrive: in-bound affiliate work, corporate roadshows, and resorts.

La Costa also tapped into the groove of the city. Brown says that quality of life is important to San Diegans and that his customers would rather take a car to the airport than to drive, deal with parking, and then be shuttled.

"San Diego is known for having a lot of high-end resorts, and we were lucky to get the [Omni] La Costa Resort and Spa as one of our accounts early on," says Brown. "But there is also a lot of incentive meeting business. A pharmaceutical company will host a meeting, which means that they'll need us to move a group from the airport to the hotel and to dinners and then back to the airport at the end. It works out really well for us."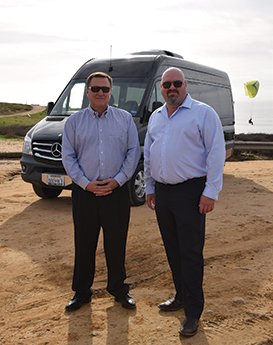 Co-founders Dale Theriot (left) and Rick Brown with a Mercedes-Benz Sprinter—and a parachuter in the background demonstrating a more offbeat method of transportation
The company grew very quickly during the late '90s and again after 9/11, rebounding only five months after the attack. Brown says they definitely had their share of growing pains—at one point nearly tripling their fleet in two years—but that it's always worked out for the best. Brown estimates that La Costa is a blend of services: 20 percent farm-in, 20 percent farm-out to other cities, 20 percent retail/­resorts, 20 percent corporate, and 20 percent group business. He says that he's comfortable with the mix of offerings, and that La Costa works with all the major affiliates.

One of the company's stand-outs is its fleet, which features 20 BMW 7 Series Li sedans and 5 E-Class Mercedes-Benz. Brown says that they tested a few BMWs in their fleet as a replacement to the Town Car and decided to make the investment. Rounding out the rest of the 60-vehicle fleet are vans, minibuses, SUVs, and just three stretches.

La Costa now employs about 25 office staff and around 110 chauffeurs, depending upon the season. Brown attributes much of his success to the people around him, including General Manager Darren Croasdale, who has been with the company for a dozen years and was promoted through the ranks.

"I'm not afraid to have people smarter than I am working for me. There's nothing more thrilling than having a client thank you for doing a great job handling their service or doing something new that we've never done before. I ask my staff whose idea it was because what a great idea! It's like being proud of your kids." Because they were so young when they started the company, figuring out how to run a business with multiple employees and departments was a major learning curve, but Brown and Theriot surrounded themselves with good people. La Costa is also a member of the Greater California Livery Association, and Brown served as its president from 2002-2007.

To keep service at its peak, chauffeur training is ongoing, according to Brown. After the initial weeklong training period, chauffeurs are assigned a mentor so they can freely ask questions, especially those they might feel silly or embarrassed to ask of the chauffeur manager. Chauffeurs are kept sharp with frequent contests amongst the teams. Brown says that they really like being able to earn those bragging rights as the best team.

Like any transportation company, La Costa has faced serious challenges, including a large wage and hour lawsuit over meal breaks that could have bankrupted the operation, as well as running a service in a state that "treats businesses like the big, bad corporation," but it's soldiered on to become the largest in the market. Being able to place so much trust in their staff has allowed both Theriot and Brown to step away from the business as needed. Both are fathers of three, and now single dads after their divorces.

"What I've learned from my clients who are successful but always busy is that the one thing they wished they had done is spend more time with their children. I try to be there as much as possible, and now I can work from home most days and still run a business," he says.

Brown has also noticed a big change in the industry. Besides technology and competition from TNCs, he says that there is a lot more openness between competitors than there ever was. "It used to be such a tight-fisted industry where everyone was afraid of others finding out some secrets. Just because they know what I do doesn't mean they know how to reproduce it. It really is something how much that has changed for the better."

Regardless of the years that have passed, La Costa's goal has never waivered: to be the best with the newest and cleanest cars. When Brown looks back on it now, he laughs at how far they've come. "Our goal was never to be the biggest. Our pipe dream was to hopefully have five cars, but it really surpassed all of our expectations. We had a lot of luck, and a lot of 'right place, right time.' We just always thought that if we did a good job, the money would follow."

The New Kids on the Block: Men In Black Transportation
Meet the Men In Black—Men In Black Transportation (MIB), that is: Selim and Umut Aslan,
brothers and company co-founders. While being newer to the San Diego chauffeured transportation scene—the company was founded in 2009—it is also one of the fastest growing, especially considering that all of its growth took place during a major recession.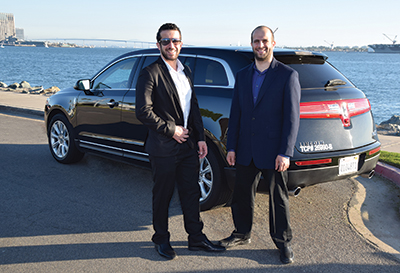 President Selim Aslan (left) and CMO Umut Aslan with Harbor Island in the distance
The Turkish brothers arrived in SoCal this past decade—Selim in 2004 and Umut three years later—and found themselves working for another transportation operation. In a story as old as time, the chauffeur/dispatcher and chauffeur, respectively, decided that they could branch out and start their own company. Their sister, Inci or known by her nickname "Angie," also helped them open the business and now works full time in operations and dispatch. Between driving long hours and doing everything themselves, it was a lot of work but they were glad to accept it.

"I like that there is so much business for everyone in San Diego," says Selim. "There are so many opportunities for growth and it's exciting." That's not to say that marketing the company was (or is) easy. When MIB first started, Selim says that they were very aggressive with marketing to make sure that their name stuck with clients and potential clients. It wasn't long before one car became three cars and the company was continuing to grow and diversify.

Its location being just 10 miles north of San Diego's airport has worked to the company's advantage, and airport transfers quickly became its largest niche. Selim says that nearly 50 percent of their work comes from a mix of corporate clients and vacationing families looking to get to the unique downtown airport (its distinctive location in the middle of the city is both convenient but limiting in expansion space), but also to airports north of the city and as far away as Los Angeles.

"We actually grew our corporate business from word-of-mouth advertising from our retail customers," he says. "We have done RFPs and want to do more," but MIB's growth has been mostly organic. Between retail and corporate work, MIB has a fleet of 14 vehicles, including Lincoln MKTs, Chrysler 300s, Cadillac Escalades, a stretch limousine, a 14-passenger Sprinter, and a van with a party bus interior for the retail crowd. The diverse fleet means that MIB doesn't have to turn down business, even if it's not something the company normally does. Selim says that he's encouraged by the different opportunities available to the company but he wants to proceed carefully before jumping in too quickly. One of the areas that he's looking to break into is the bus market for larger group work. The San Diego area certainly has plenty of convention and corporate roadshow work with all of the various meetings that are held in this top-tier convention city.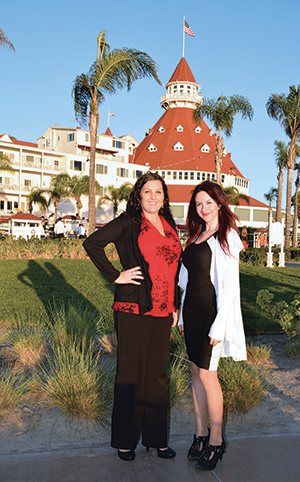 Candice Jones (left) and Inci Aslan at Hotel Del Coronado
"We're definitely aligning all our ducks before getting involved because there is a lot to do. There are so many rules and regulations to follow that we want to make sure that we're going about it the right way," he says about the potential of adding a motorcoach.

Another area he tags for potential is building his affiliate business, locally and outside the market. He says that as one of the newer companies in the area, it can often be an impediment to get international networks to notice them and give them a chance at inbound work.

"We go to the shows and always make sure that we tell the networks that we're interested," he says, understanding that the trust has to be earned. MIB also continues to build working relationships with its local affiliates but most of the work the company sends out is to other cities where its clients are traveling to.

Umut is also actively expanding the company's international presence. He is currently a part of the Driving Results' affiliate group Going Global, which helps companies prepare to increase their affiliate work beyond the North American borders. Facilitated by Arthur Messina, the group meets several times a year and members help in mentoring each other. The company is also members of the Greater California Livery Association.

California is notorious for being a difficult state in which to own a business due to some of the strictest employment laws on the books, and some of those very issues have been detailed in the pages of this magazine (especially through the trials and tribulations of the Greater California Livery Association), but opening a business in San Diego is actually quite easy. Selim says he does struggle with some of the laws at times, though.

"I often feel like the state is punishing businesses with employees because of all the complications that come with it, like making sure chauffeurs get meal breaks, etc. It's not so black and white, the gray areas are challenging because sometimes you don't know you're violating a law. It can be frustrating," he says. One challenge where he feels completely confident is with the TNCs, which are not currently operating at the San Diego airport (at least, not legally). "TNCs are competition, but not really that much for our industry here. Our customers know that if they need a car at 4:00 a.m., we're going to be there at 4:00 a.m. sharp. Plus our customers aren't really worrying about the price; they're taking us because they want the type of service they know we're going to deliver." With five years under the company's belt, the Aslans see a sunny future ahead indeed. MIB now employs around 22 chauffeurs, four customer service agents, and an office manager, Candice Jones, but the brothers often still take phone calls themselves. While he's no longer behind the wheel, Selim understands the challenge of being a chauffeur and appreciates all that his staff does to strengthen the company every day.

"We had the idea for the company but we didn't do it alone. We couldn't ask for a better team," he says. He still wears his passion for the industry on his sleeve when he talks about what's next for MIB. "The joy of helping people out makes it priceless because we have amazing customers. Of course we are here to make money, but it makes those 4:00 a.m. trips worth it."

Untapped Potential Realized: Torrey Pines Transportation
Torrey Pines Transportation has been around since 1988
when former owner Will Bonner founded it, but the company saw a true rebirth after it was sold in 2010. Suffering from the effects of an absentee owner and in need of serious TLC, Bonner hired CFO consultant Brian Daniells to help prepare Torrey Pines for sale and to make it attractive to prospective buyers. Instead of courting an industry buyer, Daniells decided to purchase the "good little company" with his wife Anne.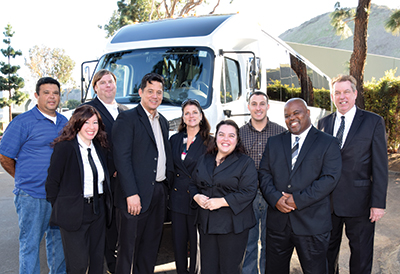 Some of the team showing off their brand-new Grech bus (L to R): Fleet Supervisor Javier Gomez, Chauffeur Kai Noa, General Manager Joe West, Business Development Manager Frank Casara, Anne Daniells, ­Dispatchers Margaret Monds and Tim Arrigo, Chauffeur Danny Lewis, and Chauffeur Supervisor Mike Soski
What the new owners—CFO and President, respectively—found was a team that was as committed to the company as they were. Many had been with Torrey Pines for years and wanted to make it great.

"Having a laissez-faire attitude with the business allowed the cream to rise to the top," says Anne Daniells, who handles most of the day-to-day activities in-house while her husband tends to company finances outside the office. The "cream" she refers to is her executive management team spearheaded by General Manager Joe West and Business Development Manager Frank Casara. Neither of the owners had experience in the chauffeured transportation industry, so it was a transition for everyone.

"Every time Brian came here, you could just see how stoked he got about the company, and thus, it excited the employees," says West, who had worked with Bonner for several years. "Everyone wanted to see it work."

Casara also worked with Bonner and found that the growing pains weren't all that painful. "They didn't walk in pretending to know it all, and that really helped with the transition," he says.

Daniells encouraged her employees—nearly 40, including 30 chauffeurs—to take the lead and ownership of their positions. What she fostered was a work environment that was as laid-back (and dog-friendly!) as the San Diego population the company served, without losing sight of the ultimate goal of running a meticulous transportation company.

The team got to work nearly immediately on ideas that either needed a bit of capital to develop or the right person to nurture it along. Right off the bat, Casara began building a roster of affiliate companies outside the San Diego market. He made the rounds at many industry events and really pounded the pavement to make sure that other operators knew that Torrey Pines was "their" San Diego affiliate. Daniells says that affiliate work—inbound and out-of-town—continues to be a leading growth area for Torrey Pines.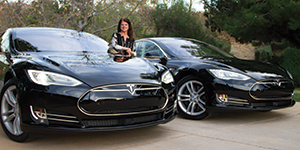 Hey, nice ride! President Anne Daniells with two of the company's latest additions, all-electric Tesla S sedans
"We doubled the company in three years' time, but this certainly wasn't our doing," says Daniells. "This was accomplished by allowing everyone here to expand on an idea that they had and run with it. I don't think there's an operator worth his salt out there who doesn't know Frank Casara by now. With a great team in place, I focused my time on learning the industry."

Daniells, in just four short years, has made a name for herself and her company through her work as secretary of the Greater California Livery Association (GCLA), one of the industry's largest and most-respected organizations in the country. Her background is in marketing, and neither she nor her husband had ever worked in the industry much less owned a company in it.

California is always a breeding ground for hot industry issues—many of which find their way into other states' rules and regulations—and she has certainly had a baptism by fire. Some of the issues that Daniells has helped GCLA tackle include the rollback of vehicle years of service from 7 years to 10 years; consistent battle of the language to the so-called "fifth door bill" that requires limousines to be retrofitted with a second exit after a quick-moving fire killed several young women in the back of a stretch last year; and the good working relationship the industry has with the local airport authority. She says that Lindbergh Field is open to the idea of TNCs operating at the airport but that it wants to see them regulated as well—a positive sign for all involved.

The majority of Torrey Pines' work is corporate thanks to a vibrant and thriving biotechnical and medical industry in the region. Most recently, they have seen the tremendous potential in large group work and corporate events, and the team has been working hard to capture more and more of it. The San Diego Convention Center has been growing to meet the needs of its population and is poised for another expansion pending funding. To handle the new influx of business, Torrey Pines added high-end corporate shuttle buses to the fleet and expanded their SUV offerings.

Most recently, Torrey Pines decided to give Tesla a try by adding two to the fleet, a first for a company in San Diego. Between sedans, SUVs, and buses, the fleet totals 17. The company doesn't run stretch limousines, which is a function of their corporate-centric client base.

"Our customers prefer sedans or SUVs," she says, rather than an ostentatious limousine. "We have some of the richest neighborhoods in the country in San Diego, but you'd never know it. Our customers still demand excellent service, but they'll request a modest Suburban rather than an Escalade. But if you have a customer coming from Los Angeles, don't dare have anything less than an Escalade because they won't even get in the vehicle," she jokes about her customers coming from the north. "Having a diverse fleet means we can please everyone."

Based north of San Diego in the Sorrento Valley about 15 miles from downtown and near the world-famous Torrey Pines Golf Course, Daniells says the company is in an ideal location to serve their clients whether it's driving them downtown or other points due north. "San Diego is geographically isolated in some ways, so we have to offer work to other areas of the state," she says, noting the Mexico border to the south, the desert to the east, and the ocean to the west. Although San Diego-Lindbergh Field is an international airport, it's still tiny in comparison to Los Angeles International Airport just 100 miles away and limited to a select number of carriers. Torrey Pines does make multiple daily trips to LAX to provide service for international travelers and those who simply prefer a luxury vehicle to a commuter flight. The area also has about 10 other smaller and private air fields which the company frequently serves.

San Diego has plenty to offer as well. In addition to a growing downtown area, it is now home to more than 100 microbreweries, the largest craft beer region in the country. The famous Gaslamp Quarter is home to more than 100 restaurants offering dozens of different cuisines. West says that five new nightclubs are opening in the near future, and that the city has been called a "Miami of the West Coast." They sure do have the weather to match!

More than anything, Torrey Pines is proud of the working relationships it has with like-minded local competitors. "We simply have great clients—some expect the finest vehicles and others are high-income individuals who embody San Diego's low-key style but still want great service," says West. "You're going to be well taken care of in San Diego." [CD0215]