BY MADELEINE MACCAR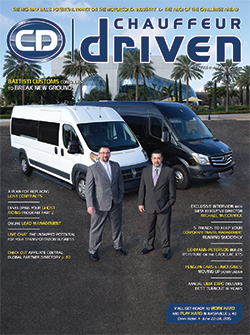 Cover Art: Battisti Customs' President Bill Battisti (left) and Vice President Carl Hazzard stand in front of two of their vehicles: a Dodge ProMaster and a Mercedes-Benz Sprinter. Photography by Chris Weiss. Battisti Customs' story begins with the Mercedes-Benz Sprinter. According to President Bill Battisti, after the Elkhart, Ind.-based company produced a single upfit van in 2009, he emailed photos of it to every­body he could think of. Neighboring bus manufacturer Ameritrans was the first to respond and invited the fledgling company to construct the interiors for its Sprinters. After picking up some new contracts, Battisti Customs (BC) was soon off and running on its own, making an early name for itself with the luxury vans that would become an industry staple.

Launching a company during the worst economic downturn since the Great Depression might not make for the most auspicious of beginnings, but Battisti and BC Vice President Carl Hazzard agree that the timeframe actually worked in their favor.

"Getting into a large volume didn't have to be our initial goal through that first year," Hazzard says. "When you start with having no business, it doesn't take much to get you to a point where you can sustain a company."

Nearly six years later, BC now employs a staff of more than 50 people and manufactures between 30 and 40 vehicles a month primarily for livery operators, but also for hotels, assisted-living centers, and private clients, with Sprinters accounting for more than 60 percent of that production.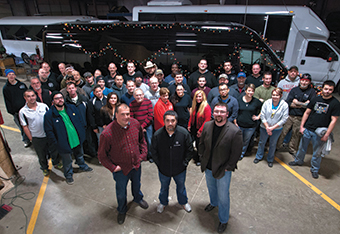 Battisti (front right) and Hazzard (front center) stand with the rest of the BC family
While the Sprinter limobus helped get BC off the ground and on the map, it's the more multi-purpose Sprinter shuttle that has become the Preferred Sprinter Upfitter's most popular offering. Battisti and Hazzard both describe the Mercedes-Benz van as a highly customizable blank canvas that can be either purchased ready-made or modified to fit an array of needs—as demonstrated by the more than 150 floorplan configurations that have passed through the company's doors.

BC's output also includes custom trucks and, increasingly, Ford Transits. As the company is taking on more work, it has recently expanded to occupy 60,000 square feet of production space with a second plant, on top of "seven acres of land that's covered in chassis to keep this beast fed and turning," according to Battisti.

Its dealer network, too, has grown, having already spread across the country in less than two years since its inception. Now, the builder is poised to dispatch its first international order, thanks to a long-nurtured relationship with Ontario's Macnab Transit Sales.

"We are shipping our first round of four Sprinters to Canada within the next few weeks," says Battisti. "Macnab Transit's going to be the sole provider in Canada for our products. They've been a great group to work with so we're pretty excited about this."

Other causes for excitement include new vehicles, like the Dodge ProMaster that's been enjoying a warm welcome onto the scene; Battisti and Hazzard already estimate that BC will build 75 of them by the end of the year.

"They're a little bit longer than the Transit but shorter than the Sprinter, and they still get the same fuel economy as the Sprinter," Battisti says. "They are the best product out there for the value."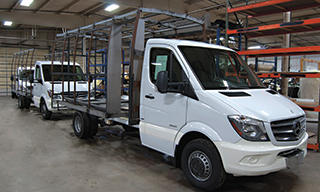 A few of the Mercedes-Benz Sprinter Buses in progress
Sprinters do continue to be the bread and butter for not only BC but also the livery industry that comprises the core of its business. After years of listening to customer feedback and dedicating more than six months to incorporating those needs into a new design, BC will debut the fruits of its labor this month: the Sprinter Bus. Measuring 10 inches wider and 15 inches longer than the typical Mercedes-Benz van, the bus is built on a cab chassis with a redesigned fiberglass body for the back end, features a luggage area that drops below the frame, and has a bus door on its side. "We retained the same sleek style and look of the Sprinter van throughout and even kept some of the Mercedes badging in the body," Battisti says. "We've already taken 30 orders on this product sight unseen. It's new, it's innovative, it's what everybody's been asking for. It should be an industry-changer."

Later this month, BC also will be showcasing a Transit built at the request of Ford. The van—which has already been purchased—will feature the BC limousine interior and should seat 10 passengers comfortably, plus luggage.

As a manufacturer and upfitter dedicated to serving the ground transportation industry—as well as Battisti and Hazzard's joint ownership of Ann Marie Limousine, named as a tribute to the women in their lives—the company is well-acquainted with what a fleet vehicle needs to be and the after-sale service that must accompany it. In addition to offering the Mercedes-Benz standard warranty of three years/36,000 miles on all of its products, the BC team stands behind every vehicle bearing its name.

"The way we've built our company through a dealer network means that when people buy one of our vehicles, they're purchasing a dealer behind it," Hazzard says. "That doesn't just mean fixing something on the vehicle—but that is part of it. It also means if they want to add something to it or upgrade, there's a dealer there to help them accomplish that goal."

There's also a range of members on the BC team who help keep the whole operation running. Battisti and Hazzard both credit the combined effort of the entire staff as a crucial element in the company's success, especially the contributions of Sales Manager Steve Little, Head of Marketing Nicole Rininger, Office Manager Dawn Caldwell, Head of Purchasing Department Brian Sanders, and Engineer Andy Rininger.

With promising new vehicles on the horizon, Hazzard says that BC is expecting to see a 50 percent growth in business, "so that's enough to keep us busy for a while." But whatever the company's future holds, rest assured that it will find steady footing on the foundation that the BC team has diligently built in less than a decade. [CD0315]