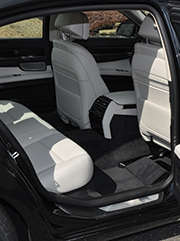 2013 BMW 750Li Interior It's pretty tough to find fault with a vehicle that has everything: ruggedly handsome looks, an athletic build, a long and lean body ... Simply put, it's one of the nicest luxury sedans available that can also work well in our industry—if you're willing to spend the money.
Setting aside price for the moment, if you're going to go for any of the 7 Series, be sure to check out the 750Li, because the additional room you get will be worth it for your passenger's comfort (you gain about 6 inches of leg room with the 750Li versus the 750). The 750Li has standard rear-wheel drive, but also has available 4-wheel drive with xDrive.
The 7 Series, especially the 750Li, seems like it was made for chauffeured ground trans­­portation. This vehicle has just about anything and everything a chauffeur would need in power, braking, comfort, handling, and navigation. This is one of those vehicles that the chauffeur and passengers alike will enjoy, and probably for many of the same reasons. Like the ads say, BMW makes "The Ultimate Driving Machine."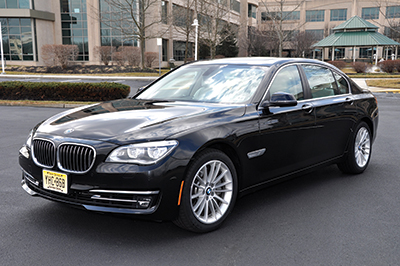 2013 BMW 750Li
There's no denying that a customer will know that this is a European luxury vehicle which will appeal to customers. The 750Li competes with Mercedes-Benz S-Class and Audi A8. The trunk is also fairly spacious at 17.7 cubic feet.
The rear passenger compartment is not only roomy and comfortable, it has some of the best leg room of all of the OEM sedans out there with 44.3 inches and plenty of head room to match. Two adults loaded with their accessories, gadgets, and devices will be easily comfortable in the backseat. Even the seat behind the chauffeur is a good one, without sacrificing the comfort in the front either. The footrest for both rear passengers is also a nice touch. The ride is quiet and overall very smooth, which is critical to high-end customers who are accustomed to the Town Car's legendary rear-seat experience.
Passengers are separated in the rear by a center arm rest that also features storage. They can control their heating and cooling as well with separate vents. Flip-down illuminated mirrors on both sides of the aisle are also a nifty feature for quick face checks before exiting the vehicle. Want to give passengers even more? The rear cabin can easily be upgraded to include optional massage and ventilated seating, a power rear and side windows sunshade, or iDrive controls that link to screen entertainment or a 6-CD changer. Power soft-closing doors mean no more unintentional slams.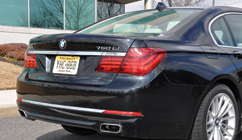 Fuel economy is 16/24 mpg thanks in part to an 8-speed transmission, considering this metal giant is powered by a V8 with some serious punch. And this vehicle can move—you feel the full muscle of the 445-horsepower engine while the braking power is just as responsive to bring it to a stop quickly. Those looking for a bit more fuel savings, BMW offers ECO PRO mode, where the vehicle electronically tunes itself for ­maximum efficiency (it even displays the "savings" on the instrumental cluster). Be forewarned that in ECO PRO mode that the engine cuts off most times when the vehicle is at a full stop. No worries because it immediately roars back to life when you take your foot off the brake pedal, but the first time you experience that it's a bit strange.
The car has all the possible bells and whistles you would expect at this level (considering its market and lengthy list of standard features), but our testers agreed that the driving experience was intuitive and that the controls were logical and well positioned for accessibility.
Last, but certainly not least is the price, which starts at around $90,500 and goes up from there. It is, however, offering some very attractive incentives for livery customers who are part of the BMW Limousine & Hotel Shuttle Program. The good news is that a lot of the features that you already want (navigation, Nappa Leather upholstery) are included in the base price. If you want it all, six figures is not far off. BMW says that it is also working on a 3-year/150,000-mile warranty, which it hopes to launch this year. Every fleet needs its diversity, and the 7 Series is right there at the top of the list in features, technology, luxury, and yes, price. It simply doesn't get much better than this in the world sedans. [CD05/13]

Specifications:
Engine:4.1 L TWIN TURBO VI
MPG:16/24
Rear Head Room:38.9"
Rear Leg Room:44.3"
CARGO AREA:17.7 CU. FT.
Price:Li $72,260* (Livery plus incentives)
Price:Li xDrive $75,020* (Livery plus incentives)

When part of BMW Limousine & Hotel Shuttle Program and includes $11,000 incentive.
Does not include dealer fees.