BY PAT CHARLA AND JENNIFER WONG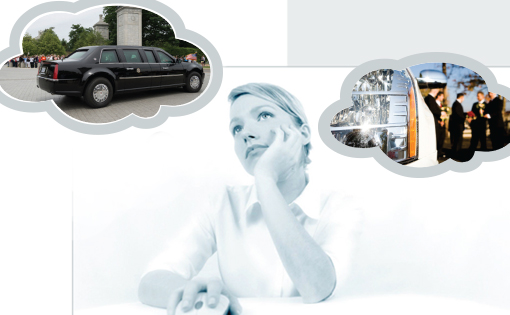 Meetings and events, on the surface, seem simple from a ­transportation perspective. You have to get a group of people from point A to point B and back, right?

Not really. The absolute most demanding client that a chauffeured transportation company will deal with is the meeting or event planner. Providing services to this business sector is much like juggling; there are so many aspects to this type of transportation that are tricky and often difficult to manage. A single event generally requires many different types of services, usually delivered simultaneously. Point-to-point transfers, airport meet and greets, shuttle services between multiple hotels and meeting venues, etc. ... it's not a secret that the demands on ground transportation professionals are many and that there is little room for mistakes.

That's the bad news. The good news is that event transportation can be a very profitable niche if approached strategically. Handling this type of transportation requires much more than putting passengers in cars. To execute it properly, it requires experience, expertise, and a measured approach to managing each aspect of the program.

Before you consider moving forward with this type of service, we already assume that you have a top-notch company with a clean client history and are well established. A meeting planner will look for this information, and referrals will likely be important. They are relying on you to understand their unique needs and to be up to date on trends in transportation. The meeting planner shouldn't have to worry that you have the right insurance, the proper vehicles (possibly with a few backups for emergencies), or the right number of chauffeurs. If you have some housekeeping to take care of, do it. It's also not a bad idea to test the waters by being an affiliate with a large event rather than the lead company.

The meeting and event industry is increasingly complex in nature. In a recent Amex Meetings 2013 Forecast, meeting planners in all regions of the world said that the combination of budget challenges and the shift towards more locally hosted events were the top trends throughout the world.

What this means is that planners are being asked by their companies to "do more with less"—not surprisingly as this has been a consistent trend in all types of businesses. But of course this trickles down through all the avenues of their supply chain, making meetings and events more competitive, and much more buttoned down than ever before.

Although it's clear that the Amex Forecast highlights the challenges of doing more with less, it also means that meeting planners are looking for the most value for their dollar. It goes beyond just having the best pricing. Planners need flexible solutions that can handle a variety of programs from suppliers who understand the importance of their role in the planning, operation, and analysis of their requirements.

In addition to a greater emphasis on value, planners are also often the most technologically advanced buyers you will encounter. Many planners and meeting management companies have found that without technology, they are unable to gather the necessary data, collaborate with their stakeholders, develop accurate budgets, and derive the greatest value for each dollar spent.
Meeting and event planners are integrating digital technology in all aspects of their events. With more digital tactics to interact with attendees and suppliers, planners expect your technology and your digital footprint to be a reflection of your understanding their business. The long and the short of it is that how you market online is critical to attracting and keeping business.
Using Technology to Market Your Meeting and Event Services
Whether for a small meeting or major corporate conference, the most efficient and successful marketing plan starts online. To improve your ability to directly communicate with this audience, there are a number of steps you should take to ensure that you are recognized as a professional meeting-related transportation provider.

The first step in positioning your company is your website. Believe it or not, it is still an important part of your overall impression, and as the saying goes, you only get one chance to make a first impression. For many meeting and event planners, their research starts with an online search of potential partners.
What a planner sees on your website is a direct reflection on your company and capabilities. Sites with dated information and technology—flash images or sound that starts as soon as a visitor lands on the website, for example—may be an indication that other things in your organization are not up to date and cutting edge. How can a planner trust that your equipment and fleet is updated and maintained to meet their quality standards? While that may not seem fair, it probably won't matter because the first impression was negative and they may have simply moved on to another company whose website sparked enough interest to investigate further. Besides, what are your regular customers thinking when they see that you haven't updated since last year?
Take an outsider's view of your website:
•    Are the pages easy to navigate?
•    Do you have a section dedicated to meeting and event ­transportation?
•    Do the images look dated, especially your vehicles?
•    Is the information current? (This may sound elementary, but we've seen operator websites that have specials listed from 2009!)
•    Do you have any background music or automatic videos that play on your website?
•    Are there any misspellings or grammatical errors?
•    Do the fonts and colors you use make your information easy to read?
•    Do your pictures convey your brand and your message?
•    Does it look professionally designed, or more like a high school student's project?
•    Do you have to scroll down to the bottom of a page to find your phone number?
•    Is your contact information, including your office address (not a P.O. box), easily found?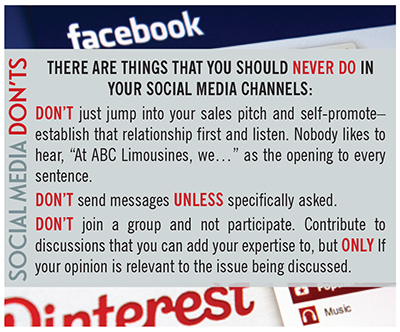 Once you have developed an effective and professional website, your social media accounts should reflect the same. The consistency of your brand and message across all your marketing efforts is critical to a forward-thinking provider.

Once your company's website and social media pages are in order, you will need to find your target audience. The best thing about planners is that they are easily identified within their companies and are active on a number of social media sites.
Finding Your Audience
An excellent place to start is by joining your local Meeting Professionals International (MPI) chapter ( mpiweb.org) or other meeting industry associations. In addition to general meeting organizations, look for specialty groups to join. For example, if your company is reducing your carbon footprint, your services might be highly valued by the Green Meeting Industry Council's membership ( greenmeetings.info).  

Especially true in the event industry in particular, people have always been social by nature—whether it be in personal connections at live events, or in understanding a client's meeting goals, or in negotiations with suppliers. It's a very natural part of what they do, and they are very good at it. The channels through which these social interactions take place in today's world, however, are changing in some pretty fundamental ways. Social media is not a trend of the future that is 3, 6 or 12 months away. Its impact can be not only felt, but measured in today's meetings and events—right now.
Using Social Media to Engage Meeting and Event Planners
Joining discussion groups on LinkedIn, becoming fans of pages and brands on Facebook, tweeting about specific topics, and sharing content they find interesting are just some of the ways you can interact on social media with meeting planners today. Understanding and identifying these opportunities are a great ways for planners to target the ideal supplier.

There are any number of tactics an operator can employ, but some of our favorites (and most successful for our clients) are:
1. Use video to display your fleet and capabilities
Video, a commonly used medium in the hospitality industry, particularly with hotels, has proven to be an extremely effective marketing tactic. Despite the popularity in the hospitality industry with using videos in marketing, the number of operators using video to display their unique capabilities and fleets is quite low. YouTube is the perfect tool to highlight videos from previous events as well as the benefits and capabilities of your meeting and event transportation services.
2. Use your blog to give meeting-related transportation advice and speak to your target audience
If you have the knowledge, flaunt it by becoming "an expert" that planners recognize. Blogging is one of the most effective ways to stay front of mind when buyers are in need of your services.
3. Use Facebook to make meeting bookings seamless, with branded pages (or apps) within your page
This is especially important when meeting planners "like" your Facebook page because they have experienced your services either as an event participant or business traveler. Once it's time to plan a meeting, they may very well start from your page to garner information for their event
4. Highlight positive mentions (or testimonials) from planners across all the social channels
Just as a happy client brags about how great your services are, so does a happy meeting planner. Your job as a tech-savvy operator is to collect the positive comments and make them into online testimonials both in your social media channels as well as on your website. If you've earned the praise, there's no reason you can't use it to help capture more business.
Email Marketing is Still Extremely Effective
Now that you've fixed up your website and set up a blog with interesting content, made sure your social media profiles are consistent, and your message on social media is useful, you may ask, what's next?

Email marketing continues to be one of the most effective ways to market your company and services. An email response rate of as much as 15 percent is a significant improvement over a traditional direct mail response rate of no more than 5 percent. Email is highly effective and produces the best ROI of any modern marketing tactic.
Other benefits of email marketing are:
•    Communicating by email is preferred by most planners.
•    Emails with strong calls to action drive immediate results.
•    Campaign results are measurable and provide an opportunity to test different initiatives.
•    Consistent branding in emails helps build awareness quickly.
•    Email is inexpensive making regular communication budget friendly.
•    Email is extremely flexible and effective in achieving multiple marketing objectives.
Meeting and event professionals are, above all, people—and people want to interact with brands and companies in a relational way. In other words, it is all about the relationship you develop both online and off-line. The key to success is to deliver the message that you are unique and you know what you are doing. Developing an online/inbound marketing strategy and working the plan will attract this target audience. You may even find that searching for prospects becomes a thing of the past. Put your company in the right places, delivering the right message that builds trust and respect, and you'll find this specialized niche market may deliver tremendous opportunity.

Once you are marketing effectively to meeting and event planners, it will be time to manage the business. Technology has dramatically improved an operator's ability to effectively manage programs that deliver tremendous value. Our next article will provide you with products and tactics that will help to drive value to your customers.   [CD0613]