BY SUSAN ROSE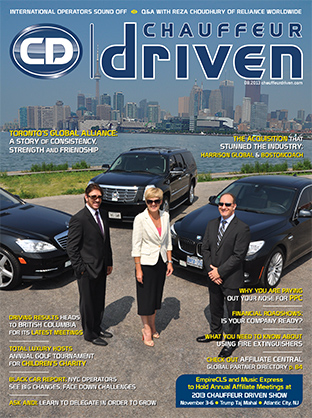 Cover art: L to R: Angelo Sarris, Grace Sarris, and Joe Ironi of Global Alliance in Toronto, Ontario. Photography by Chris Weiss.
Meet Global Alliance Worldwide Chauffeured Services,one of the oldest and largest transportation companies operating in Ontario. Based in the country's largest city, the company is focused on high-end corporate work and large events that require the utmost precision and attention to detail. At the center of Global Alliance are its three equal partners—and friends—who have worked well together for more than a decade. This is how they make it work.
If you have any preconceived notions of Canada that include silly references to maple syrup and the '80s cult classic movie, Strange Brew, it's probably best to abandon them now. Toronto, Canada's largest city, is a burgeoning, cosmopolitan metropolis of activity from all sectors of the business world. Comparable to its southern neighbor, New York City, Ontario's capital is known as the financial center of Canada and is home to numerous companies in financial services, telecommunications, information technology, media, and publishing. The picturesque city on the northern banks of Lake Ontario is also home to a flourishing film industry, which leads to its annual pinnacle industry event—the Toronto International Film Festival. It's also about an hour and a half from Niagara Falls, one of North America's most visited natural attractions. Whether you call it T.O. Hogtown, El Toro, or just plain old Toronto, you might be amazed to learn how quickly the city is growing.
This diversity is what has kept Global Alliance a staple in the corporate arena for more than two decades. The ever-growing landscape has attracted international investors to the Toronto metropolitan area and several multinational and Canadian-based companies have headquartered there. In addition, there is a resurgence of downtown living as more and more high-end condos are springing up—bringing many executives with it as well as a need for corporate transportation.
Current day Global Alliance is the outcome of a 2005 merger with Avondale Limousine, owned by the husband and wife team of Angelo and Grace Sarris. The Sarrises founded the company in the early '90s as a labor of love until it got up and running. Angelo was doing it all in the beginning—including driving—but thanks to a consistent and steady growth, Grace soon joined her husband and started answering the phones and handling the accounting. With an eye on corporate and hotel clients, the company easily added cars and eventually office staff. The Sarrises, however, were still taking the phone to bed and putting out the late-night fires when needed, keeping them tied to the business seven days a week.
Global Alliance (GA) had a comparable start. Founded in 1988 by Isaac Ironi and run together with his sons, Jeff and Joe, the corporate-based service was then known as Personelle Limousine Ltd. (The Global Alliance name was officially adopted and launched in 2003). The company did some retail work in the beginning, but it was never a large part of the operation. Joe says that he joined the company fairly early on, where he worked his way up from chauffeur—driving a stretch limousine at 18.
The Sarrises had always been a friendly competitor in the Toronto market and GA had a great working relationship with Avondale. They had similar operating models and both saw the opportunities that could be leveraged by working as one company. Furthermore, the company owners were genuine friends, often mingling with each other outside of the business arena. Merger talks—with the help of the late industry consultant, Tom Mazza—were an inevitable byproduct of that friendship and professional relationship. Isaac retired from the company about 3 years ago while Jeff followed a year later to pursue another career, so Joe is the only Ironi left and he runs the company with the Sarrises.
In a merger where all the former owners are involved, usually one personality emerges as the strongest to be the face of the company. That didn't happen in this case; they all joined as equals. Although there is no hesitation now about how well they work together, Grace admits that she had some reservations about the initial discussions.
"Everyone says that you can't work with friends, but I think we made the right choice because it's been 8 years together and we haven't killed each other," she jokes. "Even the disagreements don't last more than a few minutes before we're asking each other where to go for lunch. We make a pretty good team."
The working dynamic between the three partners is really quite complementary and somewhat rare. They all carry titles, but with reluctance because each acts as an equal in spite of their executive label. They all naturally fell into their respective roles—Ironi, president, in sales and marketing; Grace, managing partner, in financials and accounting; and Angelo, vice president, in chauffeur and fleet management. Each is responsible for the staff in those areas, and they make major company decisions together as a team, even if there is disagreement on how to proceed.
"It works because of one thing: respect. We all respect each other," says Ironi. "Everyone realizes that we're a team and have the same goal. It's not about glory or recognition; it's about what will be the best move for Global Alliance. There is no ego." As a result, the team works on their business, not in it. "We're friends, we were always friends, and that's the basis of the relationship," adds Angelo. They often spend time together outside the office, even vacationing together or enjoying an early-morning breakfast on a Sunday—as long as Angelo can have his daily espresso to jumpstart the day.
The good-natured camaraderie between the partners extends to the staff, which includes an in-office team of 20 and 60+ chauffeurs. Nearly 70 percent of the chauffeurs who worked for the companies before the merger are still with the company today. It had the added benefit of immediately increasing the number of employees and unchaining the Sarrises from the phone during the overnight hours—something for which Grace is grateful as the mother of three kids (now all in their 20s).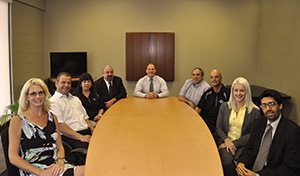 L to R: Corporate and Group Sales Executive Melissa Davis, Paul Kanellopoulos, ­Wedding Coordinator Lucy Menton, Group and Affiliate Coordinator Donald Dekort, Ironi, Controller Ralph Virdo, Fleet Supervisor Johnny Martins, Reservations Supervisor Zena Kulikowska, and Corporate Sales Executive Gurt Lamba
The partners try to rotate their time out of the office so that at least one of them is there during the workweek. Grace says she likes to swing by during the weekend while Ironi prefers Monday through Friday. When they are out, Ralph Virdo is the next in charge. Virdo, who is GA's controller, generally ends up being the go-to person for the final decision. The rest of the management team includes Melissa Davis, corporate and group sales manager; Donald Dekort, group and affiliate coordinator; Zena ­Kulikowska, reservations supervisor; and Paul Kanellopoulos, dispatch supervisor. The partners and the department heads meet biweekly so that everyone is aware of issues before they become problems. While the partners are hands on, they also trust their staff and empower them to make good decisions.
The fleet is now just under 60 vehicles with a mix of sedans, SUVs, and larger vehicles like minicoaches and Van Terras. The lineup also includes a high number of stretch limousines at six, even as the SUVs and Van Terras gain in popularity. The reason is due to an old regulation on the books that requires a ratio of stretch limousines to sedans—four sedans for the first stretch and six sedans for each stretch above that.
GA, thankfully, uses them for weddings or funerals. The company has contracts with many of the area's hotels, and is the official house car service for The Ritz-Carlton, Trump, Hazelton, and Intercontinental Toronto hotels. GA also has a dedicated wedding division that is run separately from the corporate operation called Exclusive Limousines. The division, which includes a wedding coordinator, frequently uses the stretches in addition to other larger vehicles that are popular for that type of transportation.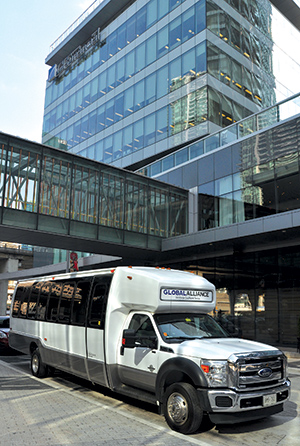 Global's minicoach outside the
Air Canada Centre
Ironi says that they turned over GA's sedan fleet in 2011 in anticipation of the end of the Town Car, and in the meanwhile they have been client-testing the BMW 535 GT with much success. It was a risky financial gamble, but he notes that clients have enjoyed the vehicle so far. Some in his area have tried the Lincoln MKT while others have opted for the Cadillac XTS or the Lincoln MKS, but none is dominating the market thus far. He says, however, that the benchmark is still the Town Car and that it's been a challenge to find the right vehicle to replace the aging fleet. Angelo says that they will have to make a decision this winter or spring to account for the 3-year turnover rate.
In addition to its sedan fleet, Grace says that the Van Terras have been some of the most popular vehicle offerings, especially to corporate customers who want and need a roomier vehicle with enough space to stand up and spread out. They don't currently operate motorcoaches—it's simply easier to farm out to local suppliers who own and maintain the expensive behemoths—but Angelo says he's willing to consider adding them in the future if the need is there and the cost is justified.
Thanks in part to a strong private sector, the Toronto economy bounced back a bit faster than some of the other major world markets. By 2010, much of the business had returned and luckily, the company experienced very few layoffs during the prior years. Roadshows, in particular, have been thriving, which has been a nice addition to GA's bottom line.
All that growth has created at least on problem: more traffic. As the metropolitan area swells to over 5.5 million people—who are all looking to move about on already congested roadways—it can sometimes be tough to get from place to place without a hitting a snag. "The growth has been great because we now have more events and attract different businesses," says Ironi. "Recently three new major hotel chains—The Ritz-Carlton, Trump, and Shangri-La Hotels & Resorts—opened in the area. Toronto is on the map for international investors."
That outdated stretch limousine law and others like it are just some of the reasons that the partners are active in industry associations. Ironi has been a longtime member and now second-term board member of the NLA as well as a founding member (and board member) of the Ontario Limousine Owners Association. All of them regularly attend the industry events in addition to community activities. Ironi and Angelo are longtime members of one of the education groups founded by the late industry consultant Tom Mazza, which is still a tight-knit bunch of companies working together since 2006. GA has been doing affiliate work for large networks like Music Express and Commonwealth Worldwide since the 1990s, but it continues to build its global presence. Its solid reputation amongst its competitors and around the industry—in part due to the partners' work through the associations and with the success groups—has opened GA up to the world. Meeting affiliates at the industry events also continues to be one of the best ways GA has grown its network, according to Grace.
Toronto's population is as diverse as the industries that call it home. According to the most recent census, nearly half of the city's residents are non-native Canadians with a cultural melting pot of languages (although English and French are most dominant). Many of GA's 60 chauffeurs speak a second language, so a special request for a bilingual chauffeur is rarely a problem.
Toronto-based chauffeurs are expected to complete a five-day course before being licensed by the city to drive a limousine. In addition, Angelo requires all new chauffeurs to participate in a four-day course that includes three days in the classroom and a final day on the road. It's all part of GA's safety program, which complements its rigorous fleet maintenance schedule and a $25 million fleet insurance policy, well above its competitors. Vehicles are also inspected twice a year by the city, which helps to keep safety in the forefront.
Because it is a major city, Toronto, its West Coast sister city, Vancouver, and sometimes Montreal are often the only Canadian stops along the concert circuit. Recording artists from around the world hold shows at the Molson Canadian Amphitheatre (and dozens of other smaller venues like it). Music, however, definitely isn't the only entertainment game in town. Of course there is professional hockey, in addition to soccer, football, basketball, and baseball. A mix of historical buildings and modern architecture produce an iconic skyline, known just as easily for its tallest structure, the CN Tower as its curvy twin tower City Hall. Its location makes it accessible to the traveling public and large event planners alike. Comparable to Vancouver, dozens of movies are filmed in Toronto over the course of a year, and the need for moving production crews or taking a star out to a red carpet event are all areas that GA serves.
Large corporate events and roadshows pale in comparison to the event that happens in September—GA's busiest month by far thanks to the Toronto International Film Festival. Ironi estimates that GA uses upwards of 125 vehicles over the span of the event, serving roughly 75 percent of the festival participants.
"It's like the American Super Bowl," says Grace, referring to the size and nature of the festival's popularity. "The difference is, the festival is over 10 days. It's a lot of work and easily our biggest event of the year."
GA has settled in its current location, which is centrally located 12 minutes from downtown and 9 minutes from the airport. The partners purposely went big with space—over 24,000 square feet—so there's not only room to grow but to accommodate the current needs of the fleet (GA has detailers on-site but outsources its critical mechanical needs). The building is also visible from the highway, encouraging walk-in business, which is welcomed by the partners. "Customers are often impressed with our facility, and once they are here, they are sold," says Angelo.
Ironi does see some fluctuations happening on the corporate front. Besides the changing appetite for different vehicles (an area where the stretch was once king) and the influence of Uber on the industry, he says that the way corporate service is chosen is slowly shifting away from the account executive or executive assistant and toward procurement departments. Not only does this change the relationship with the company, it also puts an emphasis on price over service.
"Our longtime clients do understand that there is a certain price to the level of service that we deliver and they accept that we're a little higher because of it," he says. "Where we're facing more pricing pressure is when going after new business. I guess they are used to dealing with a certain level of service and they don't know what more we offer, so there's a certain education process there. Once they do, they're fine with [our rates]." He says that GA doesn't compete with lower-end services.
"One of the things that Uber has done to the industry is up the game for technology, and we want to be part of that as the industry software providers begin to offer it to us so we can, in turn, offer it to our clients. That's something that we're pushing for," Ironi says. Chauffeurs also inspect vehicles thorough a proprietary app on company-provided tablets; clients are welcome to use those tablets as well. GA was also one of the first companies to offer a booking app.
But is Uber affecting GA's business? According to Ironi, its effect is minimal. "Uber is affecting cities where there is a large need for on-demand service. Our customers are the type who typically deal with pre-arranged service, and it has to be perfect. They have detailed itineraries that are always changing and that's not something an on-demand service like Uber is capable of handling. We have the infrastructure and experience in place, and that's why our clients trust us," says Ironi.    [CD0813]