Cover Story: EcoStyle Chauffeured Transportation Hits a Home Run With TEMSA Coaches
Details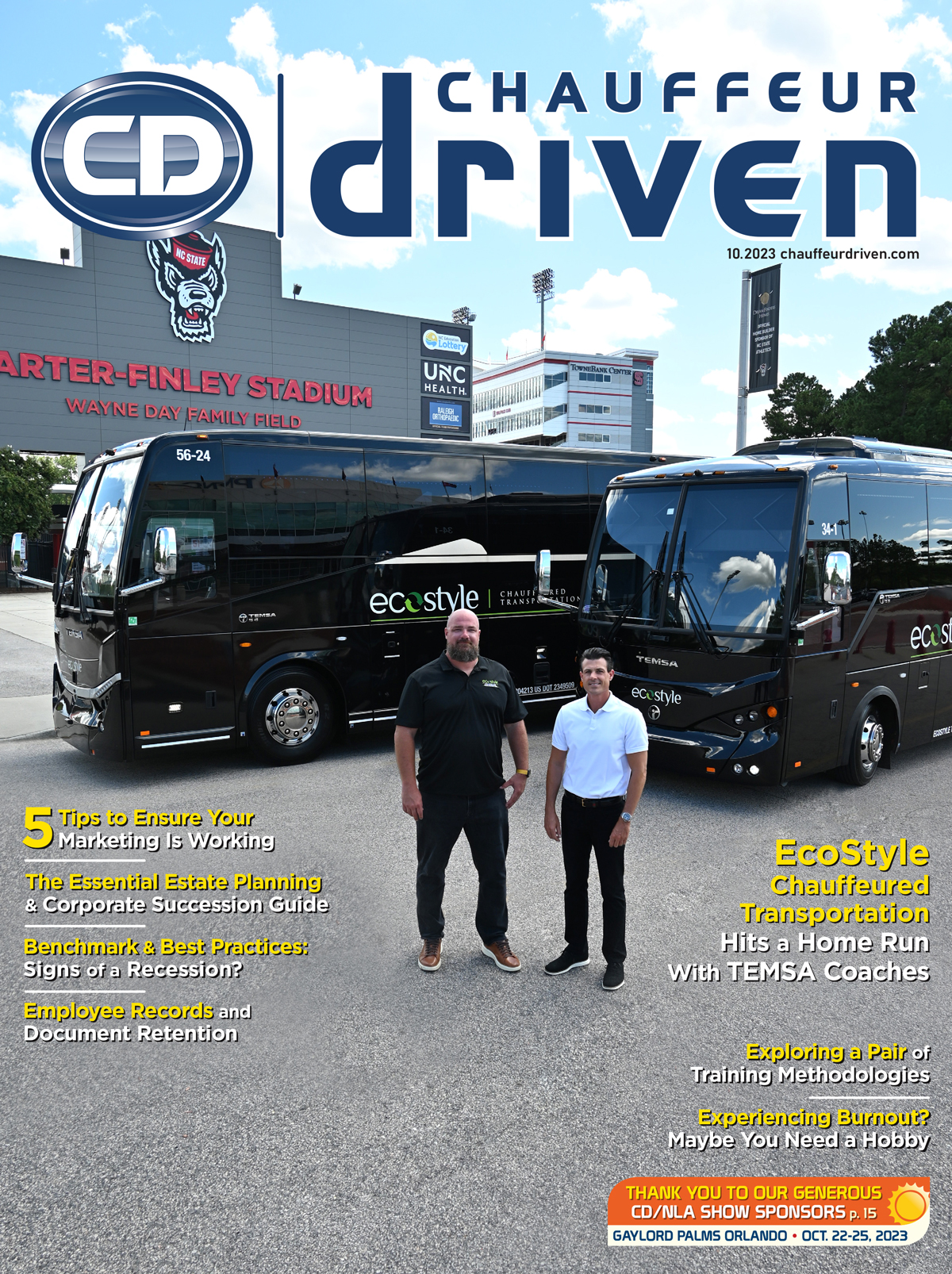 Cover Art: EcoStyle Chauffeured Transportation Vice President/Co-founder Scott Tyler (left) and President/Co-founder Brock Pittman with their TEMSA TS45 and TS30 coaches at Carter-Finley Stadium in Raleigh, N.C. Photography by Chris Weiss. If you're at a sporting event in North Carolina, you can bet dollars to donuts that an EcoStyle Chauffeured Transportation shuttle, bus, or coach will be spotted nearby. For close to a decade, the operator has been involved with transporting athletes from an incredibly diverse group of sports to stadiums, arenas, and fields.

"We handle the lion's share of athletics in Raleigh-Durham and beyond—that's our bread and butter," says EcoStyle Vice President/Co-founder Scott Tyler. "In 2014, we started with minibuses and by 2016, we were approached by one of our collegiate partners to see if we could help with one of their sports teams. At that time, we didn't have any motorcoaches, but we put our heads together and thought it was a good opportunity. We jumped headfirst into the motorcoach world that day, and started servicing our accounts, and the rest is history. That was our big entry into athletics and the sports world. As a former professional baseball player, athletics is a passion of mine, and it brings a lot of joy. It's become a big part of what EcoStyle is."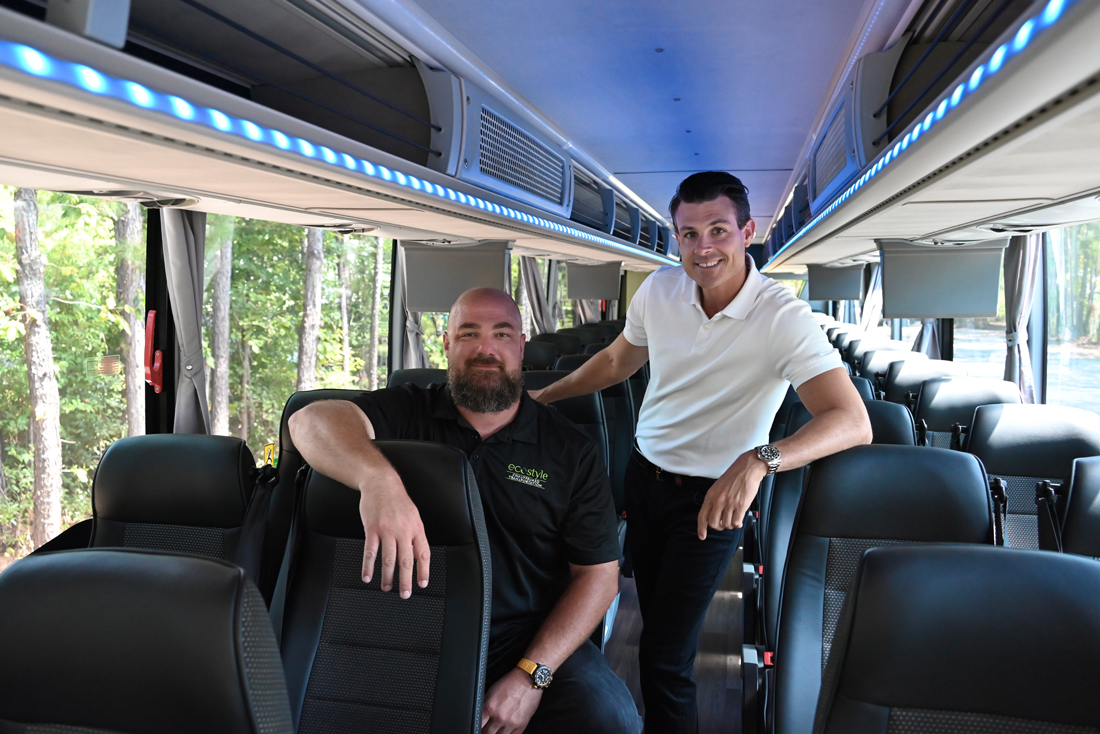 Scott Tyler (left) and Brock Pittman aboard the TEMSA TS45 motorcoach When it came time for EcoStyle to add more metal to its already impressive fleet, Tyler reached out to an old acquaintance, TEMSA Southeast Region Manager Tim Guldin.

"I met Scott several years ago to introduce him to the ­TEMSA product line at a time when they were expanding in their market. We stayed in touch and an opportunity presented itself to supply EcoStyle with our new product and services, so it's worked out very well for both companies," says Guldin. "We felt immediately comfortable with the TEMSA product. The buses are revamped this year; they look fantastic. Our chauffeurs love them, and it just made sense for our business to start incorporating more and more of the TEMSA product into our work," adds Tyler.


EcoStyle-branded TEMSA TS45 motorcoach at Carter-Finley Stadium in Raleigh, N.C. Among the four TEMSA vehicles recently adopted by EcoStyle is the manufacturer's TS45 motorcoach. With a new design meant to amplify aerodynamic performance, the 56-passenger TS45 offers numerous features paired with upgrades that also ensure maximized value and operating margins. Standard equipment includes a Cummins X12 Series 6-cylinder 12L diesel engine with Allison transmission, which provides enough power to haul dozens of athletes and their gear. Further, the vehicle is equipped with a Bosch power steering system and independent suspension with air bags and shock absorbers, guaranteeing a smooth ride. The interior of the TS45 has all the amenities one could expect from an upgraded flight, including comfortable reclining seats with power and USB ports, six 15" monitors throughout, and high-powered HVAC system—all necessities for those longer trips. Of course, sports teams will need ample stowage for their equipment, and the TS 45 boasts 460 cubic feet of undercarriage storage.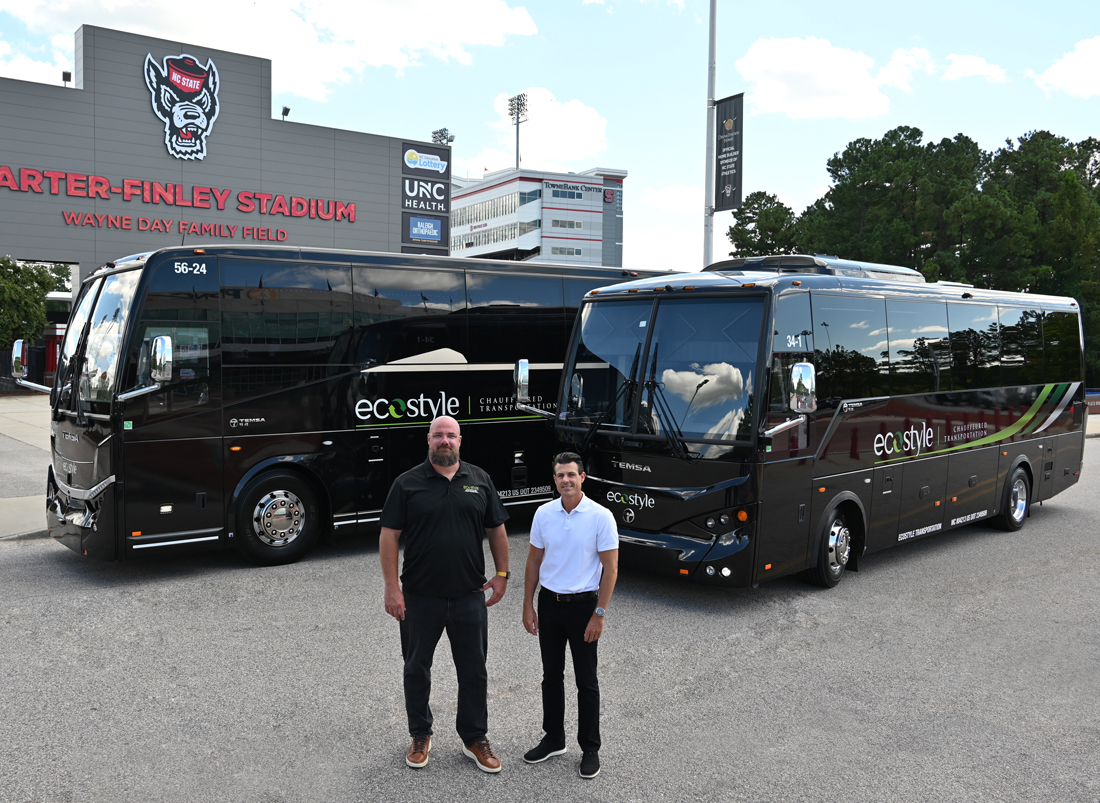 EcoStyle Chauffeured Transportation Vice ­President/Co-founder Scott Tyler (left) and President/Co-founder Brock Pittman with their TEMSA TS45 and TS30 coaches Needless to say, Tyler and the whole EcoStyle team were impressed by what the TS45 offers.

"It feels like a luxury product when you're aboard the motorcoach," he says. "It has everything a client is looking for. We have power at every seat, WiFi, streaming devices in the vehicle; we have all the things that the sports coaches and group leaders look for. The chauffeurs love the simplicity of the dash and the smooth ride. As a taller person, I'm big on legroom and the coaches have ample space. The fit-and-finish is fantastic as well. We haven't had any negative feedback on the coaches. When you walk onto a TEMSA bus, you can tell it's something special."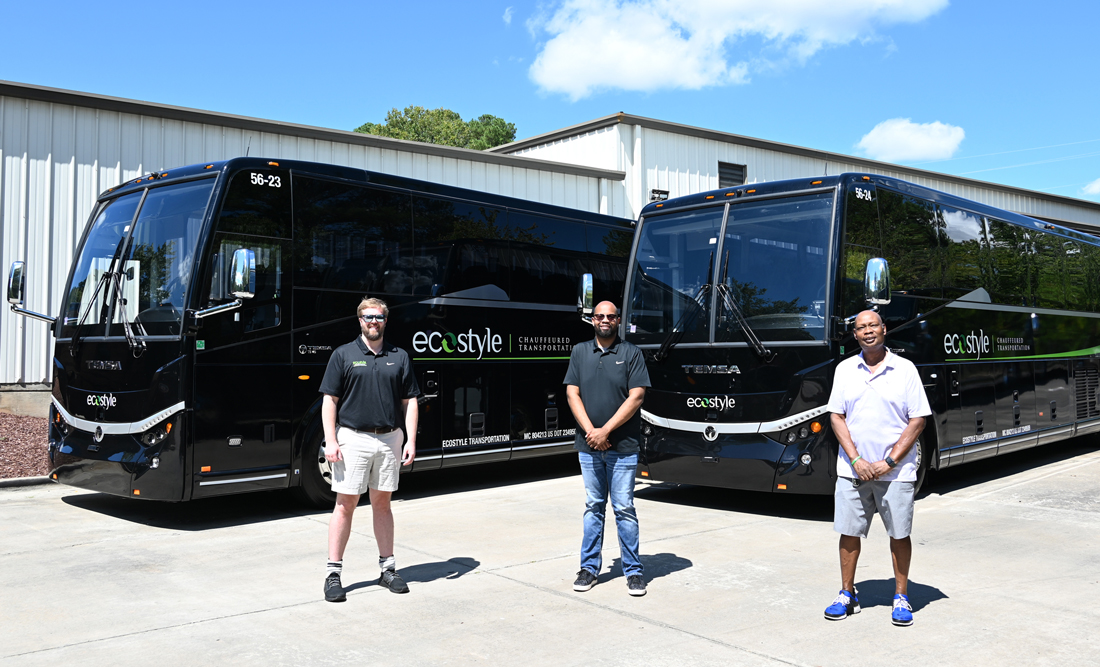 L to R: Group Sales/Dispatch Manager Jim Brown, Charter/Operations Manager Michael Cheek, and Fleet Manager Lynn Richardson EcoStyle was similarly captivated by the smaller TS35 and TS30 minicoaches, which were specially designed for the US market and seat up to 40 and 34, respectively. One of the features of these minicoaches is their tight turning radius, making them an ideal choice for urban transportation, while TEMSA says their stainless steel monocoque integral structure ensures a reliable, long-life. With a new cockpit design, the TS35 offers a comfortable travel experience with a spacious and stylish interior, ergonomic reclining seats, 3-point seat belts, best-in-class legroom, USB ports on each seat, and a new and highly efficient HVAC system. Furthermore, the newly designed TS30 offers 190 cu. ft. of underbody storage for added flexibility for a wide range of passenger needs. The pantograph-type doors now have an increased clearance height for ease of access such as loading and unloading. What's more, TEMSA will be displaying the diesel versions of the TS45, TS35, and the TS30 on the show floor at the CD/NLA Show in Orlando, including specifications for the luxury ground transportation industry. "We have had a great deal of success with the TS30 and TS35 with our smaller sports teams," says Tyler. "They are absolutely a home run. Our sports teams love them as much as the chauffeurs and drivers. The ride, the motorcoach feel, the undercarriage storage, the spaciousness—I feel they're a superior product to any other cutaway or minibus on the market. They are a great value." [CD1023]