What's 'Appening?: July 2015 Debut Section
Details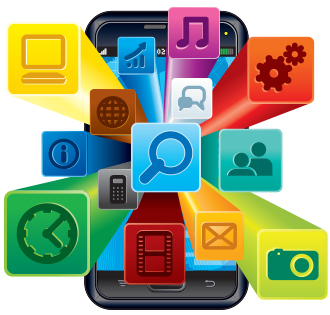 Apps are one of the fastest-growing markets for technology. With so many mobile devices—from smartphones to tablets—available to consumers, having an app for ease of use is practically required (for some devices, they are required). According to statista.com, both the Apple App Store and Google Play each have 1.4 million apps currently available for download, and approximately 60,000 new apps are launched every month. In this column, we feature some of the latest and most useful apps that will help you with your business, streamline a process, or generally make your life a little easier.



CardToContact
Available: A
Honorable mention: CamCard

Are you someone who proudly comes home from a networking event with a stack of business cards, which you promptly drop on your desk with good intentions, or worse, throw into a drawer, never to be seen again? If you're like most people, it's entering the data from a business card that is the stumbling block. Business card readers are nothing new, but CardToContact is a fairly simple—and free—app that allowed us to add new contacts to our phones as easily as taking a picture. You could even do it on the plane or car ride home from the meeting or event. We tried a few different apps out there, but this seemed to be the best free option that captured information accurately and without too much fuss. The beauty is in its simplicity. It was also the most accurate at reading logos and funky fonts. There is a nifty feature that allows you to add notes to the person's profile, and you can share your vCard via email and other forms of contact (social media, text, etc.). If you are an iPhone user, CamCard is another suggested app (it's free, and it also works on Android).

Highlight: CardToContact keeps a record of all of the cards you've uploaded and gives you the option to add a label so you can check where you met the contact. That could help you determine what events are the most beneficial for you or someone in your company to attend again in the future.



Google Translate
Available: iOS, A
Honorable mention: Translator

It's a global industry, and every day you transport customers hailing from countries all over the planet. Nothing beats a staff member who can speak your client's language, but in a pinch, Google Translate can save the day... or at least keep it from getting any worse in the event of a language barrier. You can input information to be translated in four different ways—type, write, speak, or picture—and each is fairly good at translating proper grammar. It won't be as helpful with colloquialisms or local dialect, but nothing is perfect.

Highlight: If you own an Android device, it's likely already available on your phone as a free app, or it's easily accessible via the Google Play store. It's as easy to use as the Google Translate weblink (translate.google.com).



Localeur
Available: iOS, A

Do you ever wish that you could tag along with a local who will show you the greatest, off-the-beaten-path places to go—the places where locals frequent but aren't necessarily known to tourists? Localeur is that guide. This app is geared toward a younger, trendier crowd; it is maintained and populated by registered users (which could include you) who post business names and pictures of everything from "The Best Places for Craft Beer" to "Hot Eats for Dining After Midnight." It's not just limited to food and drink, either: Some other cities have posted their top spots for living a lazy Saturday morning like a local, hottest places to work out, and dating ideas. Hey, your chauffeurs can use all the help they can get, right? Your clients are peppering you and your staff with questions and this is just one more tool to help you stay in the know. How cool would it be to mention that bar that offers your VIP's favorite craft beer while he's traveling to LA, or to share the best place in your city to take an amazing sunset photo? As a registered user, you can also suggest a topic and others—strictly locals only—can add to it as well. One downside: The app is only available in 16 cities in North America, but you can nominate yours to be next.

Highlight: Miami is one of the cities that is currently available (hint, hint), so you can download it for some advice on "Where to Take a Large Group to Dinner" or "Live a Day in the Life of a South Beach Local." Not that we're partial or anything.


Do you use an app that you love and want to share it with the industry? Let us know! Email Susan Rose at
susan@chauffeurdriven.com
.
Just for clarity:
• Apple products=iOS • Android devices=A • Windows devices=W
While many of the apps we profile will be free, a $ next to the platform indicates that there is a fee to download and/or use. Some versions or features of the app may ­require a fee to unlock or use.
[CD0715]