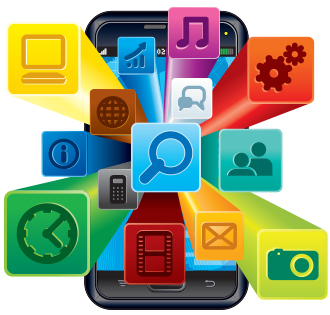 Apps are one of the fastest-growing markets for technology. With so many mobile devices—from smartphones to tablets—available to consumers, having an app for ease of use is practically required (for some devices, they are required). According to statista.com, both the Apple App Store and Google Play each have 1.4 million apps currently available for download, and approximately 60,000 new apps are launched every month. In this column, we feature some of the latest and most useful apps that will help you with your business, streamline a process, or generally make your life a little easier.


iTranslate
Available: iOS, A, W

One of the biggest tropes of science-fiction movies and TV is the notion of a "universal translator"—a device that allows all beings, no matter their home galaxy, to instantly understand and speak a single language. Well, folks, here's an app that will make you feel like you're part of the Enterprise crew (after all, this is our international issue). iTranslate allows you to speak a sentence into your smartphone and hear back a translated version in the language of your choice. What's more, the app has a database of more than 90 languages, including different regional dialects. Klingon isn't included yet.

iTranslate offers a "Pro" (i.e., paid) version that has an offline mode with storage of popular language pairings to eliminate any roaming charges during use. This version also allows users to instantaneously translate webpages and includes a verb conjugation feature, ideal for folks interested in learning another language beyond a few phrases.

Caveat: Some international users have complained that complex phrases are often mistranslated, but on the whole this is a fun app that is ideal for a chauffeur who's in a communication pinch.


Chaos Control
Available: iOS, A, W

For the small business owner looking to expand, it's often not a lack of ambition keeping you from growing but rather a lack of organization. Chaos Control is an app based upon the GTD (Getting Things Done) principle created by author and productivity consultant David Allen. This software allows you to create to-do lists to help you manage your goals, juggle priorities, and organize tasks.

Chaos Control works by using a four-tiered plan of action. First, Define Your Goals by entering your end goal into the app (e.g., open second office, add motorcoach, build website). Then, Plan Your Success by listing the tasks or actions needed to achieve your objective. Next, Make It Happen by using the Daily Plan option to sort tasks by date, place, tools, or people. Finally, Stay on Track by putting incoming tasks, notes, and mail into the app to process later. The GTD-inspired app is merged with an easy-to-navigate user interface to encourage you to improve your time management, planning skills, and routines. It also syncs with your calendars and across all mobile devices.

Highlight: Allen's method is highly acclaimed by many leading business leaders and professionals. It might be worth reading his best-selling book Getting Things Done: The Art of Stress-Free Productivity in conjunction with downloading the app.


Bandsintown
Available: iOS, A

You're out of town on a business trip and your dinner meeting is over before 8. Why spend the night at the hotel bar watching a local game when you could sample some local music instead? Bandsintown is a comprehensive app that provides a list of all the live music offered in your town. Simply open the app on your phone and the built-in GPS will determine your current location and allow you set a distance radius. Search by genre to find country, jazz, cover bands, heavy metal, or stadium shows. No matter what genre of music you like, this app will key you into the venue, and in some cases even allow you to buy tickets directly from your smartphone.

Bandsintown can also sync with your phone's music collection, and send you updates when your favorite artists are performing. Who knows? Maybe you'll get lucky and a band you love will be having a reunion show coinciding with your time in town.

Highlight: Bandsintown is a handy tool for chauffeurs looking to connect music-loving passengers with the local music scene. Your chauffeurs will look like music biz insiders spouting off a list of who's playing and where.


Do you use an app that you love and want to share it with the industry? Let us know! Email Susan Rose at
susan@chauffeurdriven.com
.
Just for clarity:
• Apple products=iOS • Android devices=A • Windows devices=W
While many of the apps we profile will be free, a $ next to the platform indicates that there is a fee to download and/or use. Some versions or features of the app may ­require a fee to unlock or use.
[CD0816]