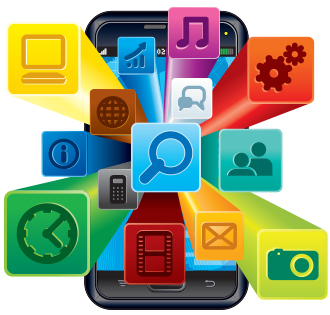 Apps are one of the fastest-growing markets for technology. With so many mobile devices—from smartphones to tablets—available to consumers, having an app for ease of use is practically required (for some devices, they are required). According to statista.com, both the Apple App Store and Google Play each have 1.4 million apps currently available for download, and approximately 60,000 new apps are launched every month. In this column, we feature some of the latest and most useful apps that will help you with your business, streamline a process, or generally make your life a little easier.



Car and Fleet Manager
Available: iOS, A

The one thing that all operators have in common is metal, and whether your fleet has 200 cars or just two, it can be a chore keeping track of when each needs preventative maintenance. Entry-level app Car & Fleet Manager could be the solution—especially for any small operator looking to rid himself of all the paperwork and receipts that come with recording repairs, mileage, and basic upkeep. With an easy-to-read and user-friendly interface, the app makes it a breeze to input data. Car & Fleet Manager not only keeps all car registration information, but also stores pictures, tracks expenses, and provides alerts when you're due for routine service. Managing maintenance spreadsheets could be a thing of the past.

Caveat: Currently, this app is solely intended for small businesses. The free version only allows two cars to be tracked, but upgrades allow for more.



Charlie
Available: iOS

Have you ever been invited to a meeting or presentation at the last minute, with little or no background on the company or point person you're going to be dealing with? Charlie eliminates any guesswork by combing through social media pages and other resources to compile a one-page report on the people you'll be meeting with and a complete profile of the company. The report will include things like hobbies you have in common with who you're meeting (e.g., you're both footballs fans) as well as any news relating to the company or your mutual interests. So long to awkward pauses between conversations! The developer suggests that Charlie can cut out as much as an hour of pre-meeting research from your day. The app reportedly pulls information for more than a 100 sources, too. After all, the most successful businesses are built with solid relationships, so any advantage you have to connect with a potential client is worth the effort.

Highlight: Charlie can also be synced to your calendar to send a report any time prior to your meeting or event. No more last-minute panic attacks.



History Here
Available: iOS, A

With the CD show in D.C. coming up, history is fresh on our minds here. Thanks to the folks at the History Channel, we're now about to use our smartphones to find historic locations and landmarks anywhere in the country. The History Here app allows you to search any neighborhood with a GPS feature to locate noteworthy buildings, landmarks, museums, monuments, and more. If you're traveling and looking for a place to visit, the app can guide you to notable and even unsung locales. But it doesn't just find historic places: It also gives you well-researched background information from the folks behind the History Channel. Recent upgrades allow you to tour and experience places thematically; you use it as a time machine to visit Al Capone's Chicago or Marilyn Monroe's Hollywood. The app is frequently updated, and allows users to submit information to the app's editorial team. You can even receive notifications when you are near a landmark of interest. This app is sure to be your best friend when you visit the nation's capital with us in October.

Highlight: It's also ideal for chauffeurs who want to share a bit of local history with interested passengers.


Do you use an app that you love and want to share it with the industry? Let us know! Email Susan Rose at
susan@chauffeurdriven.com
.
Just for clarity:
• Apple products=iOS • Android devices=A • Windows devices=W
While many of the apps we profile will be free, a $ next to the platform indicates that there is a fee to download and/or use. Some versions or features of the app may ­require a fee to unlock or use.
[CD0716]