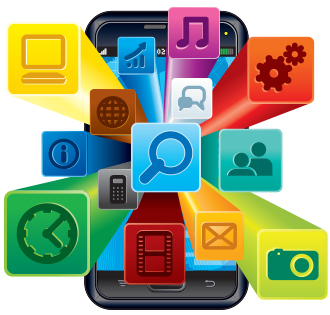 Apps are one of the fastest-growing markets for technology. With so many mobile devices—from smartphones to tablets—available to consumers, having an app for ease of use is practically required (for some devices, they are required). According to statista.com, both the Apple App Store and Google Play each have 1.4 million apps currently available for download, and approximately 60,000 new apps are launched every month. In this column, we feature some of the latest and most useful apps that will help you with your business, streamline a process, or generally make your life a little easier.


Adobe Slate
Available: iOS
Honorable mention: FlowVella

So, you just dropped $100,000 on a brand-new limobus and now it's time to show it off to the world. Pull out your iPad (or steal it back from your chauffeur) because it's time to make a nice presentation about it to send to your clients, showcase on social media or your blog, or link to in your newsletter. Using photos that you took with your iPad, saved on Creative Cloud (Adobe), or in Dropbox, you can create a show that highlights all of your vehicle's awesome features—or whatever story you want to tell in pictures. This app is all about the photos. You can add text and links, and include as many photos as you want. Publish it and it becomes accessible publicly so that anyone can see it on any device without any special apps. Because the app is free, you have to deal with the "Made with Abobe" at the end of the presentation, but its otherwise sans ads. It's functional enough to make even the most technically challenged person look good.

Highlight: We chose this because it's easy to use and it looks professional. It could even be sent as part of a follow-up to a sales presentation.


Automatic Call Recorder (from SMSROBOT)
Available: A

There are a ton of call recorders out there, most of which are specific to your type of phone. Some only record incoming calls, some record all calls that you have to manually delete after the fact, and others limit the number of calls you can save. Never fear, iOS users—there are options for you in the Apple store that we did not review. This app was one of the best that we tried (although there are literally thousands that you may have to test drive in order to find the one that works for you). What made this app stand out was the ability to change the quality of the recording (to save space on your phone), choose which calls don't automatically record by contact, and its syncing capabilities with Dropbox and email. This was one of the cleanest and function-rich versions we tested that was also free. With the premium paid version, you get a shake to record option and auto sync with Dropbox and email so that it's removed from your phone immediately.

Caveat: Be mindful of the call recording laws in your state/country. Just because it's a free app does not make it universally legal to use.


Wunderlist
Available: iOS, A, W

This app has received a lot of attention lately, especially for small business owners. Sometimes a pen and paper just aren't available—and besides, a memo pad can't send you a reminder. Wunderlist allows you to create custom to-do lists that can be kept private (the basic free version) or shared with others via Wunderlist Pro—whether it's your team or your family (they only have access to the specific lists that you choose to share with them). You can establish due dates, set reminders that are sent via email and/or push notifications, and add notes to tasks to update others.

Highlight: Lists can be created on any of your devices, so you're not limited to just your phone when something comes to mind. The lists can be as simple as your groceries or as complex as a work project, with subtasks included.


Do you use an app that you love and want to share it with the industry? Let us know! Email Susan Rose at
susan@chauffeurdriven.com
.
Just for clarity:
• Apple products=iOS • Android devices=A • Windows devices=W
While many of the apps we profile will be free, a $ next to the platform indicates that there is a fee to download and/or use. Some versions or features of the app may ­require a fee to unlock or use.
[CD1015]