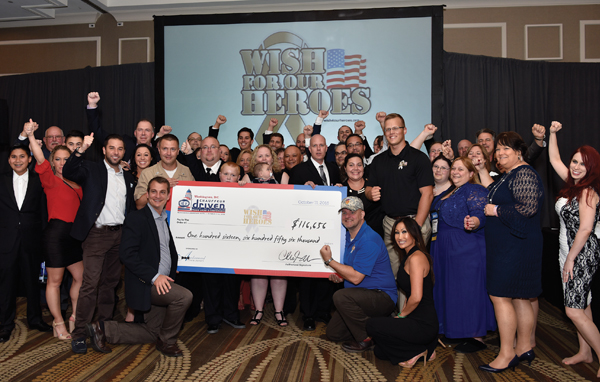 Just weeks before one of the craziest elections in our history culminated with what many think was a surprising result, more than 1,700 industry professionals from around the globe landed in our nation's capital for the 2016 Chauffeur Driven Show, held October 9-12 at the Renaissance Hotel and the Walter E. Washington Convention Center.
Many thanks to all of the attendees, exhibitors, speakers, moderators, mentors, committee members, and sponsors—including Title Sponsors Ford-Lincoln Limousine and Livery Vehicles, Grech Motors, and Audi—for making the show possible!
The four-day conference hosted a ton of first-time attendees as well as many industry friends from over the years. The positive feedback has been off the charts—both during and after the show. Washington may have been in partisan chaos but industry unity was present in full force!
Many operators came early or stayed late to enjoy the rich history that Washington, D.C., offers—from the White House and Capitol to the various Smithsonian Institution museums—and were treated to free tours of all of the major monuments and landmarks on Saturday and Wednesday, compliments of Reston Limousine.
There were no party-line divisions here as networking was the key component in everything we had planned. Since affiliate business is a big part of why operators come to the show, we had two events specifically dedicated to helping our attendees make worldwide connections. Our International Meet & Greet (sponsored by Modern Car, Icona Global, and Global Alliance), as always, was a packed house with operators from around the world exchanging information and getting to know each other over coffee, while our Affiliate Central Global Partner Forum (sponsored by A1A Airport & Limousine Service) was even larger with 65-plus companies hosting tables and meeting with more than 800 operators who were eager to learn more about them.
A perennial favorite, our Operator Mentoring Program (sponsored by Grech Motors) was a return hit for this year, when 17 industry veterans shared their expertise and helped to troubleshoot concerns with smaller operators during these roundtable discussions. Keeping in the spirit of community problem-solving, our Association Summit (sponsored by Chosen Payments), featured nearly two dozen representatives of industry associations nationwide. Trending topics were discussed and strategies and possible solutions were offered to help other operators and associations combat the most pressing issues of our time.
One of the most buzzed-about events was our brand-new Benchmark Breakouts, face-to-face version of our magazine section "Benchmark & Best Practices," which debuted to a bevy of praise. Twelve individual groups were hosted and moderated by industry leaders who helped operators and other chauffeured transportation professionals get a taste of the 20 group concept—and, in many cases, to ensure that they were on par with their industry peers.
"[Benchmark Breakouts] was one of my favorite events! Our moderator did a good job of keeping the conversation on point and to everyone's benefit," said Meryl Kelso of Dash Limousine and Sedan Service. She added: "I especially appreciate that the shows are moving to different cities; it is nice to get out of Atlantic City and see new places."
The Women in the Industry reception, now in its second year, was revamped and vastly improved for 2016 to rave reviews. The Key Transportation-sponsored event also featured a panel that included Reston Limousine CEO Kristina Bouweiri, Sandra Eberhard of Women Presidents' Educational Organization, and Dawn Repoli of WiNiT. With all the first-time attendees taking part, it was nearly impossible to leave the show without some fresh connections.
"Our team at Key Transportation was elated with the event. It included an informational session that taught outstanding methods that can be applied to all networking functions. The panel of women truly inspired each person in the room. We left with strong connections, new skills, and a high level of motivation," said Brenda Parker of Key Transportation.
The networking kept going into the evening with our timely themed parties. We celebrated our host city—on the night of the second presidential debate, no less, complete with Clinton and Trump impersonators—with our kickoff Red, White, and Blue Bash, sponsored by Deem, on Sunday. Monday night was totally rad as we filled the room with neon and a bitchin' '80s cover band when we revisited the Era of Excess with our Blast from the Past '80s party, sponsored by Boston Car Service and Book.limo. It was fun to see how many industry people were willing to rock hairstyles and clothes we should have long forgotten. One party couldn't hold all that revelry as we extended the festivities with our Lobby Bar Takeover, with sponsored "nooks" by Minority Limousine Operators of America and ZBest Worldwide.
"One of things I loved was the Lobby Bar Takeover. Walking into the lobby, it was amazing to see all of us operators in one place. It was just a fantastic event," said Kyara Kahakauwila of L.A. Limousines.
But Tuesday was the crowning jewel of our evening events as we raised more than $120,000 for the incredible charity, WISH for OUR HEROES—our first year supporting the veterans organization—during our Charity Auction & Dinner. The elegant gala, sponsored by Aadvanced Limousines, featured dozens of silent and live auction items, of which an unbelievable 95 percent of money raised goes to help the families of veterans—it doesn't get any better than that.
"Words cannot express our gratitude for all that you have done to assist our heroes," said Jeff Wells, founder and president of WISH for OUR HEROES. "Since we started WISH for OUR HEROES, we have never seen a group of more generous people, and honestly, it was one of the most incredible nights we have ever had as an organization.  As a result of your generosity, we will directly be able to assist hundreds of military families. Everyone embraced us like we were family and made us feel so welcome.  It was just an incredible evening ... that's all we can say. Thank you so much for everything!"
Also new for this year was the opening of our massive show floor on the first day with our Sunday evening preview. More than 100 industry vendors, manufacturers, dealers, and suppliers convened for one of our largest show floors yet. After the ribbon cutting, attendees flooded the show floor and enjoyed champagne and hors d'oeuvers courtesy of Ford-­Lincoln Limousine and Livery Vehicles. Lunch was provided on the show floor Monday and Tuesday—thanks to sponsors iCARS, Titus Leasing, and TomTom Telematics—while people stayed to take advantage of show-only deals or take in a micro-session or two (sponsored by Reston Limousine).
"Exhibiting at the Chauffeur Driven Show in D.C. was by far the best investment that we have ever made since we started our company. In just the first six days after the show we have received over 30 calls or emails from highly qualified prospects. I only wish that there was a show every month. Thank you so much for providing such an incredible forum for us to promote and grow our businesses," said Bruno Teixiera of Limousine Expert.
The lively State of the Industry, sponsored by FASTTRAK Cloud Technologies, featured David Seelinger of EmpireCLS, Scott Solombrino of Dav El/BostonCoach, and Robert Alexander of RMA Worldwide in a debate-style presentation moderated by CD Publisher Chris Weiss. TNCs were, of course, part of the discussion, but the dominant themes were corporate travel and emerging trends—with hopeful and oftentimes humorous messages from the panelists. It was followed by a thought-provoking and uplifting Keynote Address delivered by best-selling author and executive coach Mark C. Thompson, sponsored by Grech Motors and Mosaic Global Transportation.
"The show was excellent overall. Educational, motivational, and full of networking. Thank you for a great show," said Eric Jeffries of Olympus Worldwide Chauffeured Transportation.
Of course, our timely and targeted education (sponsored by FASTTRAK Cloud Technologies) is always a hit with attendees, and this year's program was no exception. Our workshops were carefully selected by our Education Committee—led by co-chairs Jason Sharenow of Broadway Elite Chauffeured Services Worldwide and Kristen Carroll of The LMC Group—and delved into many different areas, including social media strategy, company culture, leadership, and wrangling technology. Some of the best-received sessions involved operations, including Business Development: Thriving Through Growth, Debunking the Sales Myths That Hold You Back, and Beyond Borders: The Impact of the Global Business Landscape. On the show floor, we held two sessions tailored for the growing segment of the industry, which were hosted by representatives of the leading bus associations, United Motorcoach Association and American Bus Association. You asked for it and we listened: We also debuted a small operator track, with sessions specifically designed with smaller fleets in mind.
"I have been in the business 29 years and have attended many shows, but this is one of my all-time favorites! I loved seeing my friends and making new ones, and I enjoyed the venue and all the awesome workshops and activities that Chauffeur Driven provided for us. I'm already looking forward to next year in Orlando," said Sue Jarvis of Aristocat Chauffeured Services.
"Thanks for all of your hard work putting on the CD Show in D.C. It was my first show, and I had a blast! It was extremely well organized, it was great getting to meet some of our clients face to face finally. D.C. was a terrific city to host it in. I'm hooked," said Matt Slinger of Zipwhip.
They say that pictures can tell a thousand words, and in these pages you can witness that there was a whole lot of education, networking, and fun happening at the Chauffeur Driven Show! But there's a lot more to see on our website at chauffeurdrivenshow.com: We've recently launched our photo gallery and will soon—for the first time ever!—have video available of all of our education sessions on our site. We're gearing up for our 2017 events, starting with the Executive Retreat in San Francisco (with a day trip to Napa) June 25-28 and our annual show in Orlando at the Gaylord Palms Resort & Convention Center (all under one roof!) from October 22-25. Stayed tuned for all the fabulous details about our 2017 events.
[CD1216]