BY LIZ HUNTER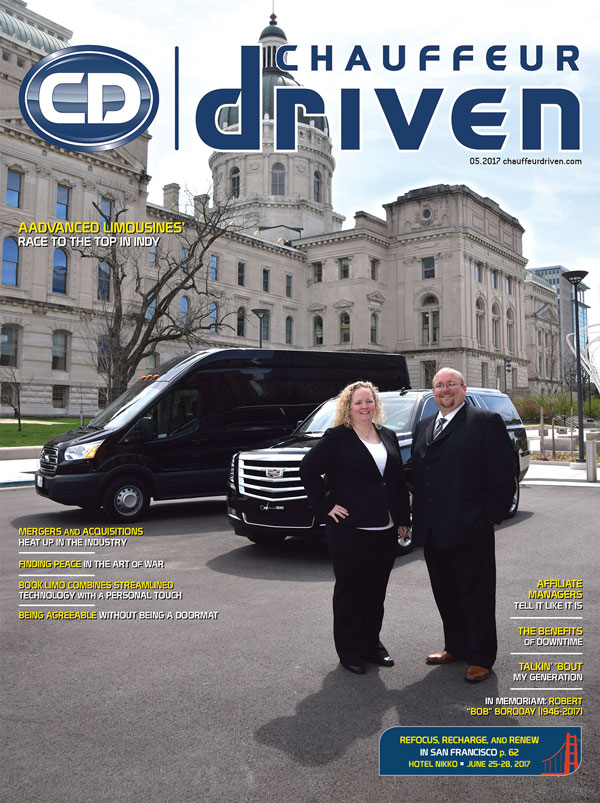 Cover Art: Kristie and Ken Carter, owners of Aadvanced Limousines, at the Indiana State House in Indianapolis. Photography by Chris Weiss. Think back to the mounting excitement of being a high school senior checking off the days until prom with all the milestones that accompany it: Finding the perfect dress, picking the right corsage, and of course, booking the limousine. Now imagine the disappointment of trying to reserve that limousine, only to discover that they've all been booked for the Kentucky Derby, coincidentally being held that same weekend. What would you do?

If you're anything like Ken Carter Jr., you'd take out a loan, drive to Detroit, and buy a 14-passenger stretch Expedition to make sure your younger sister and her friends made it to the prom in style like they were so eagerly anticipating. That moment was essentially the genesis of Indianapolis-based Aadvanced Limousines, a moment that changed the course of brother and sister Ken and Kristie Carter's lives nearly 13 years ago. What seemed like something that initially could be a fun hobby has become a full-blown, 24/7 business.

"We came into this business a bit backwards from what I would consider a traditional startup," says Ken, who is the company's CEO. "When we first bought the limo, I was also working part time at a bar and I figured I'd be able to rent it to people I knew there. But it started to grow—quickly. With the SUV, proms and weddings became the norm for us right away. We loved being a part of those special celebrations, but the price point of the 14-passenger wasn't attractive to smaller groups. Our second vehicle was a Lincoln stretch, and we stayed focused on the retail market for the first five or six years."

Ken wasn't on his own, though. Kristie—while in the midst of finishing high school and starting college—was also running the business with him, and is the company's president. At one point, she even studied abroad in Spain without missing a beat in her entrepreneurial responsibilities. She'd head to an internet cafe and hop on Skype any chance she could or utilize Google for Business, whatever was needed. "It was bizarre how we made it work," says Ken, "but it was a collection of patience on both her part and my part, using technology in totally different cultures and time zones to run the company." The Carters attribute their quick rise and success to more than just filling a void in the market. "What provoked our start was the limited inventory in the marketplace. But once the brand grew, we pushed our reliability," says Ken. "We never cancelled a reservation in the first five years."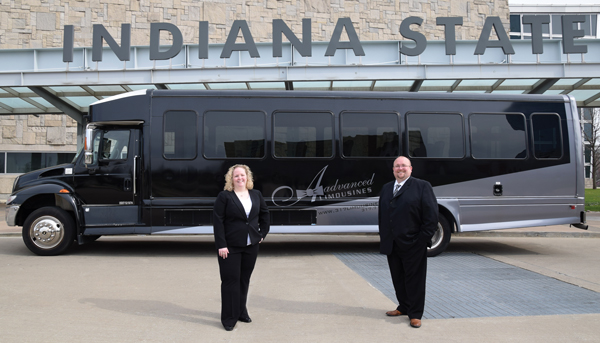 The sister-and-brother team of President Kristie Carter and CEO Ken Carter Jr., Aadvanced's partners, stand in front of the company's 31-passenger minibus at the Indiana State Museum That reliability and professionalism in the retail market made them stand out, and eventually contributed to their transition to corporate work. "There is a certain caliber of expectations when it comes to weddings. If we can make a bride happy, then we could certainly get an executive to the airport," Ken says. "Serving brides really helped set the tone for our level of customer service and professionalism, and that was a key component in our foundation for success."

Attending industry conventions opened their eyes to the corporate side of ground transportation. "We met other operators who said they didn't do retail, and we thought, 'If they don't do retail, then what do they do?'" says Kristie. "But at one of the shows, we had a chance to give an elevator pitch in a room full of affiliates who were looking for needs in certain markets."

The funny thing was, Aadvanced only had one sedan in its fleet at the time. "We knew we could get more cars, but what we really wanted to show affiliates was our professionalism, reliability, and customer service," says Ken. And it worked: Flyte Tyme called soon after to send work their way, and others quickly followed.



"We came into this business a bit back­wards from what I would consider a ­traditional startup ... proms and weddings became the norm for us right away. We loved being a part of those special celebrations."
– Ken Carter Jr., CEO of Aadvanced Limousines

Until 2012, Ken and Kristie relied on only one other office staff member to keep the operation running, but the 2012 Super Bowl in Indianapolis ended that business approach. "That changed our whole world. We went into it with a three-person staff and 25 cars," says Kristie. "We got through, but it caused us to become more organized for events, like the annual Indy 500."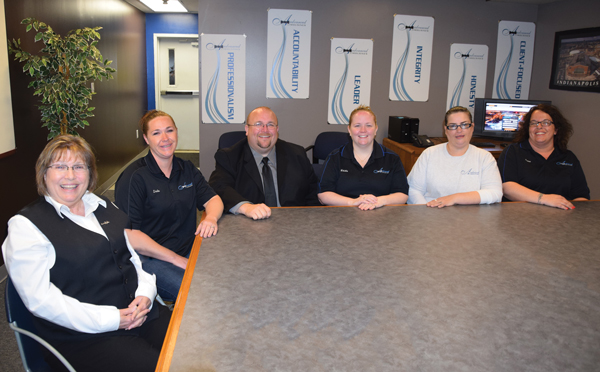 L to R: Director of Marketing Linda Carter, Ken Carter, Kristie Carter, Customer Service Representative Joann Cunningham, and Logistics Coordinator Renee Lime Prior to that, Aadvanced averaged around 10 reservations for the race. Today, the fleet sells out nearly a month ahead of time for that event. "We are definitely more dialed in now," says Ken.

Dubbed the "Crossroads of America," Indianapolis, Ind., enjoys an auspicious location, making it a fruitful place to establish a transportation company: The Midwest's second-most populous city sits at the juncture of four major interstate highways and is within a day's drive to 70 percent of the U.S. population. The state capital also is booming with diverse industries and opportunities, and is home to the headquarters of Fortune 500 companies such as pharmaceutical firm Eli Lilly, health insurance company Anthem, and real estate investment trust Simon Property Group.

Some of the most well-known locales in the city are The Children's Museum of Indianapolis, which is the largest of its kind in the world, totaling nearly 473,000 square feet; the NCAA Hall of Champions; and the Benjamin Harrison Presidential Site, honoring our nation's 23rd president.

It's where the NFL's Colts play, with whom Aadvanced has a relationship for transportation services. They are also the preferred vendor for many venues in the city, including in-house car service for three of the five most well-known hotel properties downtown. Ken and Kristie say these venues actually sought out Aadvanced for service, instead of the other way around.

"That happened for a handful of major venues around the city, like the amphitheaters on the outskirts of town," says Kristie. "They came to us because of our reputation."

But the metropolis is truly synonymous with racing, as it's considered the racing capital of the world. Just hearing the city's name, one can't help but think of the eponymous Indianapolis 500—but there is also the Brickyard 400 and a hot-rod racing event, among many others.



"You have to believe in something before you can have others buy into it. Our people believe it from the jump. You have to be the best to work for the best."
– Kristie Carter, President of Aadvanced Limousines

"Most people think of the Indy 500 as a one-day event, but it's really a three-week process held all through May leading up to the race," says Ken. "It keeps fans engaged. There are drivers coming in for qualifying races, autographs, concerts, press events, and even a parade."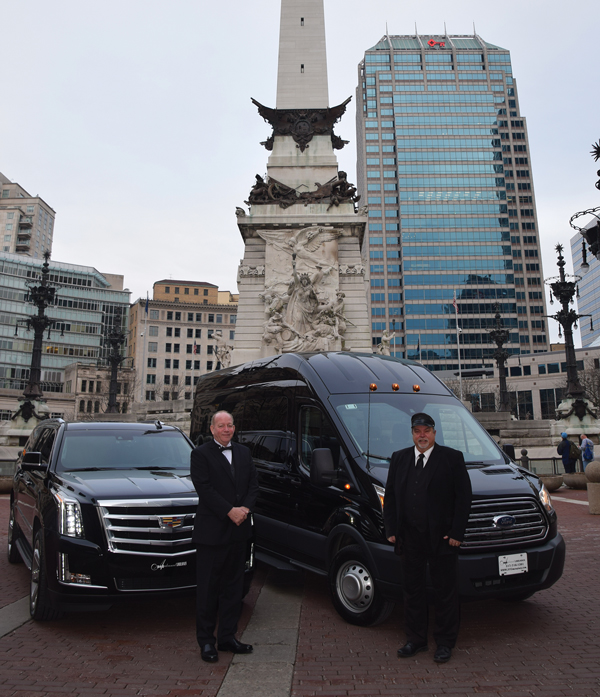 Chauffeurs Ken Carter Sr. (left) and Ron Songer with a Mercedes-Benz Sprinter and Cadillac Escalade at the Soldiers and Sailors Monument Unlike more seasonal markets found in Florida or the Southwest, the year-round appeal of Aadvanced's home has allowed the company to strike a balance among all available sectors, from retail and corporate to sporting events and hotel accounts. Their fleet has grown to 31 vehicles, complete with sedans, SUVs, executive vans, Mercedes-Benz Sprinters, a 31-passenger minicoach, and they have stayed true to their roots with exotic and traditional stretches. The vehicles and 41 employees (including chauffeurs) all call a 12,000-square-foot facility on a two-acre lot on the Southeast side of Indianapolis home. There are a total of seven service bays where all vehicle maintenance and detailing is handled.

It's a far cry from their humble beginnings of a home office, but helps when it comes to separating work from family life. There is a harmonious working relationship between Kristie and Ken, but with a hint of loving sibling rivalry. "The easiest way to think about how we divide responsibilities is that I'm the reason we're in the business, and Ken gets the customers," Kristie says teasingly. "I do like reminding him that I'm always right."

The older sibling by six years, Ken focuses his efforts on operations while Kristie works more behind the scenes handling the financial end.

No day is the same once Ken and Kristie get to the office, especially for Kristie who had her first child a year ago. "The day really depends on the baby," she says. "I try to get there around 9, and I'll walk through sales, check in on the shop, and see if anything urgent needs my attention. I don't have an open-door policy but everyone comes in anyway. I'm very focused on lists. I tackle a handful of things a day. If I can check two or three off, I did something."

Ken says he's never truly disconnected from the business. "I'm always looking at the GPS, scheduling, emailing. But a typical day includes greeting staff and finding out their concerns or if I can lend my opinion," he says. "Then I really focus on email communication with clients and affiliates. I also contribute content for our website and blog, which is about 25-30 percent of my time during the week."



"Every job is important and we don't treat anyone differently. At the end of the day, we all need each other."
– Kristie Carter

Being family-owned and operated is a unique situation and the Carters have had their struggles, but ultimately they find common ground. They believe in the same thing: "When we first started, we had business cards made saying we were the best in the city, and we set that standard and believed in it," says Kristie. "You have to believe in something before you can have others buy into it. Our people believe it from the jump. You have to be the best to work for the best."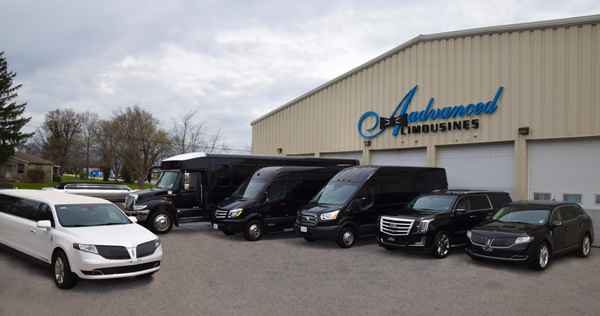 Some of the company's fleet at its headquarters: Lincoln MKT limousine, 31-passenger minicoach bus, 12-passenger Mercedes-Benz Sprinter, 14-passenger Executive Ford Transit Van, Cadillac Escalade, and Lincoln MKT sedan The Carters spent 2016 evaluating their staff. This wasn't any routine review: It looked at each person's strengths, characteristics, and personality to help them rearrange and assign tasks to the appropriate people. "We did it with personality tests, team building, and trial and error," says Ken. "In some cases, we moved people to different roles or gave them new opportunities. We asked one of our CSR reps to attend live bridal shows—we're doing 27 of those this year—and we found when she utilized her personality in that capacity, she really excelled."

"Everybody wholeheartedly wants the best for the company. Nobody is lazy, so getting them in the right place to execute certain tasks stems back to the vision we've always had," Ken adds.

The sense of ownership given to employees could not be more clearly displayed than on the Aadvanced website. Looking at most company websites, you'll often find photos of the owners or top managers, but Aadvanced has pictures of every employee: The shop foreman, lead detailer, marketing manager, and the chauffeurs themselves, all proudly highlighted for every client to see.

"We feel this gives them a sense of being part of something bigger," says Ken. "For example: I was having a conversation with a chauffeur earlier and told him he looked nice, so I asked to take his picture. Later that week, I wrote a blog post about him. That got him excited."

Kristie says these values are not only common sense ones but also something she learned throughout her economics studies in college. "Every job is important and we don't treat anyone differently," she says. "At the end of the day, we all need each other. If the chauffeur doesn't show up, we don't need a reservationist; if we don't have a reservation, then we don't need a detailer. If the car's not moving, then it's not getting dirty."



"This industry is so demanding and the key players are the families behind the employees … It's a lot of give and take these families do for us."
– Kristie Carter

Employee appreciation is demonstrated in various ways. Kristie says employees can earn "bucks" that can be redeemed. "Any time they wow each other or a customer, they earn bucks," she says. "Ken and I can't be everywhere, so this program gives eyes to what they are doing and keeps them connected, since some employees don't always see each other daily. We also do an employee of the month and we opened it up for employees to vote for each other. That has been huge. They can vote for a chauffeur, office staff ... it makes them feel special."

Aadvanced hosts a team outing in the spring or summer, welcoming families along to a theme park or other activity. Other events include cookouts or attending fundraisers for local charities as a team. Around the holidays, the company throws an end-of-year celebration and the Carters give employees and their families an update on the business. "It's good for them to hear from us directly or otherwise rumors spread," Kristie says. "It's good to bring the families together and let everyone know where we're headed."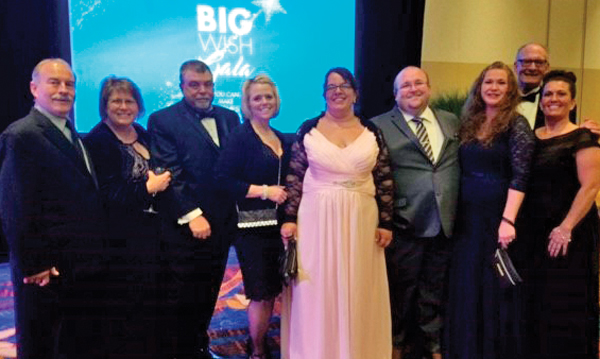 Aadvanced also regularly supports the Make-A-Wish Foundation When asked who needs to be recognized for supporting the company's growth, Kristie says it's their family and the families of their employees. "They are really a support team, our cheerleaders," she says. "This industry is so demanding and the key players are the families behind the employees. In the retail business, as a chauffeur, you sometimes have to give up your kids' birthday parties or baseball games, and on a night like New Year's Eve when you want to be together, that's a busy day for us, so our employees have to work instead of being with their loved ones. It's a lot of give and take these families do for us."

As for what the future holds, Aadvanced will be updating several of their smaller stretches and plans to add another executive van. "Growth will be inevitable in the next five years," says Ken. "That's due to our dedication to customer service, but growth isn't our focus. Our focus is to continue to be more efficient and push technology to work harder for us."

Technology is something Aadvanced has fully taken advantage of and continues to explore. They offer an app that allows clients to choose their vehicle, book a reservation, track their flight, and even pay from the convenience of their smart device. Ken says they also recently went live with GRiDD integration using Limo Anywhere, which allows affiliates to have real-time GPS updates, sends alerts to passengers, and sends an automated confirmation email before the ride that includes a picture of the chauffeur.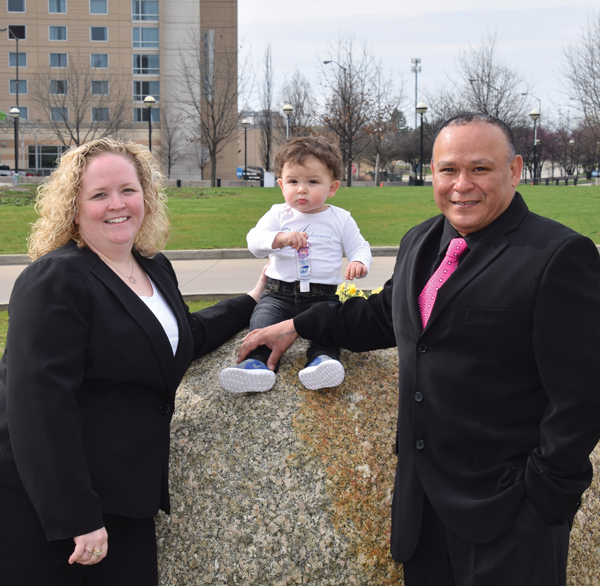 Kristie Carter with fiancé Ruben Ayala, who is also Aadvanced's Hispanic Events Specialist, and their one-year-old son Alexander Chauffeurs also have iPads, which are also used as digital nameboards for picking up clients and can display an affiliate's logo. In the office, CSRs can text anyone in the company from their desktop via a landline. And Aadvanced is active on all social media platforms—Facebook, Twitter, Instagram, Pinterest, and even Snapchat. Ken says they post daily and have great interaction with their followers.

They also firmly believe in interacting with peers in the industry. Aadvanced is a member of the National Limousine Association, Illinois Limousine Association, Central Florida Livery Association, Meeting Professionals International, International Live Events Association, and the Perfect Wedding Guide. They also belong to two of Driving Results' groups, Spinning Wheels and Global Partners.

"We've made an enormous amount of friends, and we learn from them in every conversation," says Kristie. "Our friends in the industry are like another family. So many have had an impact on us, especially David Seelinger, George Jacobs, and Bill Faeth."

The Carters consider themselves blessed for their success and do anything they can to give back. Aadvanced was a sponsor of last year's Chauffeur Driven Charity Auction and has committed to sponsoring it for the next two years. They donate or volunteer regularly to Make-A-Wish, the Children's Bureau—for which they are a corporate sponsor—and Wish for Our Heroes, the beneficiary of Aadvanced's debut sponsorship of the CD Charity Auction.

"We've been giving back to others from day one," says Kristie. "After Ken drove for me on prom night, he went back and picked up special-needs students from the school at no charge. We've been very blessed. If this business didn't work, I could have done something else, but we just rolled with the punches and we share and help where we can, whether for those who are less fortunate, sick kids, or those who fought for our freedom."

Ken adds: "We thrive on seeing other people happy."

Over the past 12 years, Ken and Kristie have lived and breathed the business, but they love what they do. Their mom and dad are involved in the company, as well as Kristie's fiance and Ken's wife Linda, so there is very little separation between work and home life. Kristie recently turned 30 and says her one-year-old son, Alexander, has changed her world. "I try to spend as much time with my fiance and the baby as possible. I try not to miss the first steps, the first everything," she says.

Ken is married and has two children, Mekayla, 17, and Dylan, 9. Outside of work, his hobbies involve being outdoors, camping, and boating. On days when the company is running at 200-percent capacity for major events, like the Indy 500, Ken will get into work early and stay late to see through the rush, but likes to sneak in family time when he can.

From a prom night whim to an established business, Aadvanced has come a long way by staying true to their roots: "You have to focus on yourself and create a level of service that can't be duplicated—in any market you're in. The cars are all built by the same people, but the difference is the level of dedication behind making the customer experience better," says Kristie. [CD0517]