BY MADELEINE MACCAR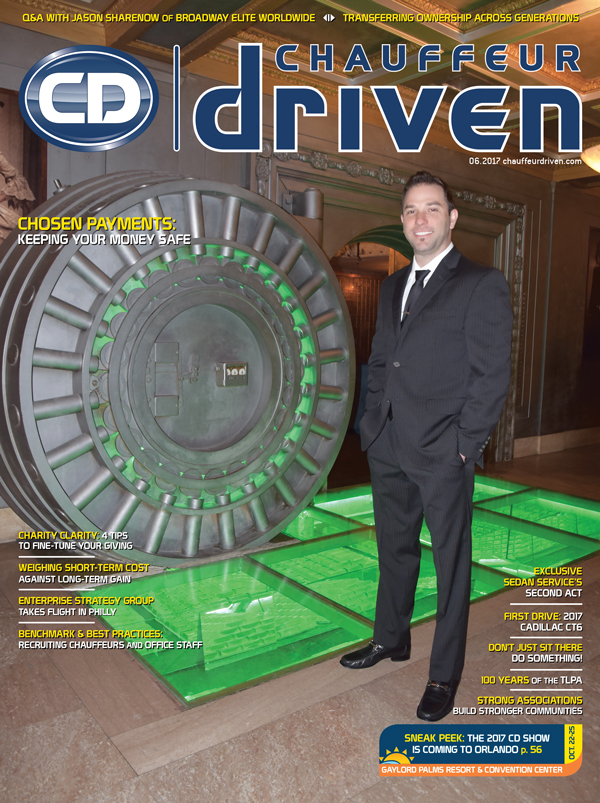 Cover Art: Chosen Payments President & CEO Jeff Brodsly at The Reserve, an historical bank vault in Los Angeles. Photography by Chris Weiss. BACK IN 2008, When Jeff Brodsly decided it was time to funnel his merchant-services know-how into an array of niche markets—including chauffeured transportation—he was aiming to bridge the disconnect he saw between credit card processors and their clients with the utmost transparency and through mutually beneficial partnerships.

A few years, a nearly incalculable number of event sponsorships, numerous industry association memberships and board positions, scads of proudly presented rebate checks, and more than 1,100 livery clients later, it's safe to say that Chosen Payments has done exactly what President & CEO Brodsly intended to do, and more.

But no one at Chosen Payments is content to rest on their laurels. A quick scroll through social media will yield proof enough with photos of the management team representing the company at industry events, a busy CP booth at a recent trade show, or Brodsly himself flashing his trademark peace sign before flying across the country for the day. All are often accompanied by the ­#MoneyNeverSleeps hashtag that has become a slogan of sorts for anyone familiar with the always-on-the-go Chosen team.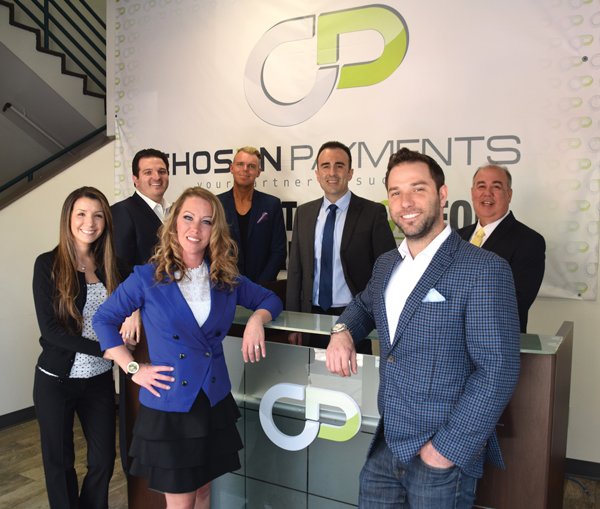 The Chosen Payments livery team. Back row (L to R): Senior Account Executive Ryan Gunches, Chief Technology Officer Derek Maxwell, Senior Account Executive Steve Walsh, and Marketing Manager Jim Luff. Front row (L to R): Senior Account Executive Katie Martinez, VIP Client Relationship Manager Sarah McKee, and President & CEO Jeff Brodsly "Chosen Payments came into this industry as a vendor with no knowledge of how livery companies work, and we just dove right in," says Brodsly while explaining how the company was able to find the kind of success and recognition that typically takes much longer to achieve. "We continue to succeed with our hands-on approach. When I'm at a trade show, people are always thanking me for what we do for the industry or their company. When I get tagged on Facebook and someone says that Chosen Payments is amazing, that's what keeps me driving so hard. When you feel appreciated, you just want to work that much harder."

And both Brodsly and his team make sure that Chosen continues to expand while delivering the around-the-clock service that credit-card processing demands. In addition to full-service offices at its Moorpark, Calif., headquarters and both Atlanta and Salt Lake City, the company boasts satellite locations in Buffalo, Nashville, Kansas City, Orange County, and Grand Haven, Mich. And while it may have outgrown its original office, it is far from outgrowing its original goals: Brodsly and the now 115-people-strong Chosen Payments staff remain united in their desire to make a difference for their clients by nurturing relationships, increasing companies' efficiency, and bolstering profit.

So what's the secret to Chosen establishing itself as a chauffeured ground transportation mainstay in just a few years? "It definitely is staying at the forefront of the industry and really showing that we are committed to it," Brodsly says. "It was also learning how the industry works, which catapulted our reputation because we now understand the needs of operators so we quickly create solutions to their problems."

Getting intimately acquainted with the industries Chosen Payments serves obviously benefits the company's bottom line, but Brodsly points out that it's a boon to his clients, too. Diversifying the company's offerings by delving into relevant markets means delivering more of what operators need through a company they already trust.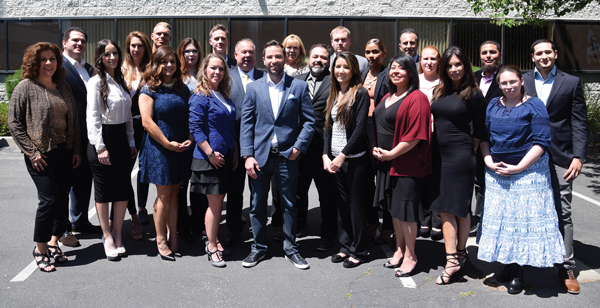 Some of the the Chosen Payments corporate staff at the Moorpark, Calif., headquarters "We have technological knowledge and resources that give our clients a benefit via cost savings and more efficient accounting processes, which helps them to land an RFP because they need to give their huge corporate client some special reporting to make it easier on them as well as with data security," Brodsly says. "It's not just about saving money: It's about really knowing the transportation industry, establishing relationships with the software providers that everyone uses, having invested the time to understand how each software provider works and how each operator uses them, whether they're small, medium, or large."

In its earlier days, Chosen Payments relied heavily on its team's aggressive bids at increased visibility as they walked the walk and talked the talk to demonstrate their commitment to the industry. Brodsly says that the tactic has changed in the past few years, as client referrals have become one of Chosen's greatest assets.

"In the beginning, about 90 percent of our growth and success was us really chasing sales because nobody knew who we were; now, I would say that 60 percent of our business comes via word of mouth regarding our credibility, reputation, partnerships, and just delivering what we promised," Brodsly says.

As it grows, Chosen Payments has been able to support expanding its suite of services to include consulting guidance and, thanks to sister company Chosen Technology Group, technological solutions like VOIP capabilities, and a customer service ticketing platform that Brodsly describes as "a really big product that's taking off now."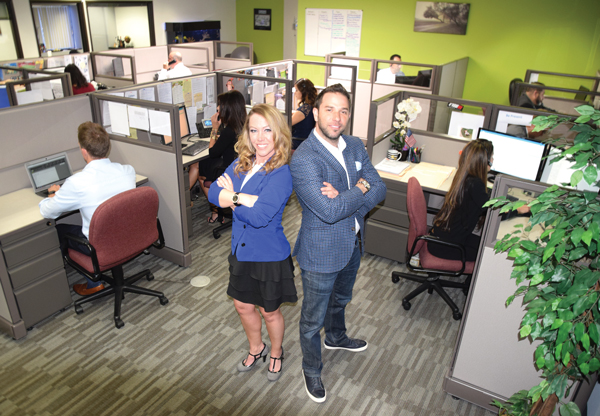 Chosen Payments President & CEO Jeff Brodsly and VIP Client Relationship Manager Sarah McKee in the company's Moorpark, Calif., headquarters For those who are used to seeing those ubiquitous Chosen Payments socks peeking out during industry events and meetings or the CP logo heralding another legendary party, it can be easy to forget that the chauffeured transportation sector only accounts for a percentage of Chosen Payments' business.

Pet care, jewelry, high-end hospitality, and auto dealerships are among the various markets that Chosen Payments caters to, with newer forays into funeral services and auto racing, the latter being the result of a deal with the 60,000-member National Hot Rod Association (NHRA).

"We spent a lot of time in the past year really planting our heels in the ground and rolling up our sleeves for that industry," Brodsly explains. "We signed our largest partnership yet with the NHRA, which is huge for us. We're the preferred provider for not just them but all of their members, too."

To support its ever-increasing spate of services, Brodsly has painstakingly assembled a coterie of hardworking and dedicated employees to comprise the backbone of Chosen Payments. That devotion is exemplified time and again, with the team often utilizing its communication channels for quickly alerting operators to countrywide scam alerts, being members and even holding board seats of regional associations, and a four-year streak of being recognized with the payment industry's top honor, inclusion in the First Data's President's Club.



"When I get tagged on Facebook and someone says that Chosen Payments is amazing, that's what keeps me driving so hard. When you feel appreciated, you just want to work that much harder."
-Jeff Brodsly, President & CEO of Chosen Payments

Chosen Payments currently has a five-person sales team dedicated to serving the livery industry, in addition to VIP Client Relationship Manager Sarah McKee, Marketing Manager (and livery industry veteran) Jim Luff, and Chief Technology Officer Derek Maxwell, who also has roots in the industry. McKee, who also serves as Brodsly's executive assistant, has become a familiar, friendly face to the industry, which has her traveling almost as much as her jetsetting boss. Meanwhile, Maxwell and Luff have parlayed their previous industry experience into helping operators with their firsthand knowledge while offering additional in-the-trenches wisdom to their peers-turned-clients.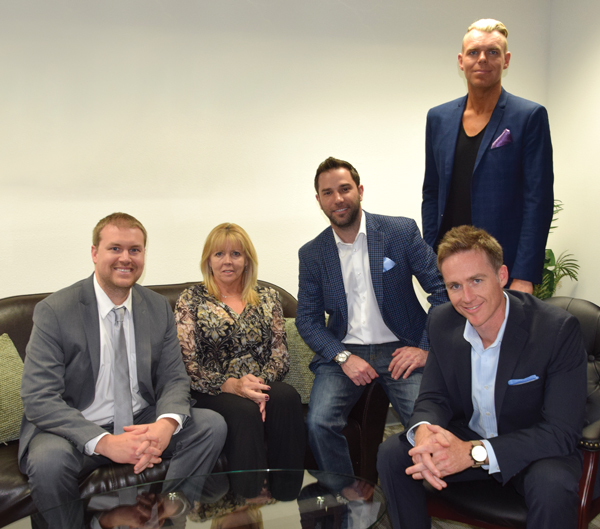 L to R: Director of Finance Brett Pace, Director of Operations Lisa Mann, President & CEO Jeff Brodsly, Chief Technology Officer Derek Maxwell, and Director of Sales CTO Branden Anderson Which, according to Luff, was one of the biggest appeals in joining the Chosen team—a move that he initiated. "I realized one day that I just wasn't happy with what I had been doing," Luff admits. "I was a Chosen Payments client when I was an operator, and I had asked Jeff if there was room for me because I was so impressed with the operation. I wanted to be a part of that."

Both Luff and Brodsly describe the Chosen Payments team as a family—which is important to their success and continually fostering the work-hard-play-hard atmosphere that defines the company's culture.

That family feeling extends to CP's clients. Brodsly himself is the 2nd vice president of the Limousine Association of New Jersey, a Greater California Livery Association (GCLA) board member and chair of its membership committee, board and membership committee member of the New England Livery Association, and holds additional positions with the Minority Limousine Operators of America and Illinois Limousine Association. Luff and McKee also hold vendor board positions with the Arizona Limousine Association and Illinois Limousine Association, respectively—all of which provided the team with firsthand experience they are eager to share.

"One of the largest benefits we bring is having the perspective that allows us to say, 'Hey, this worked with another association, so let's try it here,' and then we have the tools to teach them," says Brodsly. "We helped overhaul the vendor-affinity partner program for almost every association we're a part of, and my experience with assisting one association in the creation of their newsletter has led me to help others revamp theirs to sell ad space and learn what it takes to be a valuable resource for its members."

There is a more immediate impact to being so closely involved in the industry's associations, as GCLA Executive Director Tom Garrett can attest to.

"Jeff and Chosen Payments have played a huge part in the GCLA, especially with our end-of-the-year fundraiser and party for the past two years—the auction was his idea," Garrett confirms. "It's the single biggest revenue generator of the year."

Eddie McCoy of FASTTRACK works closely with Chosen Payments and can attest to the dedication it brings to its partnerships: "The thing that makes Jeff and Chosen Payments stand out is that commitment at the national and regional levels. The way they give back and participate show a real interest in the industry."

And Brodsy and his hardworking team have no plans to put the brakes on their dedication any time soon.

"One of the biggest things I preach is that we're our clients' partner," Brodsly says. "If I can help a company increase profits, that means they—and I—are more successful. It's just really understanding the needs of the clients, being a partner, and having a relationship because, at the end of the day, people want to do business with people they like." [CD0617]