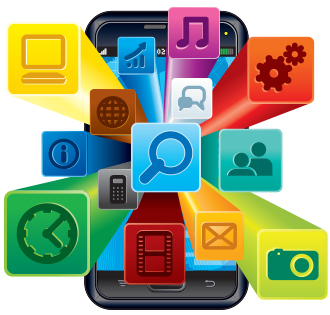 Apps are one of the fastest-growing markets for technology. With so many mobile devices—from smartphones to tablets—available to consumers, having an app for ease of use is practically required (for some devices, they are required). According to statista.com, both the Apple App Store and Google Play each have 1.4 million apps currently available for download, and approximately 60,000 new apps are launched every month. In this column, we feature some of the latest and most useful apps that will help you with your business, streamline a process, or generally make your life a little easier.



Twilight
Available: iOS, A, W
Honorable mention: f.lux, NightMode

There's a ton of press about how bad "blue light" is for you, which is the type of light emitted by our omnipresent electronic devices such as cellphones, computers, tablets, LED TVs, and touchscreens. Experts say that chronic exposure can eventually damage your eyesight, but more immediately, they suggest—and data confirm—that this type of light late in the evening can interfere with your body's natural circadian rhythms that help you rest. And honestly, aren't blue-light-emitting screens generally the last thing you look at before sleep? Based on your own custom timetable, this app "warms" your screen so that you aren't subject to harsh lightwaves during those precious hours before hitting the hay. We're all for quality sleep, and since you're looking at your phone anyway, you might as well have as much help as possible. There is also a version available for your PC.

Caveat: Some users claim that it drains your battery more quickly, but we didn't experience this. Besides, who cares? Your phone is plugged in while you sleep anyway, right?



Dayuse
Available: iOS, A

Was your morning flight canceled and the next available is eight hours later? Or did you just arrive in a city after a four-hour journey and you need a place to get some work done or freshen up? Instead of looking for an airport lounge or rest stop, Dayuse connects road-weary travelers with temporary hotel solutions for reduced rates. The short stays—less than a full night, of course—can be great for a quickie ... nap, that is. Get your mind out of the gutter! According to the app, it features more than 4,000 properties worldwide, but sadly, most are in Europe or Asia. For example, we found more than 100 in London, 85 in Rome, 11 in Hong Kong, and 14 in Berlin, but only 25 in New York City and nothing in Los Angeles or Philadelphia. Availability does depend upon the day of the week, but it could be good in a pinch when traveling to large international cities.

Caveat: Be sure to check the times that the hotel is available so that you're not faced with extra fees or charged for an additional night should you get too comfy and oversleep. It's most typically 10 am to 6 pm but hours vary by property.



Ebates
Available: iOS, A, W

With the meteoric rise of online shopping portals such as Amazon, it's really no surprise that numerous retail establishments are in such fragile shape. Just last month, two major clothing retailers announced they are filing for bankruptcy protection and shuttering stores in already wounded malls across the country. While we're typically loath to feature a commercial site that has been around for such a long time, it's probably not a bad idea to check out Ebates—especially if most of your shopping today involves clicks rather than bricks. By starting at the app and connecting to your favorite stores, you can earn cash back. The selection of stores varies—as do the percentages of cash back you can receive—but includes some pretty big names that you likely already visit. Typical cash back ranges are as low as 1 percent to as high as 25 percent, but special promotions and increased incentives are frequent.

Highlight: Cash is distributed four times a year via "Big Fat Check" or your PayPal account, which is painfully slow in internetland, but hey, it's free money.


Do you use an app that you love and want to share it with the industry? Let us know! Email Susan Rose at
susan@chauffeurdriven.com
.
Just for clarity:
• Apple products=iOS • Android devices=A • Windows devices=W
While many of the apps we profile will be free, a $ next to the platform indicates that there is a fee to download and/or use. Some versions or features of the app may require a fee to unlock or use.
[CD0617]