BY LIZ HUNTER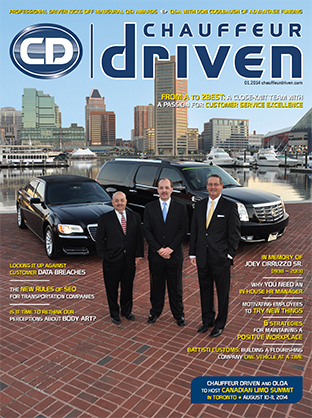 (L to R): ZBest Executive Global ­Transportation's Vice President Korky Onal, CEO Mert Onal, and General Manager George Rains at Baltimore Inner Harbor. Photography by Chris Weiss. Experience, longevity, passion for service, and a close-knit team contribute to this Baltimore-based company's global success.

Most chauffeured ground transportation companies do not look today like they looked 10 years ago. Flashy stretches and tricked-out Hummers with party-going clientele inside have been replaced by sleek, all-black sedans and SUVs that chauffeur corporate customers to and from airports, meetings, conventions, and more. It's an evolution borne of necessity to survive in the industry, and one that ZBest Executive Global Transportation Services adopted nearly a decade ago, ushering in a second—and extremely successful—phase of the company. ZBest's early years were focused on catering to the social aspect of limousine transportation, and before it grew into the 70 percent corporate transportation service of today with nearly 100 employees, it began with two brothers. Mert Onal, owner of ZBest, which he co-founded with his brother Korky in 1993, had owned a detailing business before opening up a dealership. He bought a limousine at auction and used it for family and friends, until demand required a second vehicle. Not long after, Onal sold the dealership and went into the transportation business full time.

"We had a couple limousines and got into offering specialty cars like a BMW and Mercedes stretch," says Onal. "But when you look at the company today, it's 70 percent corporate and the social aspect of business fills the rest. I meet people in the industry who are shocked to find out that we have minibuses. We are definitely more of a corporate-centered business than we were even 10 years ago."

Located in Glen Burnie, a suburb of Baltimore, Md., ZBest operates out of the same 4,000-square-foot space it's been in since its inception. Over time its fleet of over 50 vehicles has morphed from limousines into a variety of vehicles including Lincoln, Chrysler, and Cadillac sedans; executive vans and SUVs; minibuses; a motorcoach; trolleys; and hybrids.

The diverse fleet suits the assorted blend of industries in the Baltimore metropolitan area, which is home to more than 2.7 million people, and the city is ranked 8th in the nation for its concentration of jobs available in the so-called STEM sector—science, technology, engineering, and math—according to the Brookings Institution. It's home to the world-renowned Johns Hopkins Hospital and University, and other major companies headquartered there include T. Rowe Price, McCormick & Company, Legg Mason, and ZBest client Under Armour. Onal says Baltimore-Washington International (BWI) Airport has become a major airport thanks to these various industries' clients coming in, as well as its proximity to D.C. for government personnel.

Of course, Baltimore has no shortage of cultural attractions. The Inner Harbor looks out to the Chesapeake Bay and is a major tourist spot in the city. Tourists flock to places like The National Aquarium, Baltimore, which has an annual attendance of 1.5 million, and is ranked among the best aquariums in the world. There is an abundance of retail stores, restaurants, bars, and the pedestrian-friendly area is within walking distance to Camden Yards and M&T Bank Stadium.

The proximity to these sports arenas bodes well for ZBest as it is the exclusive transportation provider for the Baltimore Ravens, and the company recently signed a deal to provide service to the Orioles. For entertainment options, a wave of casino openings has also brought opportunities to ZBest. Maryland Live! Casino opened in 2012 and features a concert venue and several restaurants. Onal says two more casinos will be opening soon: Horseshoe Casino in 2014 and an MGM brand in 2016.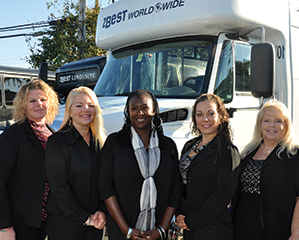 The reservations and affiliate team (L to R): Amber Beckett, Wendy Taylor, Temeika Johnson, Ashley McDonough, and Marsha Santos As for any chauffeured transportation business, the goal is to keep vehicles running as many days of the week at any hour possible. ZBest has found funeral work to be a reliable source of revenue and, according to Onal, the company recently contracted with a company that owns 12 funeral homes, taking over their vehicles. "As a result of this deal, we'll pick up about 500 funerals a year," he says. "Funerals are great work for the morning hours and highly profitable, so it's certainly something we keep in our mix of business."

Onal attributes much of ZBest's success to setting a path for the company and sticking to it. "In the early years we had a vision. Number one for us was always customer service, and we knew keeping that focus would benefit us in the long run," he says. "When the economy got difficult, we refocused some efforts and made adjustments. A lot of companies went under, but we succeeded in part because we kept that goal in mind."

It's customer service and the people at ZBest delivering it who play a role in bringing the company to new heights of business, Onal adds. While entrenched in the company, Onal is one of those rare owners who believes in empowering the people around him, several of whom are familiar faces seen at the industry's events.

Today, ZBest has grown considerably since its beginnings 20 years ago. The company now employs approximately 100 people, including chauffeurs, detailers, a full-time mechanic, salespeople, accounting and IT departments, reservationists, dispatchers, as well as an operations manager, affiliate manager, general manager, and a newly hired compliance and safety manager.

If you ask General Manager George Rains, he'll agree that the cohesive staff with a common goal has been at the heart of ZBest. "More than 60 percent of our 19 office staff have ten or more years with the company. That's a large part of what makes us successful. They understand the vision and direction of the company," says Rains, who is also one of the company's oldest employees. He joined ZBest in 1996.

Rains is likely someone you've met at association meetings or any of ZBest's trade show sponsored events. A former limousine company owner himself, Rains knew what was needed from an owner's standpoint. "I had done every part of this business from the ground up," he says. "Mert gave me full rein to increase business." He remembers when it was just him and one other woman working in the office and six cars in the fleet. "Since then we've grown and added departments and people and equipment," he says. "A majority of us have worked together for many years. It's a close-knit atmosphere and the understanding we all have about the level of customer service is what helps increase revenue, and in turn, buy vehicles. We've been very fortunate to stay focused on that goal."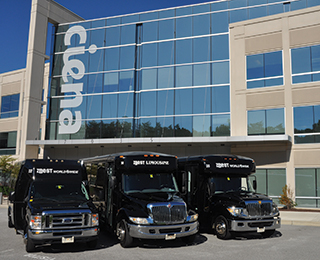 A diverse fleet of over 50 vehicles including: minibuses, a motorcoach, trolleys, and hybrids As GM, one of Rains' responsibilities is to keep everyone motivated to provide that service. "It's important to understand everyone's needs, and each person is motivated in different ways, but we always keep our eye on the big picture of customer satisfaction. If the customers aren't happy, then they aren't coming back," Rains says. Training, company functions, and sharing positive feedback with the staff are big motivators, he says. Rains oversees the daily happenings at the company, making sure people are in the right place at the right time, and he says he is fortunate to have managers who look after each department and keep it running smoothly. "Myself, Operations Manager Temeika Johnson, and Affiliate Manager Ashley McDonough have a sort of telepathy where we know what the other is thinking. It's such a benefit to be able to communicate well with everyone around you." Onal says Rains has been a great asset to ZBest through the years. "He has a lot of integrity and is very dedicated. He always represents us well in the industry, and he's a good teacher to our staff," he says.

One person Rains took under his wing was McDonough. She joined ZBest in 2004 as a reservations agent; in 2009, she was asked to manage the company's affiliate network. She says there was not one person designated to manage this prior to her taking the position. "There wasn't anyone out there actively selling us to affiliates," she says. "We've grown our inbound affiliate work by 30 percent."

Onal says ZBest had always done affiliate work from the start of the company, but it became clear that it required a more structured role once the company started focusing on corporate work. "We needed someone dedicated to handle the influx, and Ashley had been with the company for several years, so she had an established knowledge of the industry," Onal says. "We always try to promote from within. We had a feeling she would be a good fit, and as it turns out she was. We didn't hire someone with a book of business. It's been a real grassroots effort to build this network."

Much of the growth of the affiliate side of the company can be attributed to the firsthand experience McDonough was lucky to have during the first 12 months as ZBest's affiliate manager. "In that first year, George took me around to industry events introducing me to people. From that point on, I started developing relationships and we traveled the country for all of 2010. We went to Boston, New York, Chicago, and other markets on the East Coast and in the Midwest. I got to see how companies ran their operations and what to look for in customer service and dispatch when selecting affiliates," she says. "It really helped me grasp what a quality company should look like, and what to stay away from when qualifying an affiliate."

Today, McDonough says ZBest services about 350 affiliates in the Baltimore area. Many of these are companies she developed a relationship with when first starting the position and it has grown from there. "One of the most important things about what we offer our affiliates is that we treat each one as a partner," she says. "They are not an account. We value the personal relationships and I think that sets us apart."

She says there are several key qualities to an affiliate manager, including having an outgoing personality, being detail-oriented, organized, and flexible. "All of those things are key, but really it's the whole ZBest team that makes it successful," McDonough says. "I've worked with this group for the past 10 years of my life and they are so passionate and care about the business, and it shows in what they do daily."

Rains works in concert with Temeika Johnson—with the company for 7 years—who manages the operations side of affiliate inbound work. Johnson, in turn, works closely with one of the company's newer employees, Director of Business Development Kerry Bayline, who has consistently increased corporate and retail sales in the 14 months she's worked for ZBest. IT Specialist Tim Seibert, with ZBest for more than 10 years, not only manages all of the company's technology infrastructure, but creates pricing structures and packages for affiliates. Rounding out the team is Controller Nicky Drexel, who has been at the helm of the company's financial stability since 2001.

Some of their longtime coworkers include one who isn't even in the office—Reservationist Gwen Meyer. Meyer, who has been with the company for 12 years, works remotely from Germany, but is as important as any staff member working in Baltimore. "Gwen is a huge asset to our company, overseeing our reservations department and ensuring that our customers are happy," says Rains.

ZBest's chauffeurs are also a key component of that success. Onal says hiring properly from the beginning is important, and training is a constant. "There is a rigorous training process before they can even get behind the wheel of a car, in addition to background checks. We also retrain every six months," he says, adding that Jim Allick, the new safety and compliance manager will also be in charge of managing the chauffeurs. ZBest created its own proprietary training program, which was based in part on some other successful programs—including the videos created by the late industry consultant Tom Mazza—but tailored to the specific needs of ZBest's clientele.

Johnson says chauffeurs are extremely important since they are face to face with clients on a daily basis. "We need to give them the correct tools and training to go out and be successful, and treat them the way they deserve to be treated," she says. "If they have the knowledge, they'll be the best and without them being happy, we wouldn't be able to make this happen." She adds that, along with the operations team, chauffeurs are the glue keeping every piece of the business together.

ZBest has recently implemented iPad technology for chauffeurs that will be one of the tools to add to their success. Rains says the company is demoing the iPad module offered by its software provider LiveryCoach with its chauffeurs. "This is going to keep chauffeurs immediately up to date on their trips," he says. "Real-time changes will go directly to the chauffeur, and signs for airport pickups can be generated right on the iPad. Chauffeurs can also input their mileage and expenses into trip books, which expedites everything from an accounting standpoint." Rains says he sees this implementation going quickly into the first quarter of 2014.

Moving forward, Onal says technology is going to be something the company invests in heavily, and the iPads are just the first step. Social media is also another aspect Onal believes in. "We do see the value in a social media presence, and it's the key to being successful at this point," he says.

In terms of vehicle investments, Onal says minibuses are doing well for the company, and when it comes to updating ZBest's sedan fleet, he hasn't made a decision. "We're testing the Chrysler 300 with customers and they like it, and we like the price point," he says. "But we're also considering the MKS, so it could be a mix."

After 20 years in the industry, Onal, who enjoys playing golf and traveling with his wife, says he has learned lessons along the way, but is happy with where ZBest is today. "I'm enthusiastic about the direction we're going and the employees—the lifeblood of the business—who keep us going on that path to success." [CD01.14]