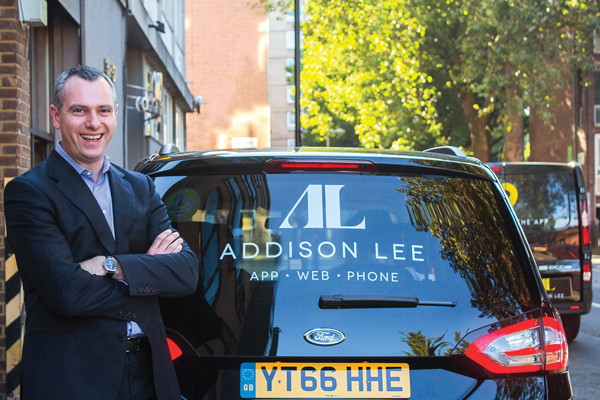 Addison Lee is a well-established name in the U.K., but the company has definitely been making headlines of late in the North American market. The London-based car service purchased Flyte Tyme Worldwide in January; just months before, Addison Lee also purchased local competitor Tristar Worldwide, whose several global offices include locales in London, Hong Kong, and Boston.

The company, founded in 1975, had been under Griffin family ownership for nearly four decades until it was purchased by private equity investors, Carlyle, in 2013. The recent acquisitions marked an entry into a new market—the United States—and is expanding the company's reach. Addison Lee operates 5,000 of its own vehicles and provides 20,000 rides a day in London alone.

Leading the acquisitions charge was CEO Andy Boland, formerly CFO, who earned his current position when former CEO Liam Griffin stepped down in 2015. We spoke with Boland about the company's recent purchases, the impact of technology on transportation, and what he sees for the future of ground transportation.

Chauffeur Driven: What is it like being the CEO of a former family-owned company?
Andy Boland: I think the real challenge is harnessing and protecting all of the best things that came out of the family business—and the knowledge that resides within—to move the business forward in what has become a very competitive and rapidly globalizing market. It's the balance of trying to get the best of both worlds while also effectively and efficiently delivering what international customers are looking for in terms of the range of products and services. It's using technology within an operation that fundamentally runs on people and the interactions that our customers have with employees of Addison Lee. I think if you can do those things together, you can have a successful company.

CD: What kind of technology has Addison Lee been investing in and implementing?
AB: We've grown rather rapidly in part because we were an early adopter of technology and built a fairly sophisticated allocation software that matches customers and cars. With that scale we were able to accelerate growth.

In the business overall, we have invested in a suite of digital products that have both consumer and business applications. More than 300,000 people in London use our mobile app to manage their itineraries. More recently, especially in the U.S. markets, we've built an effective integration with travel management companies, online booking tools, and expense management systems by investing in API technology.

The other area in which we've invested heavily is data analytics to build our customer database, customer relationship marketing capability, and an understanding of how to use these tools properly.

And finally, but very importantly, we've invested in driver and vehicle technology, including driver apps, WiFi in cars, telematics in cars for diagnostics management, and accident management. From the top to the bottom of what we do, from customer management to digital products to connectivity to our vehicles and drivers, our investment has been across all those areas.


"The acquisitions have also given us real operational capabilities in the U.S. where we didn't have that before—and we've become a substantial player in North America. That will allow us to continue to grow."

CD: What was it like to acquire one of your largest competitors?
AB: If you look at Addison Lee's core service as it has been in London, a premium car service delivered at scale, I think coming together with Tristar and Flyte Tyme provided several things. First, it is an extension of the product that we offer, particularly high-end, high-touch services, events and roadshows, and airline transfers in executive vehicles and their own important brand equity. They enhanced the product range that Addison Lee had.

The acquisitions have also given us real operational capabilities in the U.S. where we didn't have that before—and we've become a substantial player in North America. That will allow us to continue to grow. Our total revenues for the group is more than $500 million, and combined with our know-how and investment in technology, we can acquire that technological capability in both markets at the same time. That gives us some great advantages.

Culturally, it wasn't a takeover but a merger of shared skills and competencies. There are some great ideas in both of those businesses that we are now applying across the entirety of our group, and Addison Lee brought the advancement in consumer app technology to those brands.

CD: How did you identify Flyte Tyme as a company to acquire?
AB: It was a business that we had admired for a long time and performed consistently with all of the market changes over the past four or five years. It had regular good feedback from its customers, but moreover, Flyte Tyme's customers in the U.S. were Addison Lee's customers in the U.K., including airlines, investment banks, and many other sectors. A number of those customers mentioned Flyte Tyme as the standout in that market, which gave us a lot of confidence that we were making the right move.

CD: Will you rebrand those companies?
AB: The nature of integration has been bringing the best capabilities of the businesses together rather than an Addison Lee-branded solution across the plane. Addison Lee is an unknown today in the North American market—it won't be forever—but rebranding Tristar in the executive roadshow space right now wouldn't add value. We're looking at it and would like to consolidate, but at the moment, those businesses have great brand equity with their customers so it's something we'll evaluate in the future.

CD: You also gained a market in Hong Kong with Tristar. What have been the challenges of learning this non-English-speaking market?
AB: In addition to an office in Hong Kong, Flyte Tyme and Tristar had an international affiliate network, which means that we can offer premium services to our core customers on a global basis. What we're in the process of doing now is effectively offering that through our digital channels. I think that the next stage of our development will include having customer service support based out of Hong Kong. In each of these businesses, there are dedicated teams already in place that are skilled in handling those international travelers. We're really well-positioned to grow international revenues by offering those services across those channels.

CD: What do you look for in an affiliate?
AB: I think the most important thing that we can do is work closely with and have trust in our affiliates so that we will be able to work effectively together to deliver what we say we will deliver to customers. Obviously having processes that are effective and being able to use technology wherever possible to improve customer service—which maximizes the interaction and minimizes costs—is also important. In a world where our businesses skew toward higher-end premium services, it's having the confidence to know that an important passenger in a market where we don't have our own vehicles is consistently treated in the standards we've set forth.

CD: What has been impact of companies like Uber on your company and market?
AB: London is a big market for Uber and the immediate effect has been on the consumer side of our business. People who have loyalty to the quality and service of Addison Lee aren't as affected as the more transient customers, but we have seen a fair effect on our business. I would say that today we're growing across each segment of our business because we reacted early to Uber's market entry and developed technological services that allow us to compete and differentiate services. We're actually very optimistic about the future. Technology is allowing us to grow in new and critical markets.

CD: Have you had support from regulators in your area?
AB: I think the regulatory environment is evolving. Fundamentally, in London, you need to be able to demonstrate and separate yourself as a quality service, and that's the thing that wins out. Reliance on regulators to defend your position in the market per se is difficult, and not something that we would advocate. We all provide services to passengers, which is often about delivering people home late at night—sometimes vulnerable people—and we focus on our standards for drivers and their training, properly insuring our vehicles, and operating under regulatory requirements. What we see in London is that the regulatory bar for standards is being progressively raised to address customer security and safety.

CD: India and China are obviously huge for business travel. Any plans on acquiring a company in those markets?
AB: Having just completed two major acquisitions in the last nine months or so, we are tasked with making sure that the integration of those businesses is running smoothly. That transatlantic customer base is our immediate priority. But in the future, we are definitely looking at building out our services globally.

CD: A bit of prognostication: What do you see for the future of the chauffeured transportation industry?
AB: International business travelers attach a high value to personalized service and will continue to want those services for the foreseeable future, and chauffeurs and people who look after those customers are vitally important to that. There's obviously massive investment in vehicle technology going on in the moment, down the line through electric vehicles and then autonomous vehicles. Even with autonomous vehicles, I think that people will still be involved and differential customer service is going be even more critical to delivering that. [CD0717]