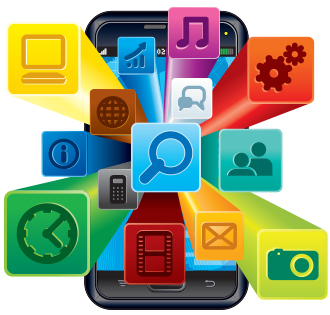 Apps are one of the fastest-growing markets for technology. With so many mobile devices—from smartphones to tablets—available to consumers, having an app for ease of use is practically required (for some devices, they are required). According to statista.com, both the Apple App Store and Google Play each have 1.4 million apps currently available for download, and approximately 60,000 new apps are launched every month. In this column, we feature some of the latest and most useful apps that will help you with your business, streamline a process, or generally make your life a little easier.



Voxer
Available: iOS, A

Secure chats are a must for companies with a far-flung workforce that has to remain in steady contact. And there may be a number of ways to satisfy that need, but Voxer takes it one step further and allows for both texted and spoken communication—and its walkie-talkie messenger is a great solution for your always-on-the-road chauffeur team who'll appreciate not having to sacrifice safety to stay in the loop.

The best part? Accountability is front and center with this app, since your one-on-one conversations and group chats alike are timestamped to show you exactly when a recipient heard your message. And with end-to-end encryption being one of Voxer's primary selling points, you won't have to worry about even your most sensitive clients' privacy being compromised by hackers.

Caveat: Voxer touts its Pro package as being ideal for companies, which starts at $3.99 a user/month. Its free version does offer much of what makes the app stand out from its competition, but if voice-to-text transcription is a deal-breaker for you, you may want to look into purchasing Voxer Pro. Both the free and premium versions have a desktop website platform, too.


AwardWallet
Available: iOS, A

This industry racks up a massive clump of frequent-flier miles and hotel points befitting transportation professionals, though keeping track of them all can sometimes feel as hopeless as herding cats. Enter AwardWallet, one of the most popular ways to keep tabs on those always-accumulated points and miles as they get you closer to payoff.

With both a web-based interface and an app available, you have numerous options for keeping an eye on the loyalty programs you're subscribed to (the program currently has 681 you can track), including most major airlines, credit cards, car rentals, and hotels. AwardWallet also stays on top of your rewards like free nights, bonuses, and promos, notifying you when they're in danger of expiration. Whether you try this app for your own individual travels or use it to manage your company's collective corporate reward balances, AwardWallet wants to make sure your earned points aren't at risk of joining the ranks of the 10 trillion unused frequent-flier miles it estimates are in circulation.


ExpertFlyer
Available: iOS, A $

While we try to highlight free apps, sometimes we come across a paid one that's more than worth its price tag: Expert Flyer is one such app. It lauds itself as being able to "change the way you fly"—and it's not wrong. Designed with the needs of frequent fliers in mind, this app does all the things you've been wishing for, including alerts about available award seats and upgrades that will make the dreaded middle seat a thing of the past. By offering you a map of the cabin, you'll even be able to locate the available seats that offer a precious few inches more of legroom, too.

It does have a free version, which is limited but still useful. It allows you only one alert at a time, but sometimes that one shot is all the upgrade you need.

Caveat: ExpertFlyer's Basic plan costs $4.99/month, while its Pro version costs $9.99/month or $99.99/year. The latter gets you additional services like alerts about changes in flight availability, schedules, and aircrafts (which airlines are notoriously bad at communicating); notices about all available published fares; and the option to save your previous searches for ease of repeated use.


Do you use an app that you love and want to share it with the industry? Let us know! Email Susan Rose at
susan@chauffeurdriven.com
.
Just for clarity:
• Apple products=iOS • Android devices=A • Windows devices=W
While many of the apps we profile will be free, a $ next to the platform indicates that there is a fee to download and/or use. Some versions or features of the app may require a fee to unlock or use.
[CD0917]